This week's best new singles reviewed
The surprise new single from Burial heads the list of new singles pored over by Juno's scientists of sound this week…
Burial – Chemz (Hyperdub)

Burial has surprise-dropped the Christmas single Chemz this week, only less than 3 weeks after his last split EP with Four Tet and Thom Yorke. It is a continuation of his recent proto-rave direction and is a beautiful slice of unearthed dancefloor warmth to round off a cold, cold year.
Sampling Wolf Alice and Ne-Yo, as well his own track Street Halo, the track pits unusually clean vocal samples against Burial's cheekiest garage beat to date. "Just can't explain how I feel when I'm around you, baby" is the first lyrical motif, continuing in the tradition of the jaggedly cut-up vocal science heard on last year's 'Claustro'. The phrase repeats against a variety of 8-bar backdrops. Burial often shifts these melodies and chords, resulting in a completely different headspace every 10 seconds or so.
Halfway, we are treated to a hardcore proto-jungle beatswitch, peppered with scratchy rewind samples and icy arpeggiations. One vocal, "I will never let you go", is so oddly EQed that it charmingly breaks Burial's textbook vinyl immersion. It's refreshing to hear Burial delve further into his newfound 'slapdash' approach, especially in an era where impeccable production is seen as the gold standard for quality. Truant-style, we soon switch moods again, urged by the track to "take me farther" into space-age free party territory at the 10-minute mark.
Not much is known about the B-side Dolphinz. Rumour has it that, like 2019's 'State Forest', it is a more subdued upside-down of the A. Oddly, its release is scheduled for April, suggesting it might sound like the A's springtime counterpart. Needless to say, perhaps the brand shift we see and hear on 'Chemz' – like that witnessed on 'Claustro/State Forest' – signals something greater to come…
JIJ
Sepehr – Crown Jewel (Shaytoon)
The name Sepehr Alimagham carries with it many musical associations; king-sized EBM, jittering jakbeat, and Middle-Eastern electro-acousmatism, to name a few.
This week, the New York artist encompasses all of the above on a new EP, Crown Jewel. It is the first on his own label Shaytoon, named after his 2020 album on Dark Entries and dedicated to dance music hailing from the Iranian underground. Shaytoon was a colourful album detailing future visions of fine-tuned of acid techno, balearic fabrications, and heat-hazed mirages, all gleaned from the '70s Iranian pop music Sepehr enjoyed as a youngster. But there were hard truths at its core: much of the music his childhood friends had shown him was only obtainable from odds-and-ends shops in bootleg form. This deligitimised form of selling music surfaced as a result of the 1979 Revolution in Iran, which severely limited the sale of Western media.
'Crown Jewel', while not referencing Sepehr's heritage as explicitly, does offer the sense of much of his favourite music being out of reach. Like his own experience of having a dual Iranian American identity, it's hard to pinpoint exactly where the EP's stylistic fusions meet, only that they do so in a highly-considered, uncanny manner. Opener Cloak of Flames is a cavernous loomer, with thunderous dread booms overlaid with chime flourishes, setting a numinous tone. Crown Jewel and Night Is Young are tunnel-trip acid house tracks, blending hallucinatory wonk with cocky squelches and echoic glossolalia. Further down the rabbit hole lies Head to the Sky, an EBM-like banger which, contrary to the title, sounds more earthy than aerial. We close with Riposte, a 2-step-via-electro segway peppered with atmosphere and 'Ow!' shouts.
Given its influences, it's safe to say that Crown Jewel establishes Shaytoon as a label which is sure to attract collectors and gyrators alike.
JIJ

Tia Maria Produções – Lei Da Tia Maria (Principe)
Starting in 2011, Principe has carved its place in history as Portugal's foremost underground dance label, showcasing the best of Lisbon's production talent. With many of its artists being Portuguese natives of West African ancestry, Principe citrsinfluences ranging from kuduro to kizomba, all techno-tinged to pioneer a new, dark form of batida.
Tia Maria are a supergroup composed of Principe mainstays DJ Danifox, DJ Lycox, DJ B.Boy and Puto Márcio; they've now joined forces on their newest EP Lei Da Tia Maria.
The A-side opens with Xupetilson, the summeriest of DJ Danifox's two contributions to the EP, on which the artist sings light-hearted, canine croonings. B.Boy follows up with Karibotas, a slow-burning kuduro rhythm located deeper inside Lisbon's urban jungle. DJ Lycox's 11h Na Lisa is a dizzying cut, whose casual syncopation is enough to induce involuntary twerks. With these sorts of rhythms, it's hopeless to try and consciously 'work it out'; you must intuitively 'feel it' first.
The B-side explores an even darker Lisboetic underbelly. Danifox returns with Aguenta, the polar opposite of his first contribution, a downtrodden nightwalk replete with sampled vocal shouts of "you showed contempt, you didn't nurture, now deal with it". He and Lycox collaborate on the following Mete o Bass, a wacky trip through metallic hi-hat ambulations, sinister string chops, staccato steel pans and weird wobbles. The EP concludes on a lonesome note with Puto Márcio's Coisas da Vida, a kizomba eventide showing off the artist's trademark melancholy.
The artists exchanged ideas for the EP on the mobile app WhatsApp; this casual file-sharing, common amongst producers in Lisbon, certainly reflects the concurrent relaxation and anxiety heard on the EP, where technology might offer relief from the city's overwhelm. The artists are different people, but their tracks each nevertheless evoke the same reality; a sense of peace with the tension imposed by inner-city life.
JIJ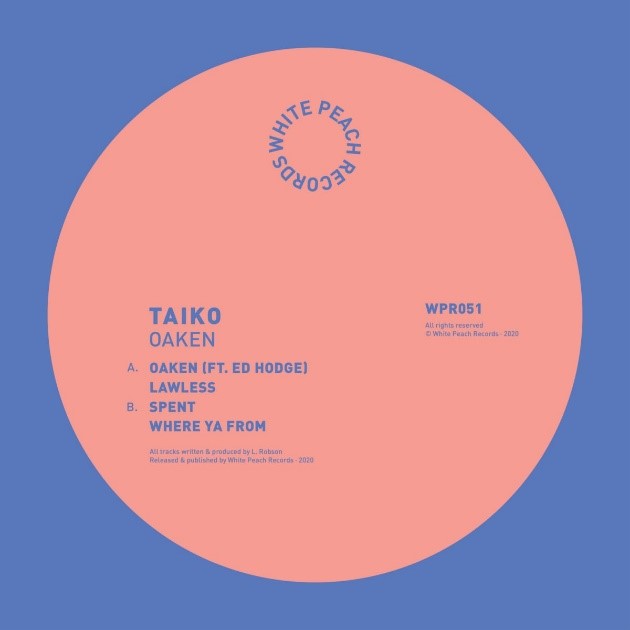 Taiko – Oaken (White Peach)
Fent Plates' White Peach sublabel rounds off the year with Oaken, a dreamscape EP from Louis Robson a.k.a. Taiko. With seemingly infinite deft and subtlety, Taiko's music often approaches dubstep from a smoother angle, a talent he has flaunted ever since his debut EPs on Subaltern and Albion Collective.
On Oaken, we enter flute dub territory, each track making adept use of the instrument. The whole EP evokes images of a subdued fantasy world at rest. On the title track, Taiko is joined by saxophonist Ed Hodge, oscillating between sublime fairytale ambiences, sleepy improvisations, and minimal kick steps. Follow-up Lawless explores the darker side of this swords-and-sorcery-scape, a discordant theme tune for a medieval crime boss. Taiko's taste for the flute might well match fellow White Peach labelmate Egoless'; Lawless is reminiscent of 2018's Empire of Dirt, but by no means feels the need to be as aggressive, instead choosing to amble and float in sinister dream-mood.
Spent is what most dedicated 'deep dubstep' artists dream of doing, but often do not achieve: giving equable moods movement, without making them too in-your-face. The track has just as much filtered Rhodes piano in it as it does dutty wobble bass. Closer Where Ya From is a trap-fuelled exercise in Skreamizm, with a serene bass and flute pattern mimicking each other in call-and-response contrast. A slick and serene new EP from a renowned artist.
JIJ

Jem One – The Rain EP (Metalheadz Platinum)
Jem One's third appearance on Goldie's Metalheadz stable is a three tracker, evoking memories of the classic Dillinja and Photek triple headers that cropped up in the very first batch of this classic label's history. As is very much the way of the 'Headz, all three tracks here have echoes of the deep past but also point very much to the future. 'Sunday Rain' is blessed with a hovering bass that's not a million miles in substance from the one that graced Alex Reece's 'Pulp Fiction', while soaring synths jump octaves in spectacular style and sleek, neatly trimmed breaks up the funk factor.
'Dimensions' has a darker techstep texture, paranoid voices echoing around the speakers while jarring, caustic riffs sear through the mix. 'Money Man' is probably the most classic 'Headz sounding affair of the three, starting out with 'Bladerunner'-style atmospherics and then dropping into a fantastically evil sounding bass and beats workout with hints of Goldie's 'Jah' or classic tougher end Prototype releases from Cybotron, Boymerang or John B. Heavyweight.
BW

Entheogens – The Gnostic Mass (Subliminal Sounds)
One of Subliminal Sounds' many sublabels is called 'Psychedelic Sorcery Music'. Though not released on that particular imprint, Entheogens' The Gnostic Mass is well-suited to the phrase. Reissued by Subliminal this week, the album was one of many spiritual folk oddballs once obtainable from a '90s mysterious mail-order psychedelic music shop, the Freak Emporium.
Entheogens was a one-off Swedish psychedelic 'freakout' formed in 1995, consisting of nine individuals close to the mysterious Xotic Mind Records. With the musical ambition of a legion of superheroes, and armed with enough phasey sitar and bongo improv, their Gnostic Mass is certainly enough to induce a state of religious ecstasy given the right set and setting.
First track 'The Dance of the Priestess', is a 15-minute slow burn in which many odd instruments are used: glockenspiel, guitar, organ, flute, bouzouki. It ends with a conclusive drum roll and faded tanpura drone, mere-exposure leaving us feeling spiritually detoxified. The second track 'Fire At Will' begins with a slower mood closer to '60s psychedelia, but ends on a similarly rapturous note. The final 22-minuter 'IO Pan!', however, contains the highest entheogenic yield. Challengingly lo-fi – as though it was recorded inside a cramped fortune-teller's tent on a camcorder – it is a boundless magic carpet journey, replete with wah guitar, drum brush shivers, and swirling gongs. The Gnostic Mass' is not 'only' a three-tracker; it's montage music to your local DMT-peddling shaman's ritual dance.
JIJ

Junior Loves – Yantlet (First Passage Version) (5 Gate Temple)
When the elusive John T. Gast isn't putting out cryptic ambient digis and USBs by the likes of Tribe of Colin or Oxhy, he turns his 5 Gate Temple imprint towards nu-school steppers' delights. 2018 already saw Earthquake's co-honcho TNT Roots contribute a new dub track to the label, Chant Down Babylon Verse II, alongside Gast's own remix on 7" wax. Now the 5GT dub conch is handed to producer Junior Loves, whose chops were already proven last year with the self-released Banner / Nore EP.
The lead single of the newer Yantlet / Grain EP, the First Passage Version, is a smoked-out dub of the Yantlet A-track. Charmingly quantised and packed with many digital instruments, including a resampled flute, it could be construed as a homage to digi-dub in its straight-up floor-readiness. Halfway through, though, it breaks down into pure melodica, the instrument drifting in and out of time, and body. It cleanly snubs the original Yantlet, sacrificing its punch-drunk flute melody, but retaining its bass. It is also a fitting compliment to its B-sides Grain and its Return Version, both tracks which embed the dub feel further behind phaser and delay. It is a perfect wind-down, or wind-up, to your night, depending on the deviance of the situation.
JIJ


Daniel Figgis – The Tin God (Linear Obsessional)
Having spent well over a decade concentrating on staging big, conceptual performance pieces rather than releasing music the 'normal' way, Dublin's Daniel Figgis has mysteriously and suddenly started dropping little trails of previously unheard material, some completely brand new and some apparently liberated without warning from the vaults. The five tracks that go to make up The Tin God arrive on Christmas Day and via the medium of cassette, and show the Irishman as likely as ever to follow convention, that is, not at all. His appeal lies in the way he blurs boundaries between the organic and the synthetic, the traditional and the experimental,, so that the listeners' ears are never quite able to settle down and relax.
Opening track 'PHOTO-FINISH (with shortcuts)' harks back to the lushly, liquid, melodic ooze of his mid-90s classic on Rough Trade, 'Skipper', while 'please be me' sounds more like a surreal modern classical fanfare, with added woozy folk textures and disorientating field recording snippets. Somewhere in the mix, too, you can also hear Van Der Graf Generator sax player David Jackson .
Also worthy of mention is the title track, featuring what could be reversed piano notes and barely imperceptible synths simmering away in the background creating a sound bed of suspended, tense ambience. We've certainly missed his maverick sonics and dark mischief.
BW
PELA – Here's Where The Story Ends (self-released)
It's funny how one line can suddenly hit a nerve at a certain time in history, even if as if often the case, it was penned in entirely different circumstances. Quickly hyped – and just as quickly dumped – indie hopefuls The Sundays had a hit with 'Here's Where The Story Ends' in 1990. In the hands – should that be lungs – of PELA singer Hannah Coombs, the mention of "a little souvenir / of a terrible year" sounds like it was created for this very moment in time.
Brighton duo PELA, of course, have had anything but a terrible year, teasing their addition to the pop pantheon with a string of fantastic, cool tracks that sneaked into our consciousness bit by bit. The combination of Olly Shelton's ice cold, reductive arrangements and Coombs' velvety, emotive vocals, has proved a heady one, and we reckon you'll be hearing even more of it in 2021.
BW


Iueke – L.I.E.S. 164
It's often difficult to come by longform electronica which deploys a sufficient level of detail, yet also retains a danceable edge. Nuance often finds itself opposing club-steadiness, one pole seeming to jettison the other, resulting either in directionlessly particular soundscapes, or juddering repetition.
This is not the case with the latest split 12" from Paris native Gwen Jamois, a.k.a. Iueke. Since 2012, the producer and DJ has been steadily releasing ambient house and techno mostly via Antinote and has also contributed experimental cuts to compilations on Lo Editions. This self-titled release, however – consisting of two tracks to top up the immense catalogue of Brooklyn's L.I.E.S. label – is his most symphonic effort yet.
On the A-side, the 10-minute track Les souper des cendres takes a juxtaposed approach to industrial techno, with emotive strings flitting between the gaps of a raucous factory-scape. Many conflicting emotions are felt; it is a metallic scene, but we still glean something mournful and overwhelming from it, a feeling ensured by Iueke's impressively oppressive use of compression.
L.I.E.S. tells us that the B-side is a dub of the A, but to many listeners it will surely constitute a track of its own, or perhaps even a natural continuation. This second 10-minuter, Des fureurs heroiques, abandons its predecessor's strings in favour of pure machinic jaunt. A stern, multilayered clanger, it inspires thoughts of a post-apocalyptic tribal dance, the sound of our posthuman successors banging on the wreckage of a fallen technopolis.
Both of Ieuke's new tracks morph steadily over time. You're not sure where one idea starts and another begins. The patience required in producing such an effect is sure testament to Iueke's artistry. A stunning new addition to the L.I.E.S. catalogue.
JIJ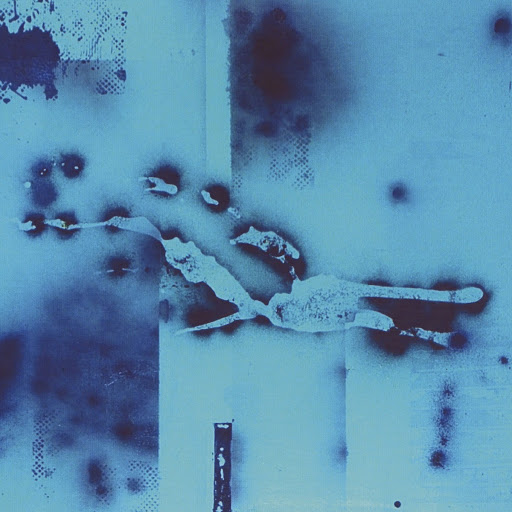 Luz1e – Radical Optimism (Voitax)
Luz1e, a.k.a. Luzie Seidel – who since 2017 has scored releases on Shall Not Fade, Goddess Music and Lobster Theremin – has proven herself as a doyen of uptempo, nothing-more-nothing-less, melt-face electro.
This writer was lucky enough to see her play on his first ever proper night out. It was a smoked-out, blue-tinged room in the heart of London, chock-full of electro, ambient techno, and teenagers who couldn't see straight. But her new EP Radical Optimism, out this week on Voitax, sets foot into territory I did not hear that night.
Rather than meditative, blissed-out 808s and pads, tracks Transition and Electronic Warfare venture into hardcore crossover, mixing snappy snares with amen break chops – a new sort of brash, booty bass breakcore. Reminiscent of Jasss' overwhelming breaks-trance earlier this year with Turbo Olé, these beats are undercut with texture, compressed and mixed so that the kick permeates the lowest of low end, rendering them beautifully rumbly and belligerent. The B-side returns to dreamier territory, with Radical Optimism and Emotional Intelligence repeatedly picking up and breaking down again, vacillating between light beat-pulses and padded rapture.
Hitting an escape velocity not achieved on prior EPs, this is undoubtedly Luz1e's most breakneck output, fitting for her chosen theme of warfare and apocalypse. It's refreshing that such a radical sound can originate simply from a love of Chicago and New York house; let's see how much wilder her sound can get.
JIJ

This week's reviews by: Oliver Warwick, Jude Iago James, Ben Willmott.