Moog's cheapest synth is an entry-level taster of the brand's classic sound, built with experimentation and expansion in mind.
Moog synths are celebrated for many reasons, not least as a result of the brand's rich and proud history as pioneers of synthesis, but one thing you can rarely accuse them of being is cheap. Until now, the cheapest synth in the Moog lineup was the Minitaur bass synth, with a recommended retail price of £529. That's not a criticism – Moog owners will attest to top-notch build quality, beautiful sound and thoughtful design – but it does make the brand's legendary sound out of reach for a lot of musicians, especially when weighed up against some of the more affordable options on the market.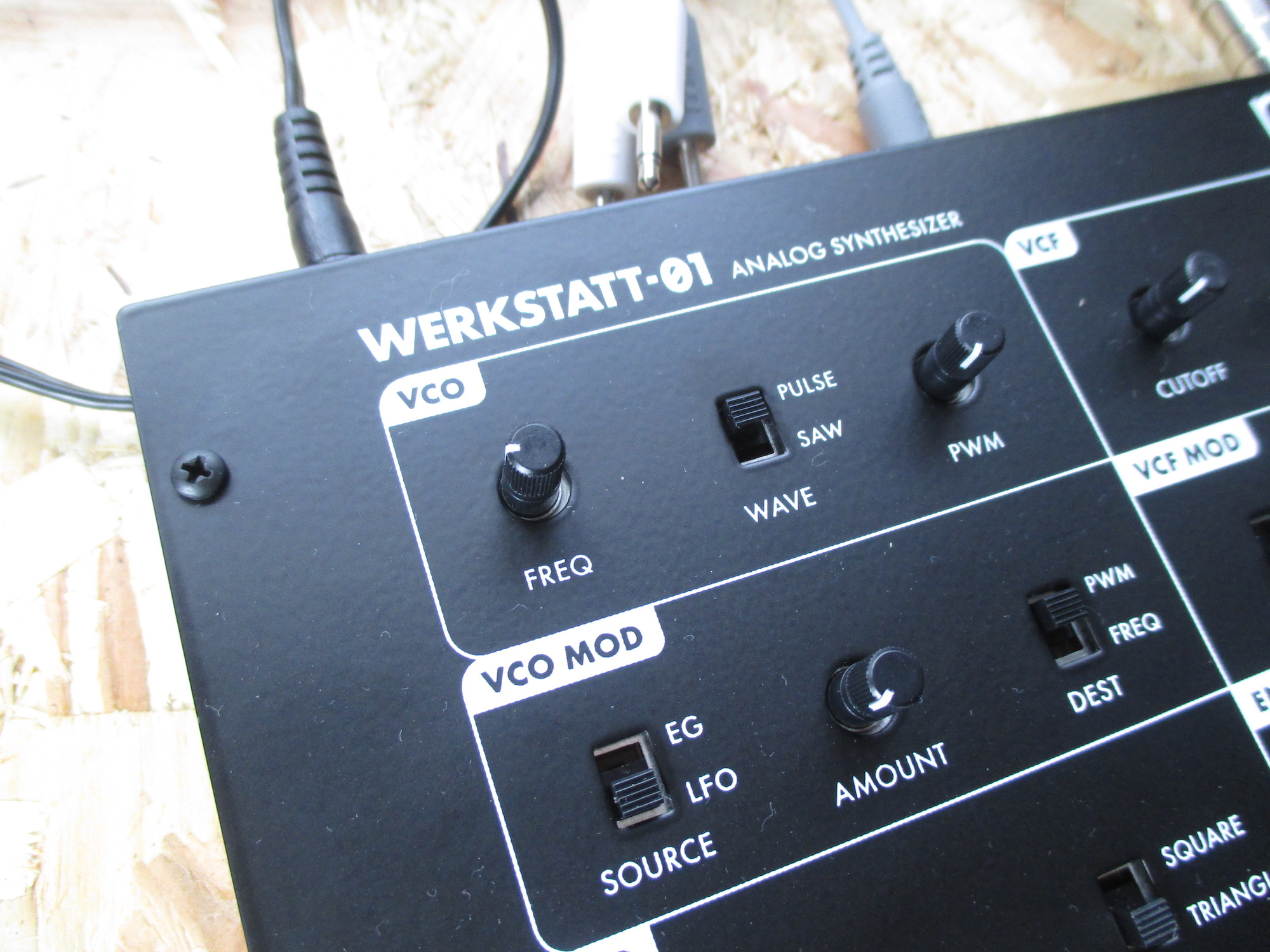 The freshly re-released Werkstatt-01 is something of a curiosity in the Moog line-up. Originally produced as a fully DIY synth for the brand's annual Moogfest gathering in 2014, the Werkstatt is a bare-bones model with a pressed steel case, tiny knobs and a small patch header allowing you to route CV and audio signals. It's a semi-modular, fully analogue synth in distilled form, which requires some very basic assembly (the only tool you'll need is a small Phillips screwdriver). The 2020 reissue is virtually identical in terms of performance and features to the limited-edition 2015 release which followed on from that Moogfest debut.
In terms of its synth architecture, the Werkstatt is clearly a very simple monophonic instrument, but with enough to get you started in learning about synthesis. There's a single oscillator with pulse or sawtooth waves and a range of modulation options, plus a voltage-controlled low-pass filter which can be modulated by the envelope generator or the low-frequency oscillator. That's about all you get, but in practice it's a surprisingly complete instrument, even with its tiny little push-button keyboard. The sound is distinctly Moog-flavoured from the off, with a big, powerful sound to the oscillator and classic Moog ladder filter. We assume that the circuitry behind the filter isn't identical to the iconic version found in more expensive Moog synths, but it's definitely in very similar territory when it comes to sound. You'd be forgiven for laughing out loud at the immensity of the bass sounds this little box can produce; it's got that classic Moog knack for big, juicy basslines and squelchy, funky leads when you modulate the filter with the envelope.
The patchable nature of the synth makes things more interesting once you've exhausted the relatively limited scope of the front panel controls. This version of the Werkstatt comes bundled with the CV expander board, which adds a row of 3.5mm sockets with which you can route audio and CV signals around the synth's internal circuitry. FM synthesis is probably the biggest draw here, adding a completely different dimension to the sound of the oscillator section, but you can also create some interesting modulation effects thanks to the increased level of control over the LFO, keyboard-tracking CV signal and envelope output. You also get an audio input to the filter, which allows you to use that classic Moog VCF on external audio signals.
By this point you may well have figured out the Werkstatt's less obvious strength, which is the fact that it can be hooked up to other patchable instruments, not least Eurorack modular synths. It's here that the instrument really comes into its own. The Werkstatt alone is basic and user-friendly, but it's an instrument that can grow with you as you develop your own skills, whether that means hacking the unit itself, building your own accessories and additional components to interface with it, or hooking it up to other gear. What seems like a very simple synth can evolve into something much more complex.
The Werkstatt's biggest selling point is its relationship with other Moog synths. The circuits may not be identical to those found in the original Minimoog or the brand's current high-end models, but the sound is close enough that you feel you're playing with something that has genuine heritage. There's no mistaking the iconic Moog sound here, despite the diminutive stature of the instrument. It's huge fun, user-friendly for beginners but also an instrument that can genuinely be used to create great sounds. The Werkstatt might be the most affordable synth Moog have ever made, but its sound is far from cheap.
Greg Scarth
More info/buy