Cut your own wax with this unique Japanese kit. The results may be lo-fi, but it's the most fun we've had in ages.
Japanese publishing outfit Gakken first caused a stir among music nerds in the mid-2000s, with the release of an analogue synth as a free gift on the cover of a magazine. The SX-150 was an extremely basic little instrument, but it predated the current trend for mini analogue synths and cheap instruments, becoming a cult favourite after being imported to Europe.
The brand's Otona no Kagaku magazine (loosely translated as Science for Adults) is a regular series that has now been running for nearly two decades, covering a range of scientific and technical topics, including musical subjects such as a deep dive on the theremin. It's only published in Japanese, but even if you're not able to read the contents themselves there are other reasons to be interested, chiefly in the form of the kit projects and free gifts that accompany the magazine.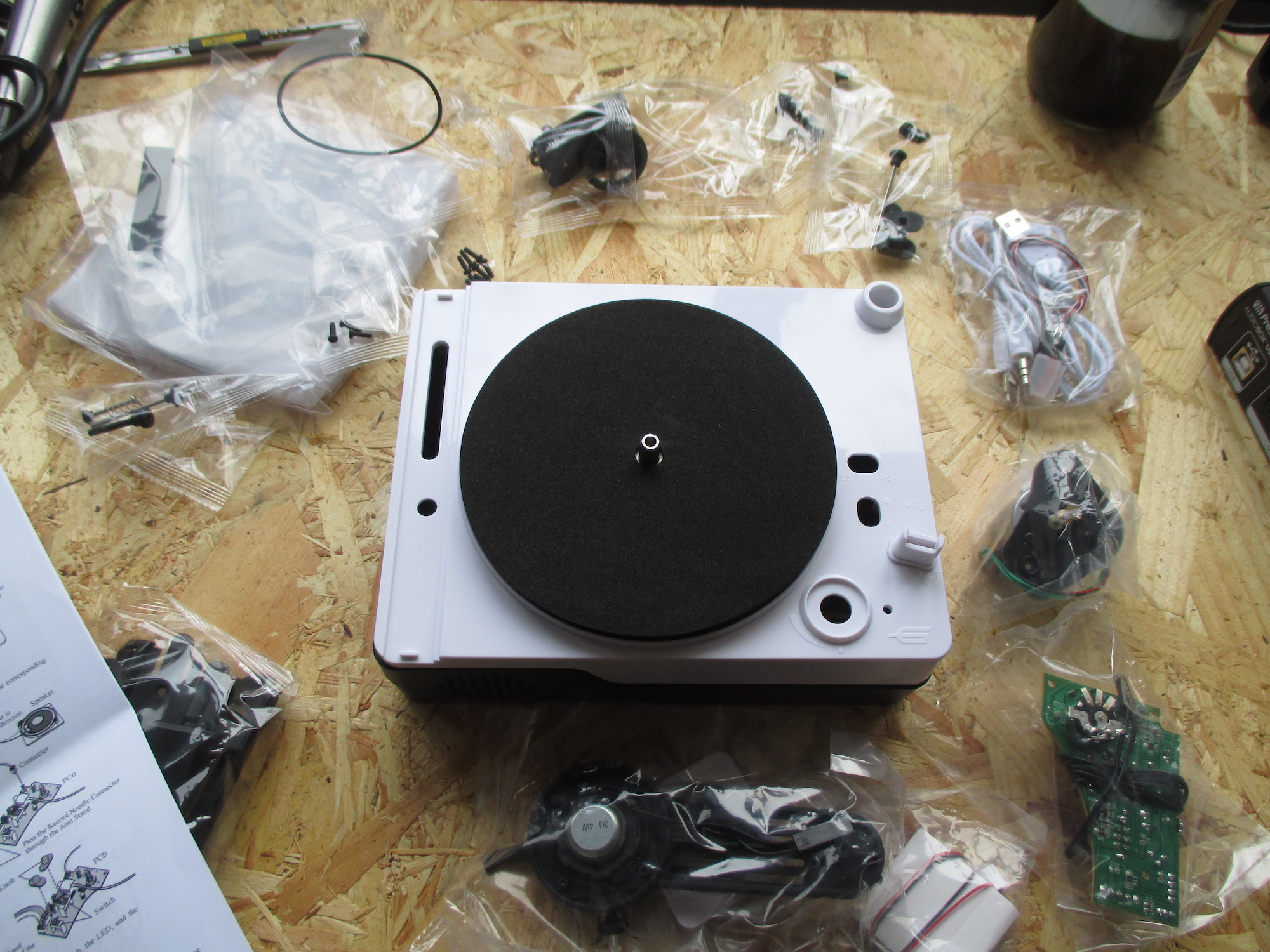 The Gakken Toy Record Maker is a small, basic and cheap mono record cutting machine that comes bundled in a package with . Produced in conjunction with Japanese sound artist and designer Yuri Suzuki and featuring input from artists including Jeff Mills, it comes in kit form, along with the magazine itself, special plastic discs to cut your music onto and a nice little selection of labels and sleeves for you to put on your custom records.
Assembling the Toy Record Maker is a fun little project in its own right. With the UK back in lockdown this month, the timing couldn't be better to hole up with a cup of coffee and a  miniature screwdriver to spend an enjoyable couple of hours piecing together the individual components – tonearm, speaker assembly, motor, cutting arm and so on – before connecting them to the main PCB and the case of the mini turntable. Designed for 7-inch records only, it's a tiny thing but not as fiddly to put together as you might expect, with good instructions in English and clear diagrams. The only aspect I found slightly confusing was ensuring I used the correct screws for each component, with three different heads to choose from depending on whether a flush finish is required or whether a flange is needed to hold down a cable or a speaker.
With the unit built, cutting records is relatively easy. There's no fancy additional equipment required, with the Toy Record Maker able to take an input from a headphone jack of a phone, tablet or computer. Set the unit to record mode and you can cut in real time to one of the included discs (additional discs and cutting needles are available separately). The resulting record is decidedly lo-fi, but the results are usable on a standard turntable or can be played back through the Record Maker's own rough-and-ready internal tonearm and speaker. Some owners have already reported good results from cutting using different techniques such as employing RIAA equalisation or cutting to old CDs instead of the Gakken discs, and it's fun to experiment to see what works best.
This is categorically not a shortcut to producing your own high-fidelity vinyl pressings, but then again it's a good few thousand pounds cheaper than the type of equipment you'd use to cut dubplates, let alone production runs of vinyl. However, even with the lo-fi sound quality of the results, there are some interesting real-world applications beyond the novelty value. For DJs, the idea of recording live to the disc during a DJ set would make a great performance gimmick, taking the lo-fi record and playing it back almost like adding an effect to your set. Similar approaches could work for live performers, almost like sampling their own music, while in the studio the idea of cutting drum samples, loops or breakbeats and then resampling them back into projects is fascinating.
Despite being billed as science for adults, it would also be an excellent way to introduce younger enthusiasts to the world of record cutting and vinyl in general. With adult supervision, even quite young children would enjoy the novelty of recording their own music or voice to a disc and being able to play it back. The results might not be the ultimate in sound quality, but that's not really what we expected here anyway (the box features a cartoon character proudly announcing: "Lo-fi sound!!"). Instead, think of it as a fun little project that might spark a few new creative ideas for DJs or producers. We love it, and we can't think of many musical gifts we'd be happier to find under the Christmas tree this year.
Greg Scarth
More info/buy