Arturia's AudioFuse range has expanded in recent months, but does the smallest model in the range still do a job? We put the updated version to the test.
The original AudioFuse marked Arturia's first foray into the world of audio interfaces, followed last year by the introduction of the larger AudioFuse Studio and rackmount AudioFuse 8Pre. The original model has been lightly revised by Arturia, with some internal manufacturing changes but essentially the same specifications barring a new orange stripe to mark it out from what we can now think of as the Rev 1 model.
The AudioFuse is a tiny little unit, but as its £500+ price tag suggests, it's a fairly serious bit of kit. Despite looking like a two-in, two-out entry-level interface from the front, the back panel hosts a wealth of sockets, offering a huge range of connection types, both analogue and digital. The full, exhaustive list is worth running through to give a sense of just what we're dealing with here. On the front panel you'll find a pair of combo TRS/XLR sockets for the first two mic/line inputs, plus a pair of headphone outputs, each with ¼" and 3.5mm sockets. On the back, you've got MIDI in and out via 3.5mm sockets and adapter cables, word clock or S/PDIF in and out, ADAT in and out, a built-in USB hub, phono input, a pair of inserts, two more line inputs and two stereo pairs of speaker outputs. To say that the AudioFuse packs a lot into a small box is quite the understatement.
I was hugely impressed with the AudioFuse Studio when I reviewed it earlier this year, and reacquainting myself with its smaller sibling reminded me what it is that makes the product range so strong: fundamentally, these are interfaces based on very good principles, with well thought-out features and layouts. As you'd hope at this price point, sound quality is superb. The main two inputs are particularly versatile, with all of the controls laid out clearly on the front panel for settings like 48V phantom power, phase inversion, pad and a high-impedance instrument setting. This strikes me as one of the main selling points of the AudioFuse: from the front panel, it's a very powerful, well-designed two-input interface with extensive monitor control options. For those of us who mainly record smaller numbers of sources in any one take, it makes a simple and effective control hub for the recording process, but then it's backed up (literally) with all of the additional inputs and outputs on the rear of the unit. Those who record more sources at once will probably consider the larger AudioFuse Studio or 8Pre, but the basic unit does a nice job of simplifying things without sacrificing too much flexibility when you need it.
Arturia have also improved the software package slightly since the original AudioFuse release. The AudioFuse Control Center software has been upgraded and acts as the central hub in your software, allowing you to control the deeper settings like audio routing and monitoring. It's a neat and user-friendly solution. The AudioFuse is also bundled with the AudioFuse Creative Suite, an impressive collection of Arturia's software, which includes preamp and filter plugins as well as Analog Lab Lite, a basic version of the brand's super software instrument collection.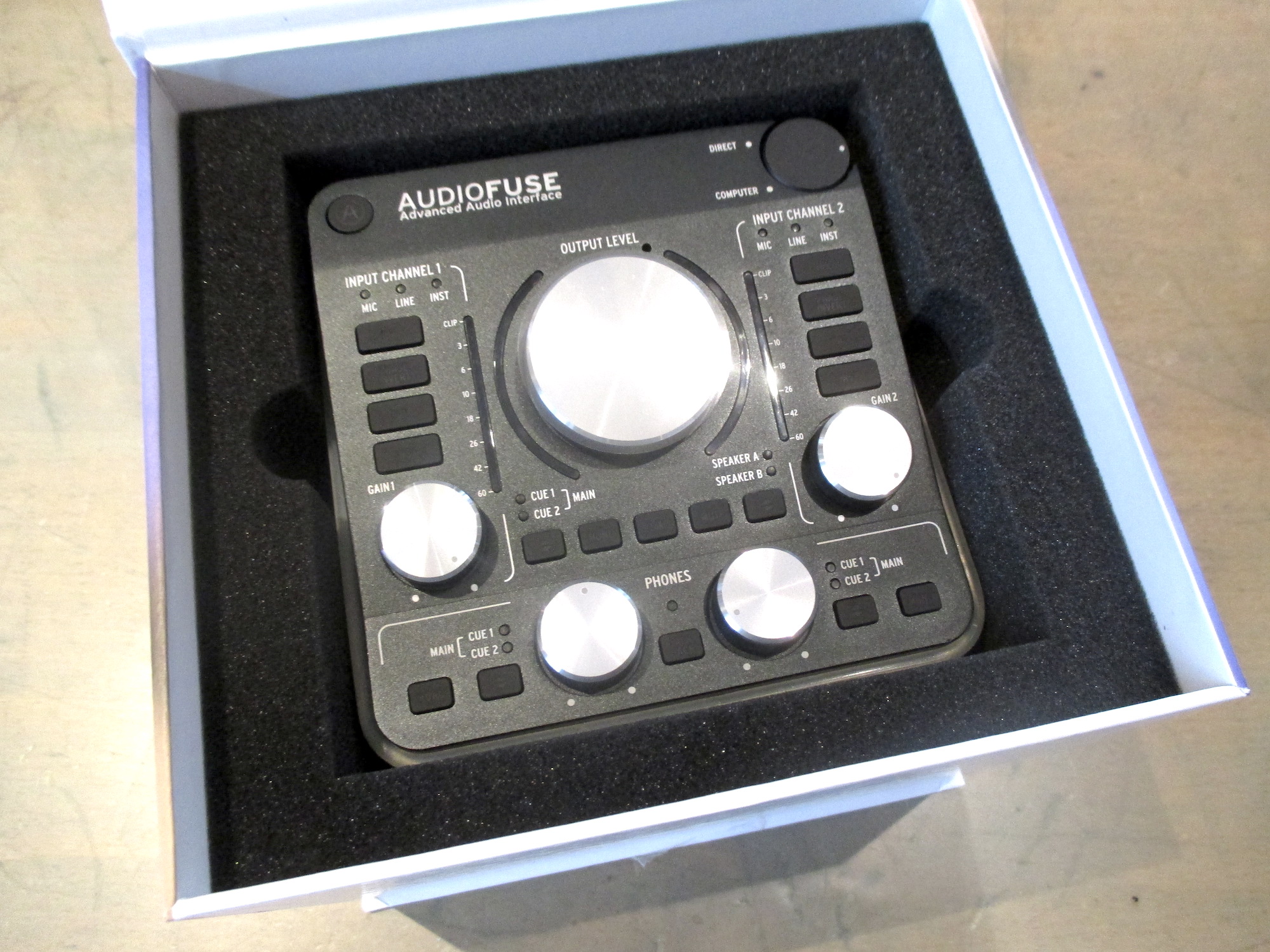 The compact size is one of the main selling points of the Audiofuse, and it makes a compelling case as a portable device that you could pack into a rucksack, shielded by its protective metal top case, and enjoy top-quality recording anywhere you can take a laptop or iOS device. Sound quality is top notch and the extensive array of inputs and outputs means that you'll very rarely struggle for connectivity, especially if you choose to expand the analogue inputs via a suitable ADAT-compatible device. Overall, the lightly revised AudioFuse is a tiny little powerhouse that still gets the job done just as well as ever.
Greg Scarth
More info/buy