This fully customisable module is a versatile DSP platform for those who want to develop their own Eurorack-compatible musical devices.
There's a long and proud history of DIY builds and customisation in the world of modular synthesis. Look right back to the birth of the synthesiser as we know it and pioneers like Bob Moog and Don Buchla began their careers as enthusiasts, wide-eyed at the possibilities they saw before them. Both quickly transitioned from amateurs to professionals, but that spirit of discovery defined music technology.
The Eurorack format is the best example of how inquisitive experimentation can be a beautiful thing. Countless brands have grown out of DIY efforts, with a number of them establishing themselves as some of the most popular and innovative names in music technology: think Make Noise, founded by self-taught enthusiast Tony Rolando, or Erica Synths, who do their bit to support the self-build community a whole range of modules aimed at DIYers.
Electro-Smith's Daisy Patch module takes a somewhat different approach, but one that fits firmly into that lineage of experimentation, albeit with a far more advanced digital approach than Moog or Buchla could possibly have imagined back in the 1960s. Daisy itself is a development platform developed by Electro-Smith, designed as an audio-focused open source tool broadly comparable with Arduino or Teensy. Electro-Smith describe it as "a metamorphic sound environment capable of becoming an infinite variety of digital instruments", which might sound hyperbolic but really isn't: Daisy is capable of running custom firmware programmed using Pure Data, Arduino, Max/MSP ~gen, or C++.
Daisy Patch is the Eurorack incarnation of the platform, part of a bigger product range and ecosystem which includes the Field desktop module (which has CV, MIDI, a basic keyboard and headphone amp built in), the Petal guitar pedal, the Pod USB breakout board, and the ultra-basic Seed (which is the basic platform itself, built around an ARM Cortex-M7 MCU, AKM stereo audio codec, 64MB of SDRAM, and 8MB of flash memory).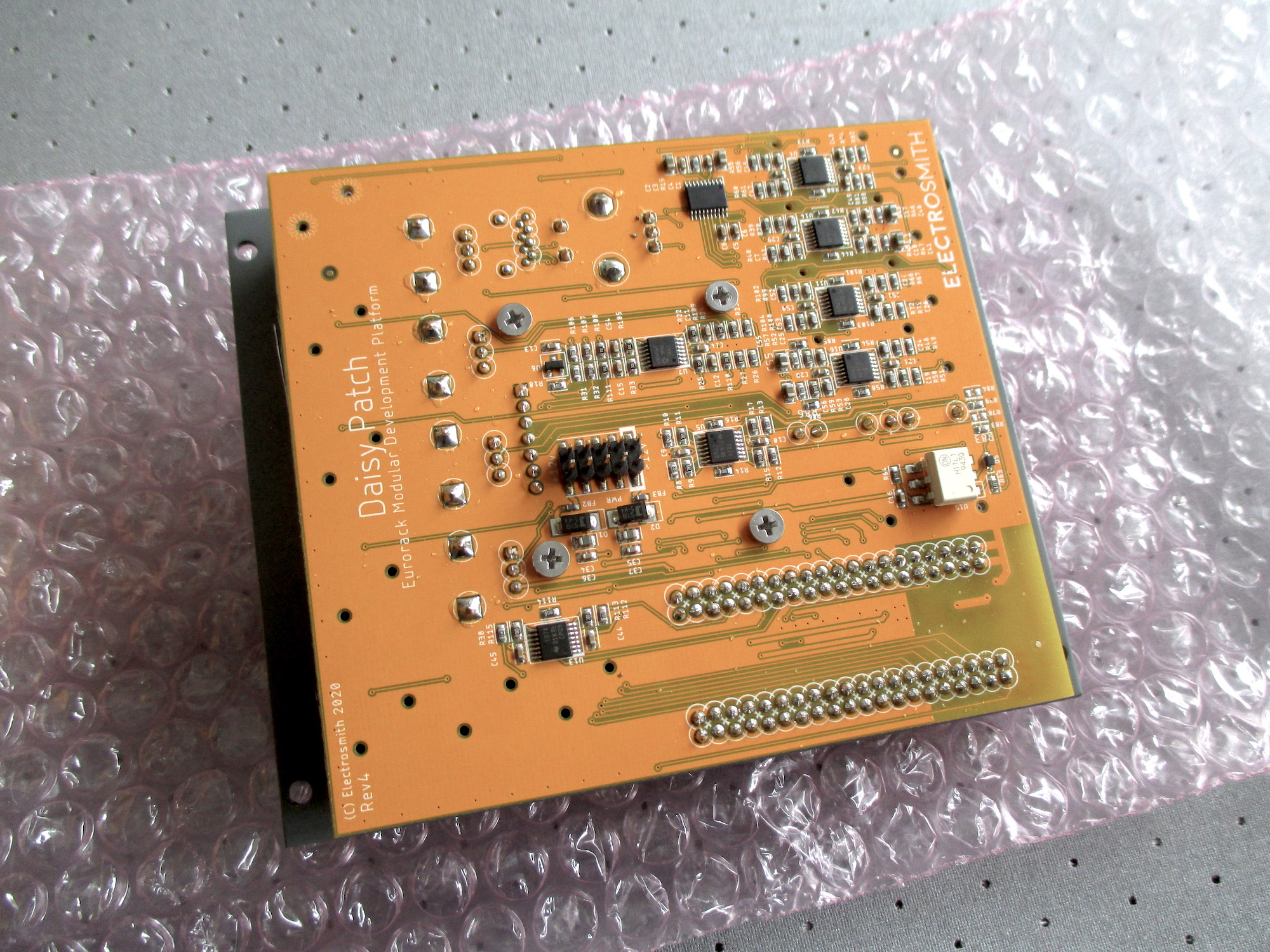 Crucially, the Daisy Patch's hardware spec is designed to make it versatile enough to create a wide range of Eurorack modules. The module features an extensive array of connections and control: four CV inputs with corresponding rotary knobs, four 24-bit audio inputs and four outputs, MIDI in and out, master CV in and out, and a dedicated gate section with two inputs and one output. There's also a separate rotary encoder, OLED display, a single encoder and an SD card slot. It's an impressively broad hardware spec which should allow the Patch to be programmed into everything from a standalone synth voice to processors, effects and much more.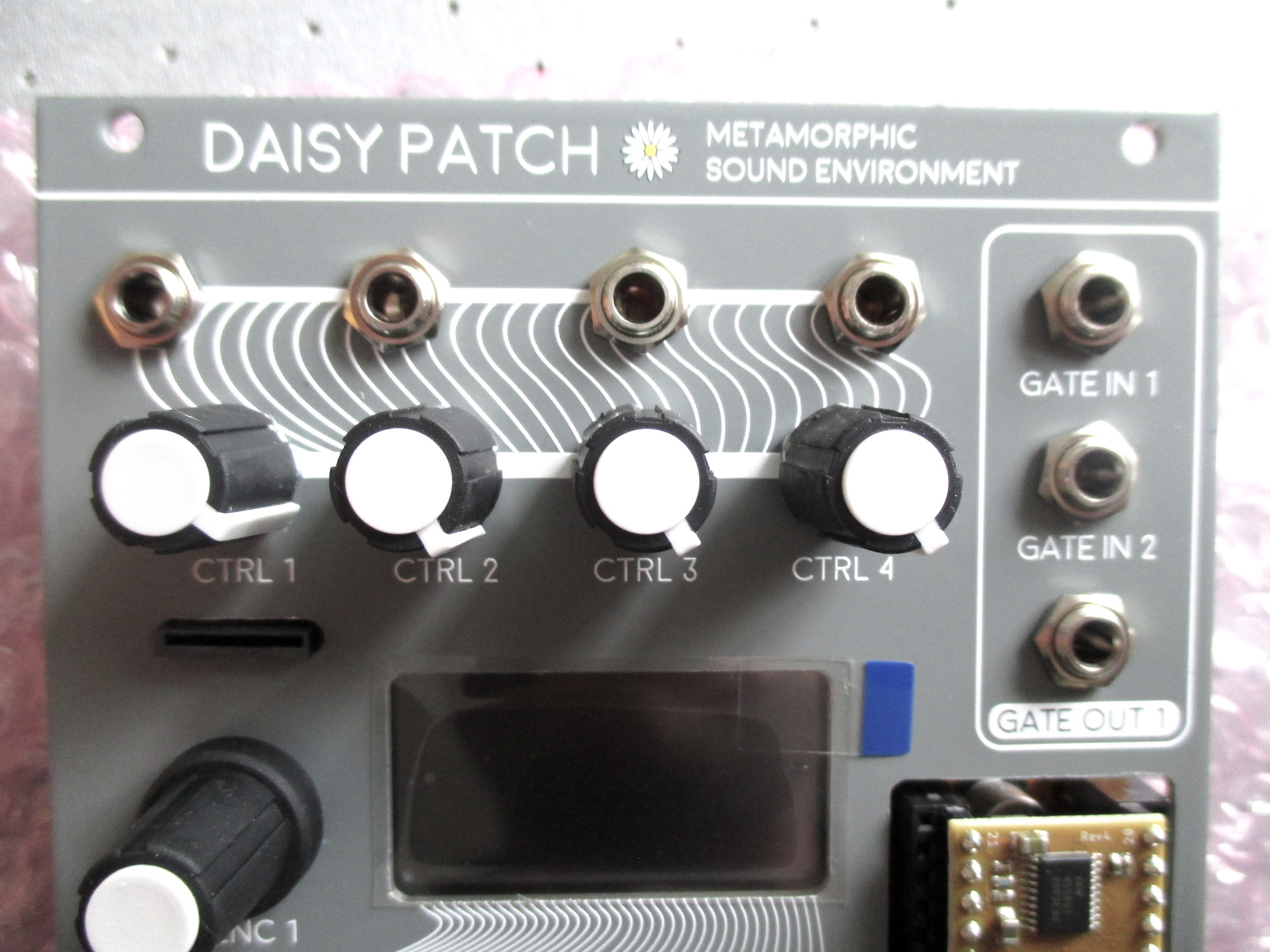 Daisy Patch isn't aimed at complete beginners. A level of programming experience is essential to get anything serious out of the unit, although there's good documentation on GitHub and a number of ready-to-use firmware files which can be uploaded via a user-friendly web-based interface to get you started. The most obvious application is in development of new digital modules, although it also seems likely that the Patch will come in very handy for anyone who simply wants to run their existing Pure Data or Max/MSP code in a modular-friendly format. These are very early days for the Daisy platform, but it's a concept which has a lot of potential, and we're absolutely certain it'll be a massively helpful tool for budding Eurorack developers.
Daisy is a deliberately specialist platform, aimed specifically at developers and enthusiasts, but so was modular synthesis in its very earliest days. If Daisy Patch can play a part in helping the next generation of synth brands to grow and blossom, then it'll have served its purpose.
More info/buy