The UK modular brand's first complete system is a thrillingly creative showcase of their approach to making music. We take it for a test drive.
There are two distinct philosophies in modular synthesis that simultaneously contrast with each other and overlap. On the one hand, it's all about mixing and matching individual modules – usually from a range of manufacturers – in order to create custom, personalised setups. But on the other hand, manufacturers have offered complete systems since the earliest days of modular synthesis. Some of those systems have become iconic in their own right, as touchstones in the development of synth technology and the approaches of their designers – just think of the Moog System 55, Buchla 100, Roland System 100 or the Doepfer A-100, which introduced the now widely adopted Eurorack format.
The System Coupe is the first complete system offered by the UK's ALM Busy Circuits, Eurorack specialists whose modules have been consistently innovative and popular since the brand launched in 2012. The Coupe is a showcase of the brand's approach to sound and a demonstration of how they approach everything from MIDI control to sampling and sequencing. It's not a comprehensive bundle of every module the brand make, but a curated selection designed to function as what ALM describe as a 'modern modular groovebox' combining digital and analogue technology.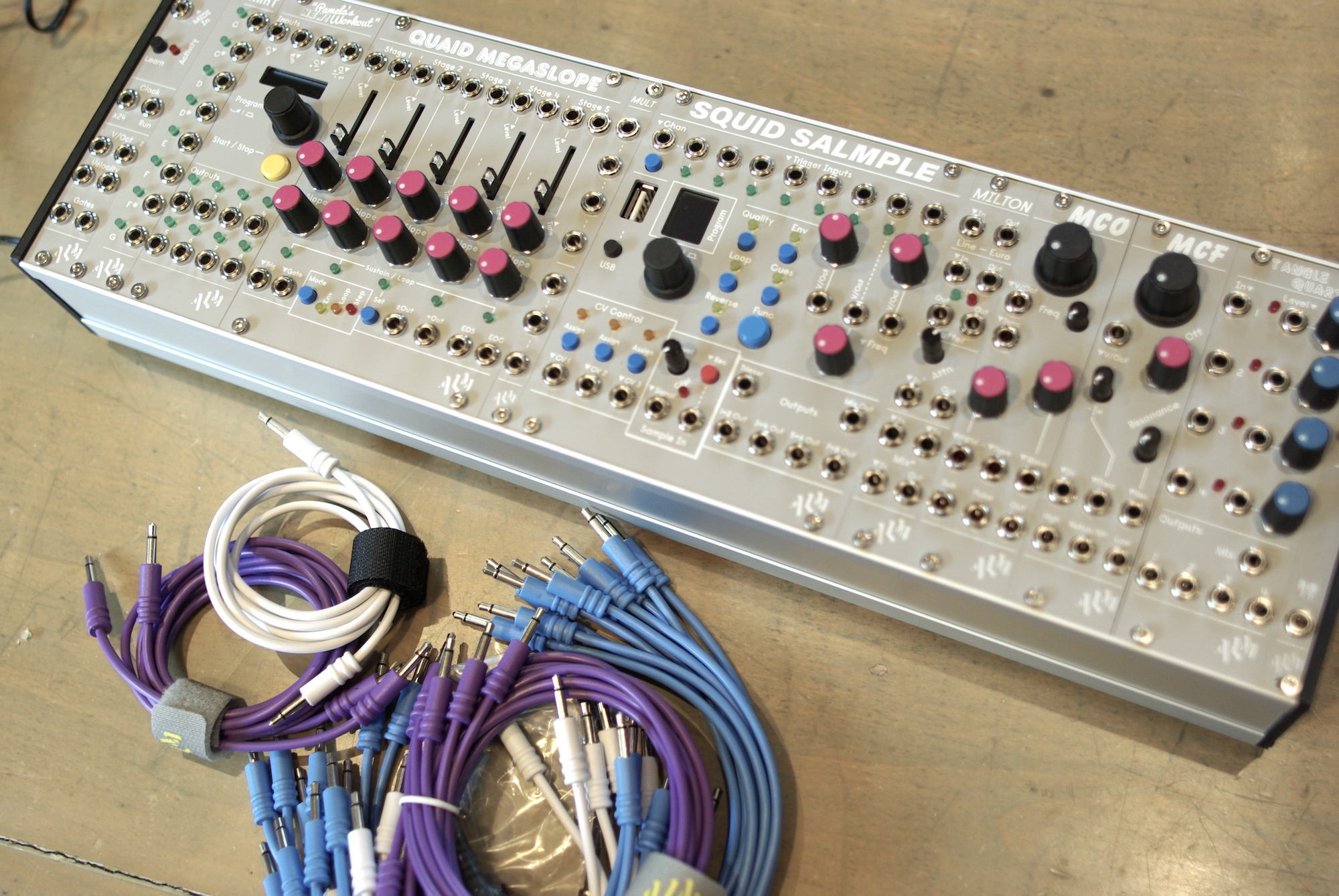 So, what do you get in the box? There's a compact case with built-in power supply, a selection of modules already installed, a bag of patch cables, an ALM-branded USB stick loaded with samples, plus a quick start guide, stickers and a poster. You'll need a way of hearing the sounds you're making (headphones or monitors), but otherwise here we have literally everything you need to get started with modular synthesis. If you've already got modular or semi-modular gear, you can of course hook the Coupe up to other modules and use it like an expansion of your existing setup, taking advantage of the creative possibilities to be had from that broader approach. (It's well worth reiterating here that you absolutely don't need other modular gear to enjoy the Coupe; a quick session trying out some of the example patches listed in the quick start guide proves that it's more than possible to create entire tracks without any other gear, or to set up some impressively capable patches of synths, drums or samples to use alongside non-modular instruments.)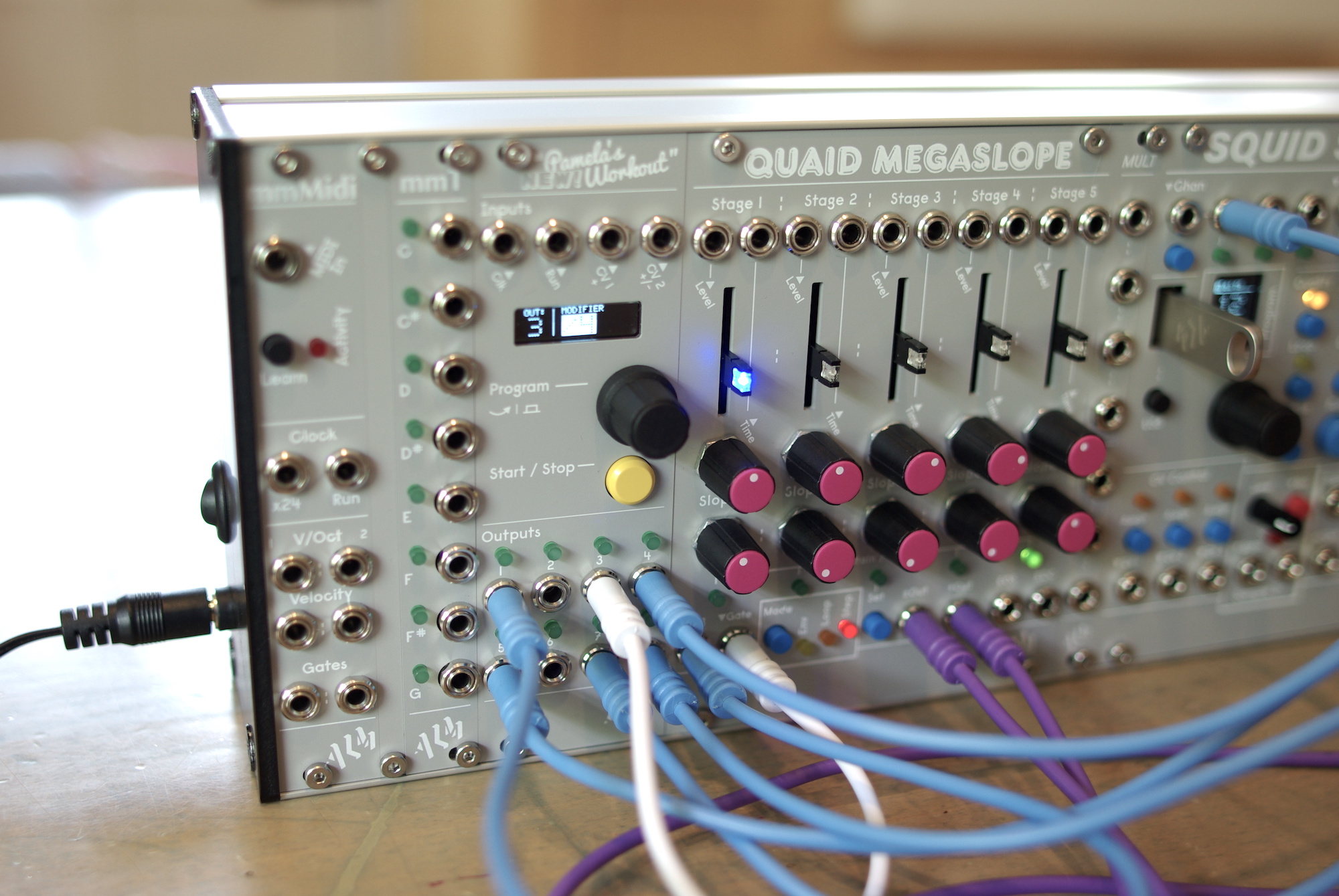 In terms of modules, there are probably three different categories included in the Coupe's line-up: firstly there's a selection of ALM's greatest hits such as the hugely popular Pamela's New Workout clock/modulation source, Squid Salmple sampler and Quaid Megaslope function generator; then there are a few of the slightly less celebrated but equally functional modules like the MCO digital oscillator and Tangle Quartet quad VCA; and finally there's a light sprinkling of exclusive new modules designed to link the system together and make it more functional.
Looking left to right across the rack gives a clue as to some of the obvious ways to approach making music with the Coupe. The mmMidi MIDI-to-CV interface allows you to convert an external MIDI input to CV if you want to control everything via a DAW or standalone MIDI sequencer, while the mmT trigger expander provides eight trigger outputs which are most obviously suited to patching into the Squid's eight trigger inputs. The Pamela and Quaid modules are both hugely versatile and capable of doing a variety of completely different things, but together they offer an interesting alternative approach to clock sources, step sequencing, envelope generation, modulation and triggers.
In terms of sound sources, the obvious starting point is the Squid Salmple. ALM describe it as the core of the system, and it really is an incredibly deep module once you dig into its capabilities. You can use it for basic sample playback, of course, and it'll do brilliantly characterful impressions of vintage samplers if you dial back the quality settings, but you can also achieve nice granular synthesis-style effects by creating tiny loops of samples. What's even more interesting creatively is the ability to sample and resample in real time, including sampling CV signals in order to replay them as modulation sources. It's a great example of how the modular format can unlock options that wouldn't be possible with self-contained standalone instruments like a traditional rack sampler, or even a software sampler.
For traditional subtractive synthesis, the MCO digital oscillator and MCF filter are both relatively simple modules, but the morphing wavetable approach of the MCO provides a wider range of gritty, characterful tones than you might expect from what looks like quite a basic oscillator. It doesn't have the range of a complex digital oscillator like a Mutable Instruments Plaits, but then again not much does. It provides a decent level of versatility in combination with the analogue multi-mode MCF filter (an exclusive to the Coupe, not available to buy separately). The modules that link all of these key elements together are a little more functional but essential to making things work cohesively as a whole, with the Tangle Quartet quad VCA serving double duties as a mixer at the end of the signal chain, before feeding into the HPO output module. It's also worth noting that the Coupe-exclusive Milton module allows you to interface the system with line-level signals, such as processing other synths or sending audio out to external effects.
The System Coupe is the perfect showcase of what ALM do, serving up the brand's best and most popular modules in a perfectly considered format which works either as a completely standalone system or a self-contained rack that plays nicely with other Eurorack and semi-modular synths. As a standalone instrument in its own right, what's particularly impressive is how the Coupe is user-friendly for modular novices while also being incredibly deep and capable once you start to understand its modules and their more advanced functions. It's not cheap, but as a carefully considered, perfectly cohesive instrument it certainly represents good value.
Greg Scarth
More info/buy
Note: the System Coupe we used for our review is available at a discounted price. Mint condition, full service history, one careful owner, freshly valeted, never raced or rallied, first to view will buy.