Pad controller, sequencer and plugin suite combine to create a versatile beat composer. Nektar's Aura brings a hardware drum machine feel to your DAW. We put it to the test.
California's Nektar must rank as one of the most single-minded brands in music tech. The company is only a little over a decade old, but in that time they've established themselves as one of the major players in the controller market, specialising exclusively in keyboards, pad controllers and related accessories.
Innovation is famously difficult in the controller market. There's a very fine line between truly improving a tried-and-tested design and grafting on features for the sake of it. With the new Aura, Nektar have taken a measured approach: it's essentially a pad controller with a focus on drum programming, but a few clever twists turn it into what the brand describe as a 'beat composer'.
The standard layout of the pad controller is almost taken for granted these days, defined way back in the early 80s when Roger Linn designed the hugely successful Akai MPC60 sampling workstation. Nektar follow the MPC formula here, with a 4×4 grid of touch-sensitive RGB pads dominating the front panel of the unit. Around its edges are navigation controls and a strip of dedicated controls for mixer, pad setup, effects, browsing and similar functions.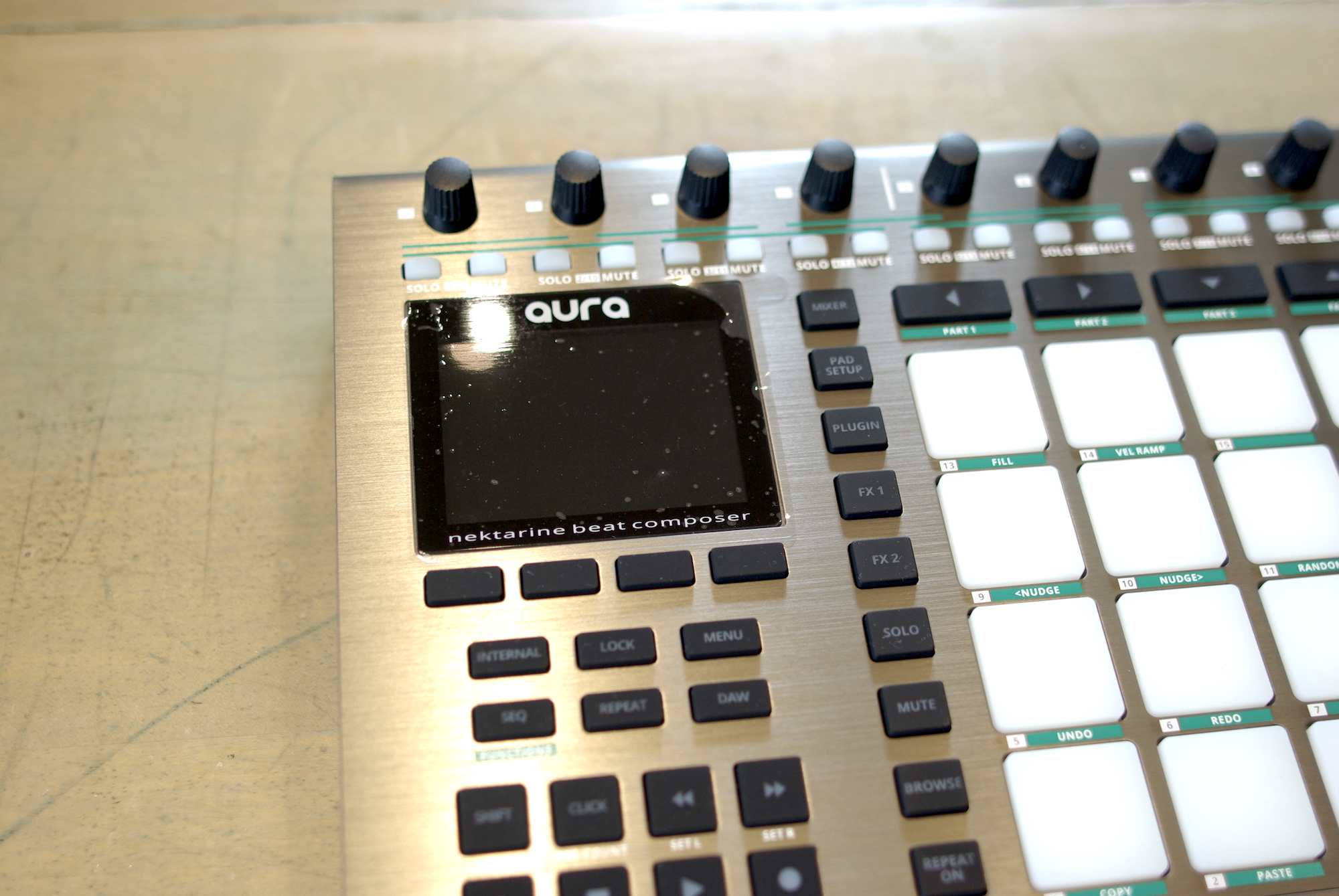 The hardware itself is lighter than it looks but impressively well built, as you'd expect from Nektar; there's a nice solid feel to all the pads, a good weight and resistance to the rotary controllers and the full colour TFT display is clear and bright. In use, the pad section has a good, responsive feel. You wouldn't expect Nektar to drop the ball with such a fundamental part of the unit, but it's reassuring to feel that the pads are as expressive and easy to play as you could wish. There's also good implementation of an MPC-style pad repeat feature.
The step sequencer options add a nice layer of functionality on top of the basic pad control. You can create patterns from scratch and then adjust parameters in real time, giving it a nice blend of programming and performance. The focus is mainly on control of software, but it's worth noting that the Aura works as a standalone device, and I could certainly see how it'd be effective as a dedicated controller for hardware synths and samplers, bringing out an extra degree of real-time hands-on control via MIDI.
So far, so good, but also quite conventional. Where the Aura sets itself apart is with the integration offered by Nektar's own Nektarine software. This allows you to control plugin instruments and effects directly from the controller, including browsing and selecting sounds and adjusting parameters as well as the more basic features like DAW transport controls. It's neatly done and works well with most software straight out of the box, with real-time feedback on the Aura's display. Maps are included for popular plugins, but you can also create your own using a graphical editor if your favourite plugins aren't already covered. Of course, it's not as tightly integrated as something like the hybrid hardware/software production environment Native Instruments offer with Maschine, but it's versatile in a different way.
There are plenty of other excellent pad instruments and beatmaking hardware on the market, from basic MIDI controllers all the way up to full-on samplers and standalone instruments. The Aura feels like it belongs to a more specific group of offerings that do something unique. You could file it alongside the excellent Arturia Beatstep Pro and NI Maschine Mk3 as genuinely innovative tools that unlock huge creative potential.
Nektar define their mission statement as bridging the gap between music software and controller hardware. The Aura perfectly achieves that aim, offering a versatile, efficient way to play, program and control your instruments and effects.
Greg Scarth
More info/buy