Released in 2016, Make Noise's 0-Coast synth is a creative powerhouse that offers an ideal entry point to experimental synthesis.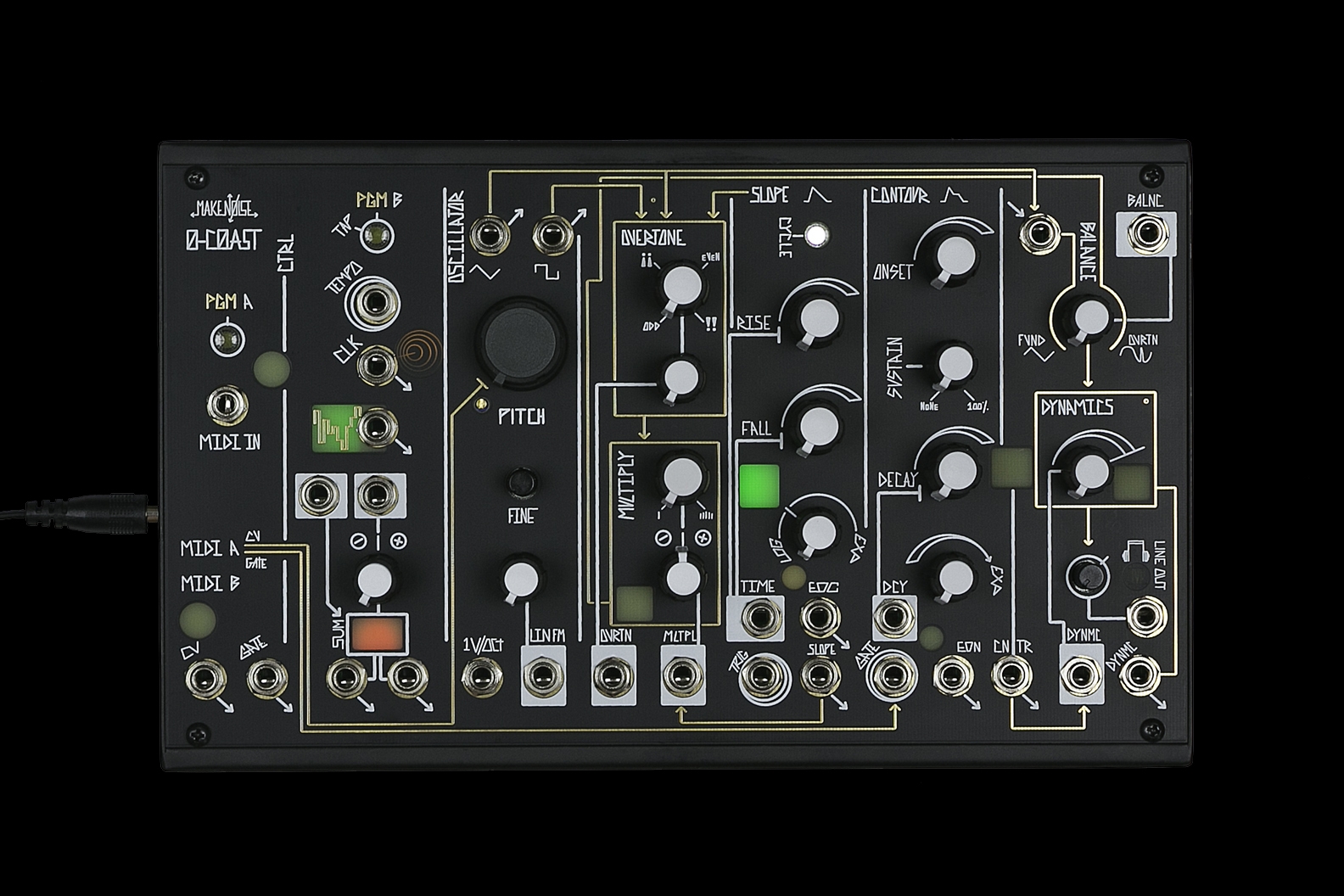 Founded in 2008 by former Moog employee Tony Rolando, Make Noise quickly established itself as one of the most interesting brands in the burgeoning Eurorack modular synth market. 12 years on, the North Carolina brand is known for its experimental approach. According to the Modular Grid website, the brand's Maths module is both the most popular Eurorack module of all time, featuring in 42,579 setups, and also the best, with an average rating of 4.76 out of 5. That module is as good as any to explain the appeal of Make Noise: it's an 'analogue computer' that functions as a modulation generator and signal processor. It's definitely not a conventional envelope generator or LFO, but it does both of those things, as well as modulating signals in hugely versatile ways. In short, it's a module that encourages you to rethink some of the conventions to which many modern synths adhere, unleashing the creative potential of approaches associated with 60s experimental synthesis.
As with many of Make Noise's products, the Maths is loosely inspired by modules created by Don Buchla, the legendary synth designer whose pioneering 1960s work in California defined what became known as West Coast synthesis. These days, to understand the esoteric appeal of West Coast, it's easiest to consider what East Coast synthesis is, best exemplified by Moog: subtractive synthesis (the type used on the vast majority of analogue and virtual analogue synths, usually played by keyboards, with a conventional setup of oscillators, filters, LFOs and envelope generators. West Coast synthesis took a different approach, focusing more on experimental approaches built around alternative ideas like sequencers, additive synthesis, waveshaping and slope generators.
Launched in 2016, the 0-Coast was the brand's first foray into self-contained synths. It's a fully functional, portable instrument in its own right without needing any other equipment to generate sound (although it should be noted that you'll want something like a sequencer or keyboard to play notes; it has MIDI or CV inputs, allowing you to trigger it from just about any hardware source or a DAW). It's all perfectly compatible with other Eurorack modules, of course, but you don't need a case, a power supply or any other modules to make it work. There are even a few patch cables thrown in to get you started. It's a small unit, but it packs in a lot of functionality.
The name, 0-Coast (pronounced "oh coast" or "no coast"), is a slightly tongue-in-cheek reference to the fact that the synth doesn't follow either a traditional West Coast or East Coast approach, although it leans slightly more to California. If you're familiar with the commonly used subtractive synthesis approach, perhaps the biggest mental hurdle to overcome is the fact there's no filter. Instead of generating harmonically rich waveforms and filtering them back down ('subtracting' harmonics), the 0-Coast uses a triangle-core VCO that allows you to dial in overtones, adding harmonic content rather than taking it away.
The 0-Coast is technically considered semi-modular rather than fully modular, meaning that the different sections of the circuit are internally 'normalised' (i.e. connected together) before you plug in any patch cables. Patching the synth via the neatly labelled patch points (13 sources and 14 destinations) overrides this normalisation, and this is where things start to get really interesting. From there, you can start experimenting with the other sections of the synth circuitry: slope generators (like very basic envelopes), Contours, Dynamics and Maths-derived signal processing.
If all this sounds daunting, the documentation in the synth's manual is a synthesis lesson in its own right, but there's also an extensive online community with a keen interest in Make Noise products, so you'll find dozens of helpful YouTube videos and forum posts to guide you through the potential of the instrument.
As a self-contained synth voice, the 0-Coast is a little bit more accessible to those who aren't ready to take the plunge into some of the brand's more complicated individual modules. We often praise synths for being beginner-friendly or easy to get to grips with, but that's not entirely the case here. It's not to say that the 0-Coast is unnecessarily complicated or difficult to use, but the approach is never going to be as straightforward as other synths. If you're a complete beginner, we'd suggest that a subtractive synth like the Doepfer Dark Energy or Moog Mother-32 could provide an easier entry point to modular synthesis.
But for those who've learned the basics and are ready to take the leap into more experimental synthesis, the 0-Coast really is an ideal option. Make Noise describe their synths as "pretty strange, but thoughtful" and that's a fair assessment of the 0-Coast. It's far from the norm by other brands' standards, but in the context of Make Noise it makes perfect sense.
Greg Scarth
More info/buy