Arturia's latest MIDI keyboard is a full-size take on the Essential format, bundled with a huge collection of the brand's excellent virtual instruments.
French brand Arturia first made their name with virtual instruments before more recently expanding out into a range of hardware from analogue synths to drum machines and audio interfaces. For a number of years, the brand has offered keyboard bundles, packaging a MIDI controller with a range of software as a ready-made entry point into production. For complete beginners, you get music production software (in this case a copy of Ableton Live Lite), plus virtual instruments and a keyboard to play them all with. Just add a suitable computer and monitors of headphones and you have everything you need. Even if you already have a DAW, it's a very cost-effective way of getting sounds from Arturia's excellent range of software instruments and a dedicated controller for them.
The KeyLab Essential 88 is the latest in Arturia's range, building on the previous 49- and 61-key versions to offer a full-piano-size option. The KeyLab Essential sits in the middle of the Arturia range, below the more fully-featured (and more expensive KeyLab MkII models but above the more basic models such as the MiniLab and KeyStep. While you don't quite get as much functionality as the top-of-the-range models, you get a very similar feature set in terms of the hardware specs: above the 88 keys, you'll find a range of hands-on controls for the software, including rotary encoders, faders, eight touch-sensitive pads, pitch and modulation wheels, plus transport controls (play, stop, record, etc).
Specifications aside, the most important thing about any keyboard is the way it plays. With the Essential range, Arturia have chosen to use a semi-weighted keybed which they describe as a 'hybrid synth-piano feel'. The feel of a keyboard is a very personal thing; seasoned piano players typically prefer a fully weighted keybed that feels like the real thing, while synths traditionally had a very artificial feel to their keys which somehow feels more appropriate for synth sounds. My own preference leans more toward a synth action, a bit lighter and more plasticky than a real piano keyboard. The KeyLab Essential strikes a nice middle ground: expressive and with enough feel to play virtual piano parts, but nicely weighted for synths too. It is, of course, velocity-sensitive, with a good response, although it doesn't respond to aftertouch (the more expensive KeyLab MkII also has aftertouch, which allows you to modulate sounds by adjusting pressure on the keys while holding down notes).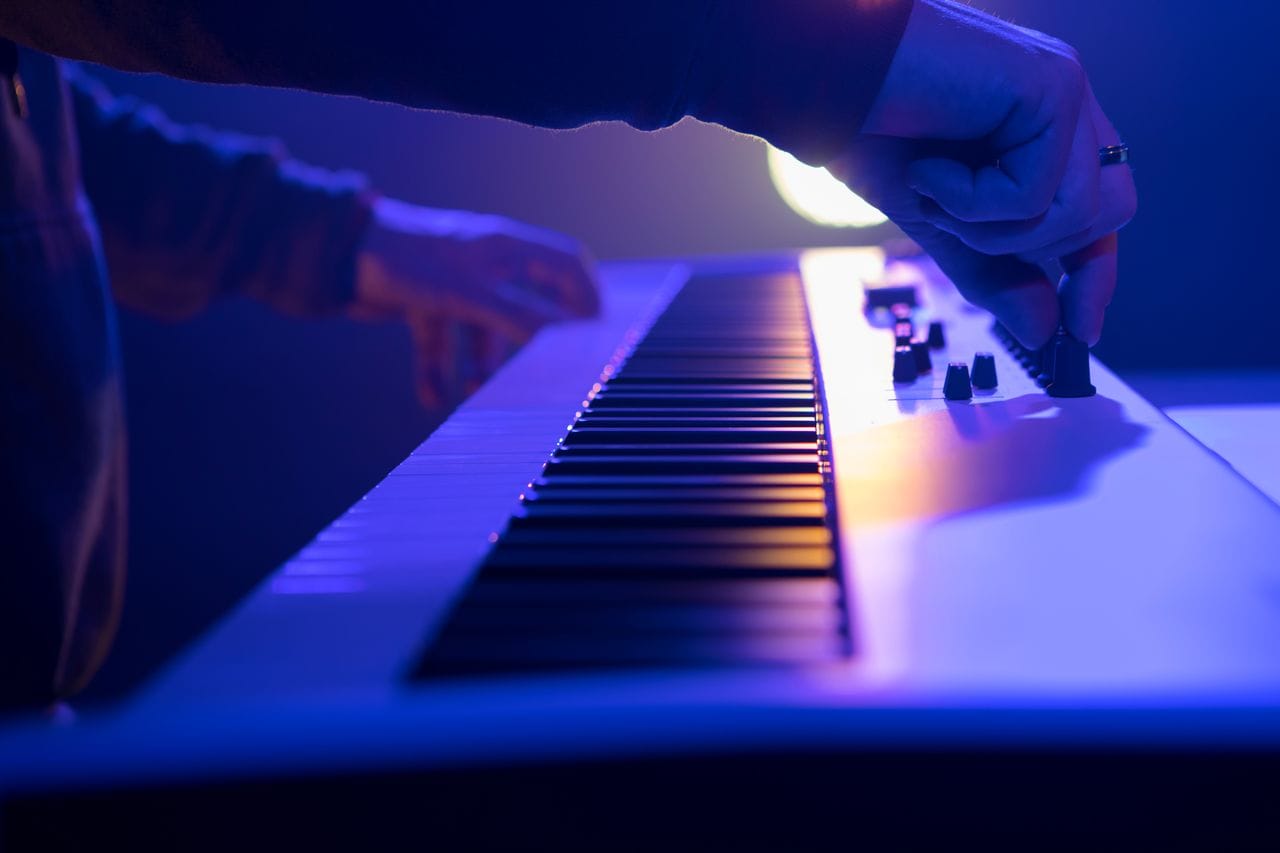 The key part of the software offering is Arturia's Analog Lab package, essentially a bundle of sounds taken from the brand's excellent range of virtual instruments, leaning heavily towards emulations of classic hardware synths from the past. Although the Analog Lab doesn't give you full control over every parameter in the full version of the plugins, it includes around 5,000 preset sounds with basic editing capabilities. It's a huge collection which gives you plenty of creative options to get started with.
There's only one real downside to the Keylab 88, and that's the simple fact that any 88-key controller takes up a lot of space. You'll need a fairly large space in your studio just to set it up, but if you have room then the 88 does give you more versatility than the smaller 49- and 61-key versions, whether it's for two-handed playing or just to avoid having to transpose up and down the octaves for playing different instruments.
There are hundreds of MIDI controller keyboards on the market, making it hard for new products to stand out, but Arturia have done a good job with the Essential. The brand's own range of virtual instruments is a key selling point here, but above all else, the most notable thing about the Essential 88 is what good value it represents. For under £300, you're getting a huge amount of creativity for your money.
Greg Scarth
More info/buy