Johanna Knutsson interview
To coincide with our International Women's Day celebrations, we hit up the Berlin-based producer to talk about creative inspiration in the studio.
Johanna Knutsson's approach to studio life is unusual by the standards of most producers. Not only does the Berlin-based artist favour a remote location nearly an hour away from her home, but the studio she rents in the unfashionable Marzahn district is also a light and calming environment, with the walls painted pale pink and her friend's French bulldog, Pepper, snoozing by her feet on the turquoise carpet.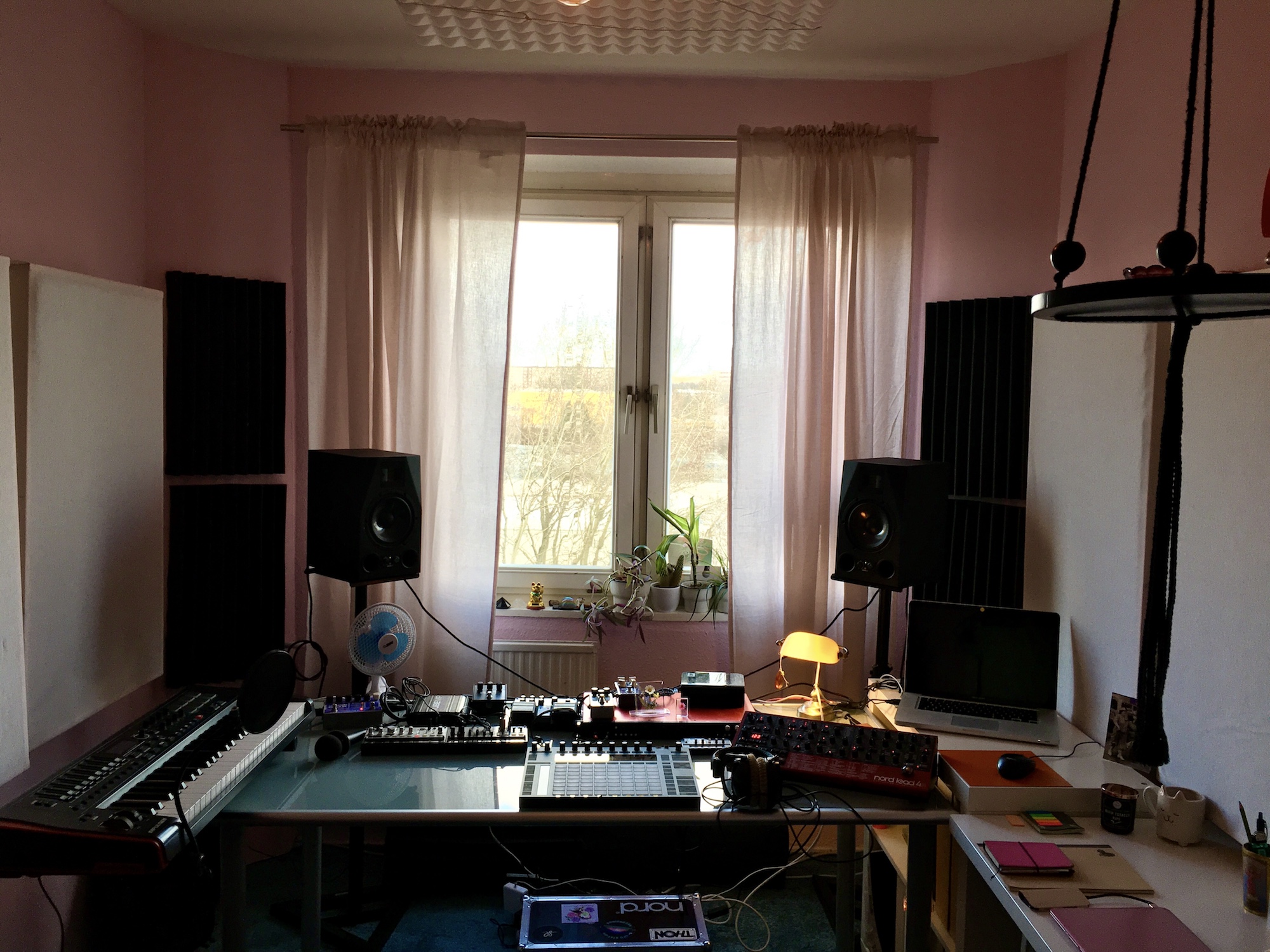 Having grown up in the small town of Tollarp in southern Sweden, the 35-year-old producer and DJ relocated to the German capital around a decade ago, forging a reputation as a distinctive voice in techno before branching out into ambient territory. As a label boss, she operates Zodiac 44 with Luca Lozano and UFO Station Recordings with Hans Berg. As a live performer, she's also a member of her fellow Swede Sebastian Mullaert's Circle Of Live collective, alongside a rotating cast of collaborators including Dorisburg and Mathew Jonson.
To coincide with our International Women's Day celebrations, we hit her up to talk about creative inspiration in the studio, favourite gear and how she balances the harder and softer sides of her musical output.
Juno: Hi Johanna. To start, can you tell us a bit about where your studio is, how long you've been there and how you'd describe the setup?
Johanna Knutsson: I have my studio out in Marzahn [on the north-east side of Berlin], 40-50 minutes away from my house. I've been out here for about two years now, and even if I'd prefer something closer to my home, I'm really happy with the cheap rent and the fact that once I'm in the studio I tend to stay for at least seven or eight hours a day.
My setup is small, which is not by choice but for economic reasons. I'm always browsing and making sure I buy the right things instead of all of the things. I am always saving money for more synths and drum machines. I have a huge list of things I want to buy as soon as I have the money!
As a producer, are you the kind of person who's inspired by gear in its own right? Does a new synth or drum machine inspire you, or are they just tools?
It's always fun with a new machine to learn, but the [main] synth I have – a Nord Lead – has been such a helpful and inspiring tool for me. She – it's a she – has really opened my eyes to exactly how much you can do with sounds, and how a small turn on a knob can develop the whole vibe of a sound. I am never going to get rid of her, no matter how many more synths I buy.
Looking at your studio, the first thing that stands out is the aesthetic. How much does that matter to you?
I realise that an all-pink studio with plants and cute knick-knacks isn't the first thing one imagines when talking about techno production, but it helps me a lot to feel comfortable and being in an environment that I've created for myself and my personality. I can of course sit in other studios and collaborate, but when I open the door to my own studio, I've never once not smiled or felt an incredible peace. It's like my hideaway where I can create exactly whatever I want and be free.
Do you like to keep the same studio setup or change things up? Are there any particular pieces of equipment that are completely essential to the way you work?
Like I said before, my Nord Lead is the heart of the studio body. I change things up more in terms of pedals, filters and effects, or use my Korg Volca for bass instead of the Nord. I also love my [Roland] RE-20 Space Echo, it's such a keeper.
Do you mainly work with synths, not samples?
I just started working with samples. Up until now I've always made every little sound myself but learned that there are millions of samples out there already, that I can mess up and turn into my own. For this I use my [Ableton] Push a lot. It's much nicer than staring into my computer screen. My relationship with MIDI is a love/hate type of relationship, but at the moment we're good together.
What made you want to start using samples as well as creating your own sounds?
It came up when I was on tour with Circle Of Live in August last year, because I didn't have my whole studio setup with me but wanted to work on music in the hotel room. I got really into Splice, where I found a lot of cool samples.
The two strands of your musical output, generally speaking, are techno and ambient. Do they represent different parts of your own personality and creative approach, or does it all come from the same place?
Yeah, this is something I ask myself as well sometimes. I understand that those genres are on very different ends of a spectrum, and even if I sometimes think that it's easy for me to make both I really need different mindsets to create any one of them. I have to psyche myself up or down on the way to the studio depending on what I plan to make that day. There are days where I go in planning to finish some ambient stuff, for example, but can't stop making dance music, or the other way around. [I] gotta do what feels right that day. My whole output is driven by my emotions, and I completely trust them.
Does that mean that you begin working on music with set ideas about what you want to achieve? Do you have a plan in mind before you go into the studio, or do you start playing and see what happens?
Yeah, I do go in thinking about what needs to be started or finished, and give that a go. Most of the time it works, but some days are darker than others and then I'm incapable of forcing myself to create something 'functional', and have to channel that into the music. It works for me, though. I've learned to not force anything.
I think you said once that you don't listen to techno when you're making dinner, but what about being inspired by other music? Are you inspired more by music in similar styles to what you make, or music from other styles and genres?
Well, I've changed a little. I just have to listen to it in my headphones, then I can listen to anything anywhere and anytime! It's when dance music is filling up a room that isn't a club, that's when it annoys me. Techno needs to be loud, not half-assed in some weak speakers. Most days I just listen to my friends mixtapes. I'm lucky to have the most talented friends, no matter what music they make.
I'm really inspired by 70s stoner rock, and new space rock or adventure rock. Check out Hällas and you'll know what I mean. I think it's because they also love their echoes and reverbs, which is a huge thing in my productions. It's the most fun type of concerts to go to as well. Sunn O))), for example. Hell of a show.
Do you find it easy to balance the creative side of studio production and live performances with what I guess we could call the admin side of running your labels, and so on?
I don't run any of the labels on my own, fortunately. I think it's so helpful to work with friends and go over things together. I would put out way more music if it was just me; I'm too eager and excited, and not very business-minded or patient. I'm very thankful for my label partners Lucas Hunter, Michael Ho and Hans Berg.
I want to finish with a really broad question. What do you find most satisfying about music technology and what do you find most frustrating?
The most satisfying thing about it has been to realise that even when you're using your equipment 'wrong' you can discover and create something beautiful almost by mistake. It's never-ending really, and it never gets boring to work on sounds and notes.
The most frustrating – for me, at least – has been to figure out ways to save your work. The first time I experimented with using external hard drives I lost three months of album work, so I learned the hard way. Other unsatisfying [aspects] don't have to do with music but with the technical side of things. I am definitely not a computer geek even if I really wish I was.
If anyone reading this would like to spend a day with me, helping me create a system for automatic saving and efficient computer backup, get in touch please.