Kaitlyn Aurelia Smith and Suzanne Ciani discuss their new FRKWYS collaboration with Brendan Arnott. 
"Here I am, a prisoner of beauty," Suzanne Ciani tells me, referencing her seaside Bolinas home poised on the edge of a cliff overlooking the Pacific Ocean. "I can listen to the waves constantly, tune them in any time I want, fall asleep with it."
Kaitlyn Aurelia Smith picks up theme, telling me she remembers people saying Bolinas is known for being so beautiful you go crazy. "There's always been this force tied to this space, where it's incredibly light and overwhelmingly beautiful," Smith states, before adding, "but also really deep and has some sort of heaviness, and some sort of darkness."
"I think it's a vortex" Ciani agrees.
The Pacific Coast of Bolinas, California, looms behind our whole conversation, exuding an aura of beautiful uncertainty. There's something disquieting underneath the picturesque oceanic space where Ciani and Smith inhabited while creating the tracks that formed Sunergy, the latest installment of RVNG Intl's intergenerational collaborative FRKWYS series.
After all, the story of how they met seems strangely pre-destined – that two formidable experimental musicians specialising in the Buchla synthesizer module would happen to sit across the table from each other at a communal dinner in a small coastal town, discover each other's interests, and decide to collaborate. "It'd been in the air for the while, and then crystallised suddenly in a certain moment in time," Ciani tells me, stating that the partnership culminated in an intensive three -day recording session on the Pacific Coast together.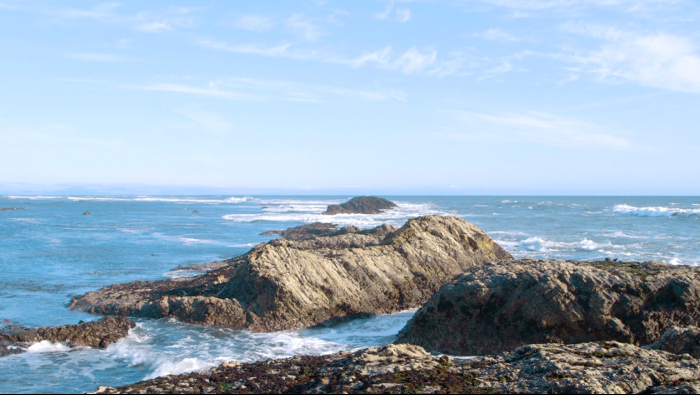 The end result are gorgeous compositions which blur the lines between the natural and mechanical world, unearthing tensions between a body of water which is welcoming and foreboding, life-giving and destructive. "A New Day" captures a simmering slow build-up of energy, with lush movements that begin sounding as natural as the crest of a wave, only to end sounding like the siren song of some digitized, shipwrecked banshee. In its final moments, it feels as if you've been drawn out into the middle of the sea only to find a dark, swirling vortex leading to another dimension amongst the waves. Meanwhile, "Closed Circuit" captures the feeling of complete sensory submersion, tugging back and forth between the world of rigid machines and animalistic spontaneity.
It's an absolutely gorgeous record. When complimenting Ciani on it, I state it's one of my favourite works from her musical career, which, I point out, is approaching almost half a century. It's a measurement that makes her laugh, and which I quickly apologize for, realizing it likely makes her feel a bit ancient. But it's accurate in highlighting the powerful, longstanding scope of her work – first as a sound designer creating larger than life soundscapes for Coca Cola and Black & Decker, and finally in the ground-breaking ambient dreamscapes of her records, Seven Waves and Velocity of Love, a meeting point for electronic and classical compositions and a pioneering moment for (new age) music at its most imaginative and hopeful. Andy Votel's Finders Keepers label brought Ciani back to the contemporary spotlight recently by re-issuing a compilation cover 15 years of her work in 2012.
And while Kaitlyn Aurelia Smith is the younger of the pair, her body of work is formidable too. From a youth spent amongst nature in Washington's Orcas Island, she has gone on to score Google's tribute to the 100th Anniversary of the National Parks Service and record nine staggeringly unique albums showcasing an innate knowledge of rhythmic patterns, melodic pulses, and sounds that move with the kinetic spontaneity of human dance. Her work traverses from quiet and reflective to tracks like "Sundry", which emit a sugar-coated scream of hyperactivity – the sonic equivalent of streaking across a field naked.
While the duo that came together to create Sunergy are both accomplished in their own rights, I'm curious how they approached the idea of a partnership. "From the moment I met Kaitlyn, I felt a mentoring consciousness, and that was the genesis for all this," Ciani responds thoughtfully, adding, "here was a woman who was the same age I was when I moved to NY and started my professional career. I could identify with that." Likewise, Smith expresses a humble willingness to immerse herself in the opportunity when it presented itself. "It was such a nice surprise to meet Suzanne, and I was very open-minded, very excited and didn't have a whole lot of attachment to any particular outcome," Smith states, adding she was "just happy to be along for the ride."
Ciani & Smith may be the stars of Sunergy, but it's impossible not to include another collaborator; the ocean itself, which is captured ebbing and flowing in the accompanying documentary that filmmaker Sean Hellfrisch created to capture the recording process. It's not a coincidence that the filmmaker is also involved in the production of Only One, an experimental video game about Kanye West's mother, Donda, entering the gates of heaven, because Hellfrisch's treatment of the Pacific Ocean feels breath-taking; a window into paradise. Light streams through the clouds and fills the waves with blinding brightness, and the ripples and waves in the water seem to synch to the music. I'm curious how directly the work of Sunergy was informed by attempting to make a representation of the endless ocean stretched out in front of them.
"I think it definitely represents a space," Ciani responds, adding she was very conscious of where we were when they did this, "with the ocean and the sun, and the energy of the sun, but I don't think it's representative literally." Smith interjects to tell me, "I think the ocean and the natural setting there is just embedded in our subconscious, from living there and seeing it. But the music-making process itself was a much more intuitive thing, responding in the moment."
The Sunergy recordings however did take shape from a structure; a document, or schematic of sorts that Ciani wrote as part of a 1975 grant for the National Endowment for the Arts, filled with what Smith calls, "different performative recipes for the Buchla." While Ciani's original concert performances from 1975 are being reissued on Andy Votel's Finders Keepers label this year, Smith & Ciani revisited the 45-year-old material, splitting up the notation between each other, and improvised through the different combinations of sound as the basis of their recordings.
Asking Ciani what differences she noticed between enacting the Buchla recipes alongside Smith from her original 1975 composition, she clarifies that she had to do a lot less physical movement this time. "Because the old machine I used in 1975 was 100 per cent analogue, there was no memory built into it whatsoever," Ciani tells me. "The challenge was to continuously navigate this choreography of movement that allowed you to create a live performance, nothing was set or secure."
Does that mean that Ciani's work required her to be in constant physical motion to make sure that the sound didn't stop or cut out? "It was a feat of concentration to do that," she confirms, and one that was "unbelievably mentally exhausting." Ciani recalls once playing the Buchla at the Audio Engineering Society, "at the end of the lecture they asked if I could repeat the performance again, and I said 'absolutely not, I'm spent.'"
"But because I grew up under Don Buchla's wing, this was a performance instrument, and so I tried to make that a reality," she continues. This is what appealed to Ciani about working with Kaitlin, I'm told. "When she plays, she's performing, using her music easel as a live instrument. Nowadays, a lot of people use electronics as a recording medium and not as a performance medium… but I think that just the fact that this recording expresses live performance is very important. This is not a studio album."
When Ciani speaks about this idea of sound in movement, and I think about all the historical movement that's taken place in electronic music since she began producing. Combing through older interviews, Ciani acknowledges her time in the music industry was rife with casual sexism. Coming back to the scene in 2016, I'm curious to try and understand what it feels like to revisit the past in today's climate.
Despite a slight sense of disbelief at the state of current affairs, "I actually wasn't aware back then how many women are back into electronics now, since I've been away from the scene," she tells me with a laugh. Ciani feels a sense of growth in her medium. "A feeling of connectivity is definitely there for me, because of all those years that I spent with the Buchla, where it broke, it's been stolen, I had to stop playing it as a performance instrument as a certain point," she tells me. "Now, coming back to it, I'm more amazed than anybody that there's this renaissance of interest in electronic music," she says. "I feel a little bit like I want to contribute my history and my knowledge to what's going on now, because…" she pauses momentarily, searching for the right phrase, "I always felt that we never quite realized the potential of the medium back then."
Reflecting on Ciani's history of commercial work, many of the sounds she created often involved pushing the medium in imaginative ways, making sounds that were bigger and more powerful than their real-life counterparts, such as creating the sound of a can of Coke opening. I'm curious if Ciani and Smith have heard of another imaginative aquatic presence, Detroit techno outfit Drexciya, whose invented alternate aquatic histories changed the course of how we imagine and interpret sound (as Kodwo Eshun excellently describes in his article "Fear of a Wet Planet"). They haven't, but both acknowledge the importance of sound palettes that make the listener imagine a new existence.
"I think that there's something called a poetry of sound, where you can maybe represent a concept not just a literal sound, but enhance it to have other meanings as well," Ciani tells me. "So if I create an ocean wave with my Buchla, it's not a literal ocean wave – I wouldn't want to substitute a recording of the ocean for those waves." Instead Ciani refers to this as a "poetic concept of an ocean wave that I can interpret, and fill with more meaning."
It's a fitting metaphor for all the possibility contained within the rhythms and noises of Sunergy – not meant to be a reflection of the sounds of the world, but a re-imagining, infused with new energy, movement, and meaning. "When you can design a sound that takes off from the real thing, you can enhance it so much. We have waves in our recording, but they're not literal" Ciani clarifies. "What they are though… is better. They're better than the real thing."
Interview by Brendan Arnott
Landscape and synth pictures courtesy of Sean Hellfritsch
All other images courtesy of RVNG Intl