Perc & Randomer form Igneous
The UK duo have collaborated on a three-track 12″ to be released through Perc Trax.
Ali Wells (pictured above) has always been someone for a collaboration, be it back in the heady days of throbbing Italian techno with his hook ups with Dino Sabatini and Gianluca Meloni's Modern Heads project, to the Endless collaboration with Giorgio Gigli. More recently however, it's been right-hand-man Truss that he's worked with most in the past two years, in addition to some intriguing conceptual collaborations with London's Passarella Death Squad. Rohan 'Randomer' Walder – who only last week dropped a two-track collaborative 12″ on Livity Sound with Hodge – has been revealed as the latest cohort to meet with Wells in the studio.
Under the name Perc & Randomer, the pair will release a three-track EP on Wells' own Perc Trax label called Igneous, with titles like "Breezblock" and "Flooring" suggestive of what the music might sound like. The label have explained that "the two producers fuse together Randomer's intricate rolling rhythms with Perc's aggressive snarl to serve up three tracks of screw-faced north London grot," and it provides Randomer with a second set of sounds on Perc Trax following his remix of Ansome's "Back Alley Sally" that came in as part of the producer's debut album released earlier this year.
Perc Trax will release Igneous by Perc & Randomer in early-October.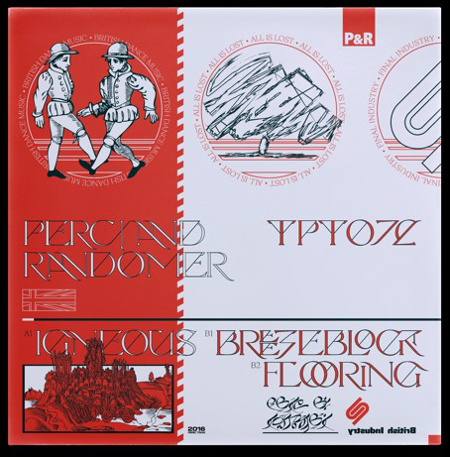 Tracklisting:
A1. Igneous
B1. Breezeblock
B2. Flooring
Perc Trax on Juno