Project STS – Hubble Telescope Series Volume III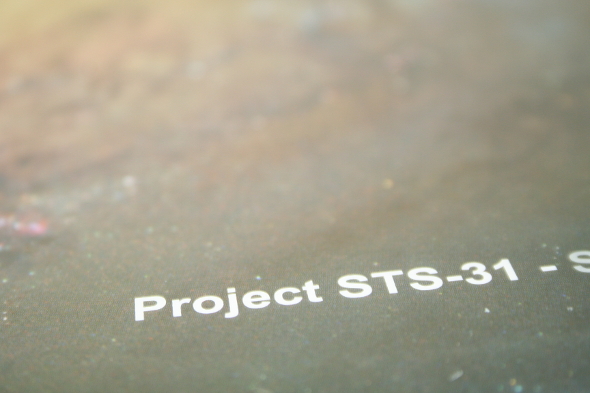 The third and final instalment of the Hubble Telescope series features The Exaltics and Gerald Donald collaborating on music that is supposedly dedicated to the scientists working at NASA and the ESA. Whether or not the men and women of science in these respective institutions kick back to abstract electro in their spare time is questionable, but the pair nonetheless deliver a release that does at times sound like it has voyaged through the cosmos to reach its audience.
The tracks that focus on this approach include material from Project STS, the alias under which the first results from Donald and Rob Witschakowski's studio collaborations get an airing. There's the dark ambience of "Spiralgalaxie" and "Density Waves" and the more harrowing "Supermassive Black Hole", which sounds like begin trapped inside a vessel that is being pulled at light speed towards a dead star's orbit.
There are other abstract delights to marvel at; Donald fans will be delighted to learn that he has included a track from his Heinrich Mueller project. Under this name, he delivers the spaced out "Adaptive Optics" while there is also the mechanical whirrs and blips of "Global Cluster", a track he recorded as Rudolf Klorzeiger. The Der Zyklus project also gets an outing with the beautiful, mid-tempo pulses of "Ionospheric Delay". Witschakowski also revives some of his obscure side projects for the occasion.
There's the spacey synths of Robert Heise's "Star, Gases and Dust", and at the other end of the intensity spectrum, the nausea-inducing bass of Crotaphytus' "GJ 1214 b".  Hubble also sees the German producer deliver as The Exaltics – with "Messier 81" mining a downtempo path and more impressively, outer space blips and spacey synths hitching a ride to mechanical drums on "NGC 253". It's a stellar collection and even includes a big dance floor track – the robotic disco pulses of Project STS's "50,000 Light Years Away". Hubble Telescope Series Volume 3 may have been written for scientists, but it's a special release for Donald and Witschakowski completists.
Richard Brophy
Tracklisting:
1. Project STS-31 – Spiralgalaxie
2. The Exaltics – NGC 253
3. Heinrich Mueller – Adaptive Optics
4. Robert Heise – Stars, Gases and Dust
5. Der Zyklus – Ionospheric Delay_Short Version
6. Project STS-31 – 50,000 light-years away
7. Rudolf Klorzeiger – Globular Cluster
8. Crotaphytus – Diving through the Oceans of GJ 1214 b
9. Project STS-31 – Density Waves
10. The Exaltics – Messier 81
11. Project STS-31 – The Supermassive Black Hole
12. Robert Heise – The survey of the entire sky
13. Der Zyklus – Ionospheric Delay (extended alternate bonus version)