Juno Plus Podcast 147: ZULI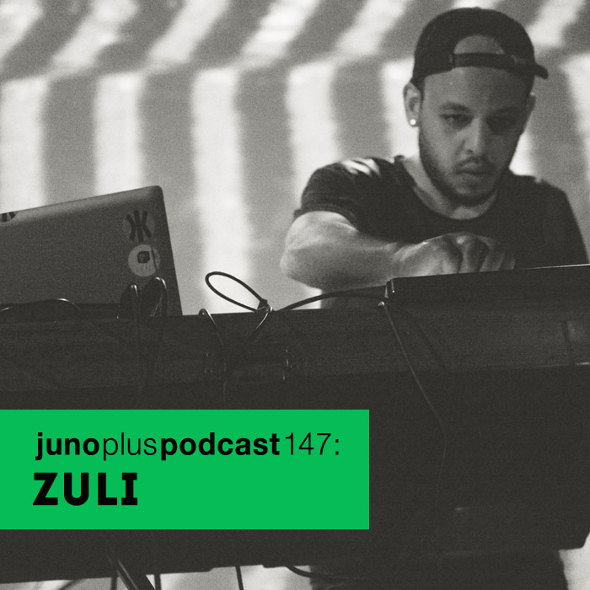 The UIQ associate comes through with a startling hour of sonics spanning styles and cultures.
To the majority of electronic music aficionados, the name ZULI was completely unknown before the start of 2016. Following on from the equally unfamiliar N1L, Lee Gamble elected to present the second release on his fresh UIQ label from this seemingly new entity, consequently revealed to be Egyptian producer Ahmed El Ghazoly. The EP itself was astounding, prompting Juno Plus staff writer Oli Warwick to exclaim the following in a subsequent review: "From the ever-evolving dynamics of the arrangements to the crystalline production, this first record from ZULI transmits a breath of fresh air in ones and zeros without losing the soul in translation."
As it turns out, El Ghazoly is far from a newcomer to electronic music, having played a pivotal role in bringing challenging music to Cairo for many years and forging a link with London as part of the VENT crew. 2016 is surely the year that El Ghazoly's musical endeavours are coming to the forefront, and as you'll learn from the informative chat below, there's plenty of reasons to keep tabs on what the ambitious operative will be up to next.
By way of demonstration of the versatility of his musical interests, not to mention the sheer freshness of his particular style, we're thrilled to share this mighty fine podcast with you. Hit play and read on more for some more information about a vital new force heading out from the East.
Hi Ahmed, how is everything with you?
All good, just got back from a quick trip to London for the first leg of Masafat, getting ready for the Cairo leg now, so busy, busy, busy…
Thanks for putting this mix together for us! Did you have any specific approach in mind when making it?
When I started recording I thought it might be a hiphop mix, but then the Chevel track felt like it could take things somewhere else so I kinda just went with that…just sort of what I'm listening to these days plus a few that I felt at the time would sound good with them.
The mix seems to span a lot of different styles and cultures. Do you have particular flash points of inspiration in certain parts of the world?
I love rap, and the rap scene here in Egypt is great, Italy is very interesting at the moment (Haunter Records, Enklav), Paris too, the UK obviously, Berlin…I'm into a lot of other different styles/genres, but I don't think they belong to any specific geographical location
There seems to be a fair amount of material from UIQ and your fellow producers on the label. Do you plan on remaining close to the label with future releases etc?
Yeah for sure; Lee has become a really good friend and I've always had mad respect for his taste, so I feel at home with UIQ. While I was in London we got to discuss the demos I'd been sending him for further UIQ releases, so there's already a secnd release on UIQ in the pipeline.
How did you first hook up with Lee Gamble to end up releasing the Bionic Ahmed EP?
I sent him a track to play on his NTS show a couple of years ago and he liked/played it so I kept sending him stuff. Then in early 2015, he told me about the label and asked me to do an EP. We'd only met once in person before this London trip for like 10 min at Sonar last year; I was performing in Bosaina's live band and he was doing Foldings with Dave Gaskarth.
What else is in the pipeline for ZULI? Can we expect more new music in the near future?
Yeah I just finished a remix for the Petit Singe record on Haunter Records – should be out in January of next year. Asem ($$$TAG$$$) and I got to sit down with Mohamed Salah (who runs VENT London) about the VENT label that I'm supposed to do the first release for; I've finished and thrown two tracks in the bin already so they made me sign in blood this time that this new one is the one we're going to release. The tracks are pretty much done, I just need to wrap them up. Same goes for the UIQ record I mentioned. So yeah, definitely expect a few things in 2017.
You've just been involved in organising the first leg of the Masafat festival. Could you tell our readers a little bit more about that, and how the London leg went?
Masafat is a collaboration between ourselves (VENT), Thirty Three Thirty Three and the ICA with the goal of promoting cultural and artistic exchange between our two regions. The first part of Masafat took place in London between 1st-4th September, while the second half will be on 20 September in Cairo.
We're very happy with the way the London leg was received, the turn outs were great and most people stuck around until the ICA had to kick us all out at the end of every night. I'm glad people like MSYLMA, Herein Lies and the Carl Gari & Abdullah Elminiawy collab got to debut at the ICA of all places, and the audiences seemed to really enjoy their sets so it definitely felt like we made the right choices.
Bearing in mind the perceived political tension in Egypt and the surrounding region, is it a challenge to be organising internationally-minded electronic music events? If so, what sort of challenges do you face?
The security situation doesn't really affect our ability to organize and throw parties in Cairo, except during certain parts of the year (around 25th Jan, 6th April, etc) where the government is being extra cautious and strict with security measures. Otherwise all the challenges we face are either cultural or bureaucratic; whether it's acquiring permits, finding venues where owners are ok with alcohol being served, convincing music fans to trust that the people we book are worth (and deserve) their money even if they've never performed in front of a live audience before, or that there's more to electronic music than dance music and entertainment.
But there are other promoters that have no problem organizing very successful internationally-minded electronic music events, it's just a very different type of music. There are also other promoters who manage to secure funding from various culture institutions, so they don't really need to worry about sales as long as their curation is in line with that of said bodies. I'd say VENT is somewhere in the middle.
We're putting together an audio documentary as part of Masafat, where we sort of take a deeper look into all these challenges that face, not only promoters in the region, but also local artists at home and when they travel.
Considering the VENT events and label are connected to Cairo and London, are you seeking to create a more fluid cultural dialogue between the two places?
Hopefully, yes; one of our main goals is to promote music by underexposed musicians from where we live, and London is definitely a city with a lot of potential fans for these people…
But it's not just those 2 cities; a big part of what we're trying to promote is that geography isn't as big of a factor anymore when it comes to musicians and their sounds. The internet has made it very easy in the past couple of decades for people to have access to (and be influenced by) different music from around the world. We see it every day with people like Yung Lean or Kouhei Matsunaga or whoever, it's just that the focus most of the time is on the more traditional music that adheres to preconceived ideas of what music sounds like in certain parts of the world.
Do you have further plans for developing the experimental electronic community in Egypt?
Yeah Asem, Bosaina and everyone involved in VENT…we're always doing our best to help create a scene where musicians have a community in which they can grow and inspire and be heard by as many people as possible around the world. Masafat is just the first festival we've done so far.
Do you think there is a younger generation n Egypt that are more aware of experimental music (via the internet etc), and that are keen to engage with it?
I don't think it's a matter of age, but there are definitely new communities in Egypt that have discovered (through the internet) parts of the world where musicians have careers making experimental music – our job is to bring these musicians to their doorstep and let them perform with local musicians.
Tracklisting:
1. ZULI – Untitled
2. Mr. Kordy – Duck Down
3. Dida Al Haram – بيضه مش مسلوقه
4. Schoolboy Q – That Part (Black Hippy Remix)
5. Dawsha ft. V.nom, Abanob, Polo, Abyusif – Yoga 3 (Prod. by Abyusif)
6. Chevel – Futah
7. PRESENTE – Oggetto
8. Lanark Artefax – Phasze
9. Laurent Fairon – Musique Isotype
10. Airhead – Katzz (Mumdance Remix)
11. Jesse Osborne-Lanthier – Integrated Sensor Is Structure
12. Von Tesla – Formation
13. Sissel Wincent – Investigation
14. Mistress – MJOLNIR
15. Cassius Select – Heard Bout Me
16 .Chino Amobi – Milan
17. Machine Woman – 10.08.15
18. ZULI – Untitled
19. Lee Gamble – Overund
20. S. Olbricht – Floa 1
21. Dedekind Cut – So Far.. So Good (rev)