Juno Plus Podcast 146: Spatial
The Infrasonics boss lays down a dubplate and exclusive-packed hour of cutting-edge music.
The latest mix in our podcast series comes from a producer who has built up a strong identity with a minimum of fuss. Ever since Spatial first started appearing in clubs in London – around the time in the last decade that dubstep and techno were rabidly cross-pollinating – he has displayed an instinct for experimental ways of combining forward-thinking club music from across the spectrum. Such an approach isn't so revolutionary nowadays, but throughout his output Spatial has swerved the movement of the masses to explore a more personal twist on garage, techno and rave tropes all viewed through a technologically progressive computer music lens.
At times aligned with the arch party-baiting nous of Hot City (now better know as DJ Haus), elsewhere displaying a similar wayward digital style to Lee Gamble and the UIQ label, Spatial is very much his own producer when he could have made more cynical moves to follow the post-dubstep hype machine, and his catalogue is all the richer for it. His Infrasonics label started out as a self-releasing platform and an early incubator for Ike Release, xxxy and Jamie Grind before taking a few years break while Spatial productions appeared on labels as varied as Broken20, Niche 'N Bump, WNCL and Ultramajic.
Now Infrasonics is back in action with the Emergence series of 12"s, steeped in multimedia concepts that further the meticulous attention to aesthetic detail that has always followed the producer's work. As we reported last week, the Emergence series is finishing up with a third installment ahead of the debut Spatial long player, slated for release in the new year, and so this podcast for Juno Plus provides a neat snapshot of where the London-based producer has gone thus far.
With its mixture of rowdy cross-genre bangers and head-spinning electronic processes stitched together with an upferrit attitude, it's everything existing fans would expect despite being packed full of utterly contemporary and unreleased wares. We reached out to Spatial to discuss the Emergence series, his upcoming album, recent live sets and more.
Hi Matt, how are things?
Great, thank you!
Our thanks for this exclusive-heavy mix, what was your intentions when putting it together?
No big concept, just weaving together a diverse palette of sounds and rhythms that I've come across recently, trying not to be too linear in rhythm and tempo.
Where and how was it laid down?
A couple of weeks back in my studio. It's mixed with Traktor, a VCI 100 & an X1. I only use the VCI 100 for studio mixes actually so I don't have to come out of the box to record it.
You've just announced the concluding part of the Emergence series – could you explain some of the concepts that have been integral to these?
In a continuation of themes from my previous projects I wanted to do a cross platform release. Each record is paired with an online generative art component. The physical component fetishises vinyl. I'm interested in the idea of emergence and systems theory generally. I like the submissive aspect of working with algorithms for the design, and trying to harness it into something I like. You can check track previews on SoundCloud.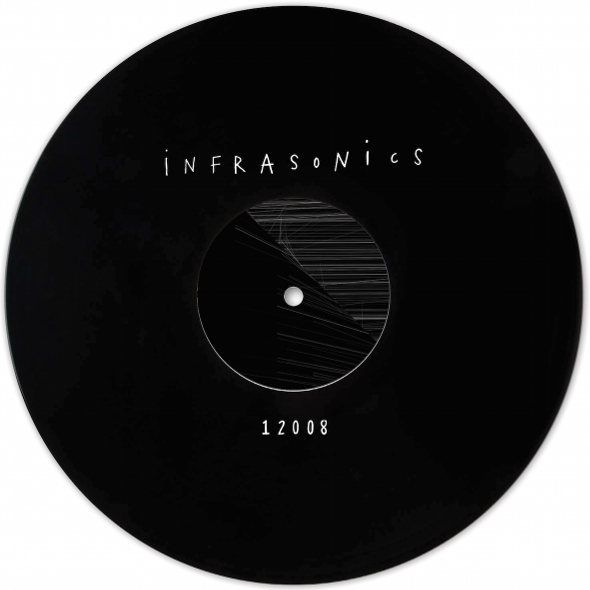 We see that you have an algorithm-powered visual element on the Infrasonics site to accompany Emergence #3. Did you program that yourself, and have you always been a dab hand with more technical aspects of computer usage?
Yea, I programmed the animations although they are based upon open source implementations of the underlying algorithms. Actually, I only fully got into programming when I bought a computer to use for sequencing/making music but it's something I've been making more integral in recent projects.
How much does such programming and technicality crossover into your musical production work?
Increasingly more and more as I explore similar emergent themes in both. My live set incorporates some small custom software elements I've written and my Primitives project released the source code, binaries along with the films & audio I made with the custom software system. It's interesting working within the limits of what you can create – I'm no expert by a long shot.
Your work tends to have some kind of technologically minded concept or inspiration behind it. Does the same apply for your upcoming debut album?
That's still evolving somewhat but I'm sure it'll play a part.
It seems like you've exercised control over your release schedule since you first emerged in 2008. Why was now a good time to do an album?
I guess I felt like I have more I want to say than fits into a 12". The timing is right with the live show also – it's all interlinked.
When you first started playing out you were taking a layered up laptop DJ approach – when did you decided to transition to performing live and how much of a jump was it to make?
It's an extension of the same idea really – but with more flexibility and entropy which can be very inspiring. It's a significant jump to play live though (depending on how you do it) as I'm running a diverse group of machines and systems so there's a lot to consider. The extra expression it gives you is incomparable though.
You are participating in the SHAPE programme this year, could you tell us what this involves as an artist?
SHAPE is an EU network of 16 festivals and 48 artists annually over 3 years. My involvement has taken me to Mutek early this year to debut the new show and I have another couple of shows in September from the network. It's a great opportunity to meet other interesting artists build up a profile.
How was that experience of debuting your new live set at Mutek?
Killer, I loved it! The sound was amazing and the crowd seemed to get what I was going for. It was nice to be able to straddle the club and gallery contexts. I started much more freeform and worked up into more structured rhythms. RBMA have a recording up of the set and FACT did a short video piece. Shouts to TIND for doing a great job on the visuals also!
Where else are you planning on taking the live show on the road?
I'm play a few collaborations with Sally Golding, the first at Fort Process this weekend which is a great looking event. The week after I'm doing a solo a/v set at Skaņu Mežs in Riga in a beautiful church. The weekend after is the Spatial / Golding collab again at the Serraves museum in Porto. Lastly, I play the collab and a solo set at the Sonica festival in Ljubljana at the end of September. They're my sponsors for SHAPE so huge thanks to them for all the support.
What comes next for Infrasonics – will you continue to release the work of other artists as well?
No plans other than the album just yet. I enjoy working with other people on the label but I'm just focussing on my own projects right now.
Tracklisting:
1. David Fyans – The Somnambulist's Field Guide (Forthcoming Broken20)
2. S Olbricht – Ktyring (UIQ)
3. Batu – In Flux (Dub)
4. Equiknoxx – Clink (DDS)
5. Boxwork – Remember The Freak (Forthcoming WNCL)
6. Munstac – StC (Forthcoming Never Ready Records)
7. WxT (Woz & Troy Gunner) – Want It (Zoo Music)
8. Spatial – Rainbow Table (Forthcoming Infrasonics)
9. Don Froth – HR22 (Forthcoming WNCL)
10. Siete Catorce – Ciudad (Enchufada)
11. Babaz Fox & DJ Bebedera – Tarraxei No Box (Principe Discos)
12. JK Flesh – Tunnel (Electric Deluxe)
13. KABLAM – Nu Metall (Janus Berlin)
14. Terror Danjah – Juicy Patty ft. Jamakabi (Logos Remix) (Keysound Recordings)
15. DJ Nervoso – Lunga Lunga (Principe Discos)
16. Spatial – Untitled (Dub)
17. Spatial – A Music Of Sound Systems (wireshaped_edit) (Dub)