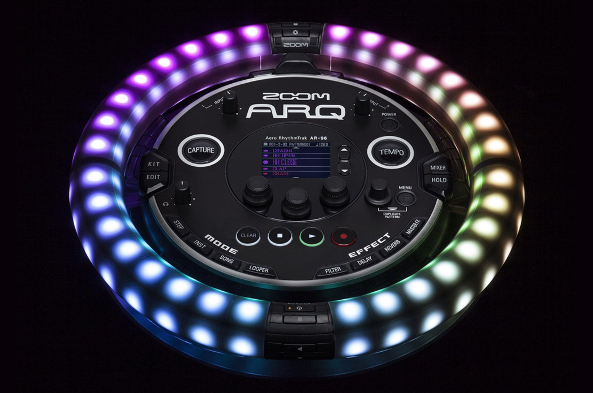 The Japanese audio electronics manufacturer introduces an all-in-one production and live performance instrument.
When it comes to field recordings, Japan's Zoom company have essentially cornered the market with their H range of recorders that are most ubiquitous with ground-level producers today, while more advanced multi-tracking equipment can be found in their F8 and F4 models. Zoom may have expanded their range of products to take in guitar effects pedals, however they are by and large recognised for recording equipment which makes the announcement of the ARQ Aero RhythmTrak such a revelation. Described as an all-in-one production and live performance instrument, the ARQ Aero RhythmTrak integrates a drum machine, sequencer and synthesizer into the one physical module that can also function as a MIDI controller.
The ARQ, additionally, comes with looping capabilities and a kitschy set of optics, taking in 160 programmable colour LEDs for performers looking to add some neon bravado to their sets. 468 one-shot drum and instrument samples have been installed alongside 70 synth sounds, built in effects and pressure-sensitive pads, with ARQ capable of holding 96 mono or stereo loops, 16 of which on mono can be played simultaneously. An overview of the ARQ's features can be viewed below and for more information visit the Zoom website.
ARQ Aero RhythmTrak by Zoom is available now and retails for $600rrp US.