Korg unveils new products for Autumn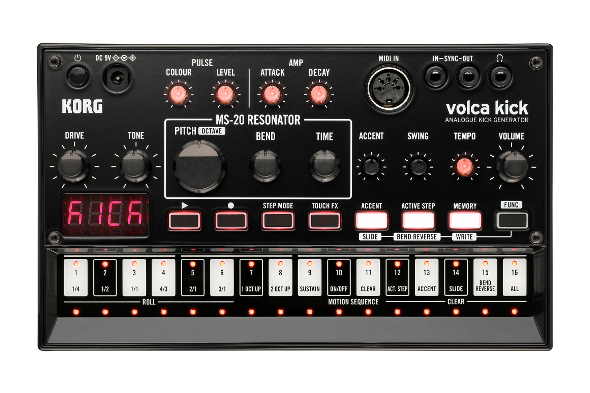 The Volca Kick, Micro Korg S and ARP Odyssy module are amongst the new items set to hit the streets.
While they've been present for as long as electronic music production equipment has been a consumer concern, you can't deny that Korg are on a prolific roll these days. Last year we were treated to the return of the iconic ARP Odyssey synth, the SQ-1 sequencer, an MS-20 module kit, the Kaoscillator 2-S, the ESX2 Electribe Sampler, while already this year the Minilogue has won every analogue head's heart, the nanoKEY controller and a new Volca FM synth. As well as quantity, the manufacturer has been smart enough to make products that people seem to unanimously enjoy, while the reasonable prices seem to be keep the gates open for the ever-growing legions of hardware dabblers.
The Korg product train shows no signs of slowing as we roll into Autumn, with a whole raft of new products lined up to tempt the hard-earned out of your pocket. First up is the next installment in the pint-sized Volca series, the Volca Kick. The dedicated kick drum unit will allow users to get creative with their analogue bass drums, all run through an MS-20 filter and powered with an adaptable step sequencer. Meanwhile the reborn ARP Odyssey has now been slimmed down to a desktop module that features both the Rev1 and Rev3 designs, depending on your preference of vintage aesthetic. Meanwhile sonically all the power of the ARP remains within this new module, the biggest draw being that duophonic analogue sound and the rich variety of modulation.
Alongside those high profile announcements, the perennial microKORG also makes a return with a S model that features a sleek new design, a boosted 2+1 speaker set and improvements to the memory capabilities. There are also in-ear metronomes being released, coming in different models for solo use, synchronized group use, dance lesson use and golf use depending on your rhythmic needs. You can watch a video for the Volca Kick below ahead of it's release in October, with the Micro Korg S and ARP Odyssy module due to land next month.