Aybee returns with new album
Deepblak will release The Odyssey in November.
The last Aybee album, 2013's Worlds, is regarded as a landmark here at Juno Plus HQ and a towering example of future-minded soulful electronic music Armon Bazile has pioneered with his Deepblak label. The past few years it has been more common to see Bazile's name on the credits for documentaries, rather than on slabs of vinyl though March saw him gracing Deepblak with a fresh transmission under his Orion70 alias. More recently, Deepblak slipped out a one-sided Aybee 12″, The Heart Of The Sun, which was presented as a taster for Bazile's long-mooted new album which will now see release in November.
Taking its name from the ancient Greek classic text penned by Homer, The Odyssey is a ten-track album concerned with personal journeys: "both the personal one that has brought him to this point – living in Berlin, 15 years since founding Deepblak in his native Oakland – and the one that beckons for him personally and creatively in future," a press release states. Looking to break away from previous Aybee albums, Bazile purposefully set out to record a full body of work from a small pre-selected library of sonic elements. "Otherwise I'd still be in the studio now trying to work out which hi-hat to use on the third track!" Bazile amusingly adds.
The suitably epic album art depicted below is the handiwork of Grzegorz Redko, with the label also commissioning him to draw up a series of animations to add a further, visual dimension to The Odyssey. The first of these from Redko, accompanying album track "Man Over Machine", can be viewed below.
Deepblak will release The Odyssey by Aybee on November 4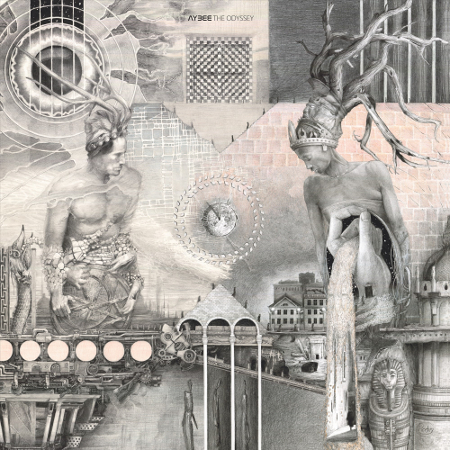 Tracklisting:
A1. Embryo
A2. Down The Rabbit Hole
A3. Ark
B1. Man Over Machine
C1. Island In Sky
C2. The Professor
C3. Push Pull
D1. Build Them
D2. Asteroid Lust
D3. A New Door (Suite For Marie)
Header photo courtesy of Marie Staggat
Deepblak on Juno