Dekorder dig through the Felix Kubin archives
A second volume of the Hamburg artist's soundtrack work will arrive on the label later this month.
For an artist who proudly claims to "live and work against the rest of the world," it is unsurprising that veteran Hamburg futurist Felix Kubin has only featured sporadically within the pages of Juno Plus over the past few years. When his name pops up, however, it is invariably linked to some intriguing labels. For instance, Kubin contributed to the debut cassette box-set from Frankfurt's MMODEMM label last year, and in late-2014 was given carte blanche to compile Science Fiction Park Bundesrepublik for Finders Keepers offshoot Cache Cache. Kubin's precocious musical capacity from an early age was also profiled in a self-explanatory Teenage Tapes album issued through Minimal Wave back in 2012.
Back in 2008, prior to all this, Kubin aligned with local Hamburg experimental stronghold Dekorder for a collection of his soundtrack work for theatre and radio alongside the 'Mineralorchester', entitled Music For Theatre And Radio Play. Artist and label have maintained this relationship sporadically since then; in 2010 Kubin collaborated with Ensemble Intégrales on the Echohaus LP for Dekorder. The end of the month will see Dekorder issue a second volume of Kubin's work with the Mineralorchester in this field encompassing his contribution to Polish director Robert Florczak's Makbet Remix (based on Shakespeare's Macbeth), a waltz from Schorsch Kamerun's Des Kaisers neue Kleider (by Hans Christian Andersen) and the complete soundtrack (including the actual sound design) for Anke Feuchtenberger's animation short Somnambule.
A press release from Dekorder states the music on II: Music for Film and Theatre see Kubin freed from convention and genre, and combining "Musique Concrète noises, splashes of haunted virtual orchestras, Gameboy music minuets and voice collage interspersed with tons of suspense and gloomy industrial atmospheres." You can watch a brief trailer for the album below, whilst pre-orders are now available at the Dekorder site.
Dekorder will release II: Music for Film and Theatre by Felix Kubin und das Mineralorchester on September 30.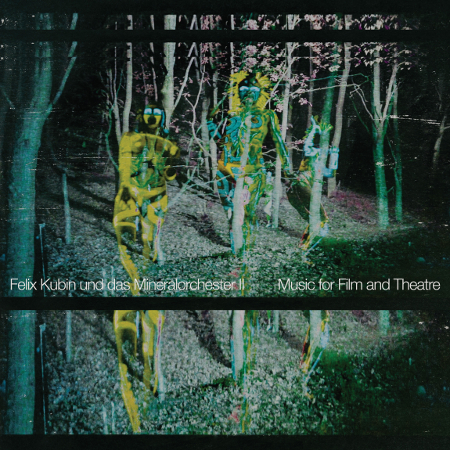 Tracklisting:
A1. Krew
A2. Wojna
A3. Sztylet
A4. Game Over
A5. Menuett I
A6. Küchenmusik
A7. Brief
A8. Banquo
B1. Hexen
B2. Menuett II
B3. Sexmord
B4. Traumtanz
B5. Somnambule
Dekorder on Juno