London Modular Alliance is Out Of Sync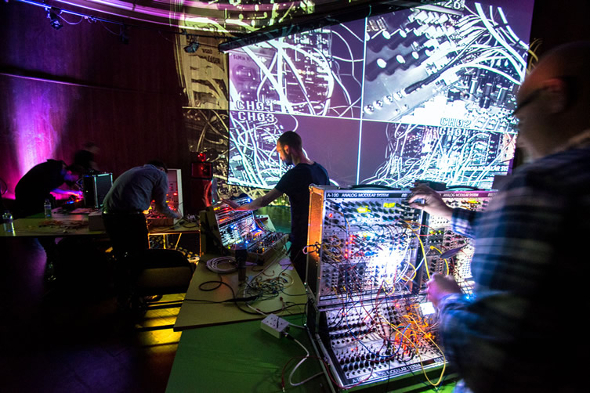 Pip Williams, Gavin Pykerman and Simon Lynch combine for an EP on London label Brokntoys.
With the likes of Marco Bernadi, Scape One and Dan White contributing solo EPs to Brokntoys, in addition to tracks from Luke Eargoggle, Dez Williams and Lux Rec's Echo 106, it's safe to say the London label has now firmly established itself as a trusted outlet for contemporary electro. In June, Sweden's Frak inaugurated new Brokntoys sub-label Discos Del Quebranto with the Tivoli Circus EP before giving Greek producer ITPDWIP a label debut following an outing on Rotterdam's Frustrated Funk. Brokntoys now welcomes aboard the London Modular Alliance, the long-running live electro act formed of Gavin 'Koova' Pykerman, Simon 'Yes Effect' Lynch and Pip Williams which was established in 2012 but whose recorded output is quite scarce.
The individual members are no strangers to Brokntoys however; Williams was in fact responsible for launching the label back in 2013 with the Mode #7 12″ and four records later Pykerman debuted as Koova with the Empty Spaces 12″. After developing the improvised London Modular Alliance sound in a live setting for the past four years, the trio were coaxed into recording their debut 12″ by none other than Kirk Degiorgio whose ART label put out the four-track Wireless in June. A second London Modular Alliance record is now scheduled for Brokntoys in the shape of the five-track Out Of Sync which the label states brings "a wide range of influences from electro, bass & techno to create their own unique sound."
Brokntoys will release Out Of Sync by London Modular Alliance on September 27.
Tracklisting:
1. Deorbit_118
2. The Mind Is A Terrible Thing
3. Tinker
4. Their Discontent
5. Out Of Sync : Brokntoys Bt14
Brokntoys on Juno