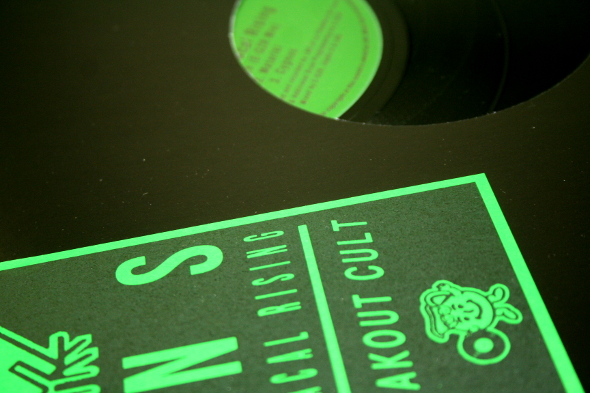 Vancouver DJ and producer Laura Sparrow is clearly one for evocative titles when it comes to the music she produces as LNS. Her 1080p debut, Maligne Range, took its name from the Canadian mountain range in Jasper National Park and the six tracks of pared down electro were characterised by a sensation of isolation comparable to an early morning trek through the peaks. Transferring from tape to vinyl, Sparrow's Heliacal Rising 12" for Jayda G and Fett Burger's Freakout Cult lives up to its name with six tracks that leave you with an unshakeable feeling of star-gazing.
Unsurprising for a record landing in the outer cosmos of the Sex Tags universe, proceedings commence on Heliacal Rising in a less than traditional sense. The opening track, "R'lyeh", is named after a fictional lost city from H.P. Lovecraft's 1928 short story, The Call of Cthulhu, but appears not in original form but rather remixed by Sex Tags production unit E-GZR. Previously restricted to various appearances on Sotofett's Wania label, E-GZR's remix of LNS follows a fine take on XI on the 2013 Wania Presenterer Dritdypt Vol. 1 12".
With the original LNS version of "R'lyeh" nowhere in sight, we can only wonder how deep the Lovecraft inspiration goes, but this E-GZR remix does come from that same submerged school of electro as Drexciya. What follows on the A-side is electro from LNS coloured with a sense of introspection, picking up where Maligne Range left off. This 12" coincidentally arrived the same week the Juno office had been willingly subjected to repeat plays of the surprise new Convextion album and a morning rotation of Heliacal Rising raised the unwitting question whether it was Gerard Hanson's work.
High praise indeed for Sparrow, and if there is one track you should hone in on it is the crystalline chills of "Herer." Punctuated by a chiming synth that can't help but grab your attention, the track is filled with all sorts of detail that becomes quite overwhelming – in the best possible sense – when listened to on headphones. In a more open environment, these same elements take on a healing quality.
Those out there impressed by the immediacy and party-starting qualities of the two previous Freakout Cult records might be somewhat puzzled by this more measured turn from LNS. Yet Heliacal Rising is a sign the label won't be bound by one style or sensation and equally marks another assured step for a producer who is clearly developing a defined sound.
Tony Poland
Tracklisting:
A1. R'lyeh (E-GZR Mix)
A2. Matariki
A3. Cygnus
B1. Herer
B2. Minas (E-Version)
B3. Leo