Healing Force Project – Twin Spirits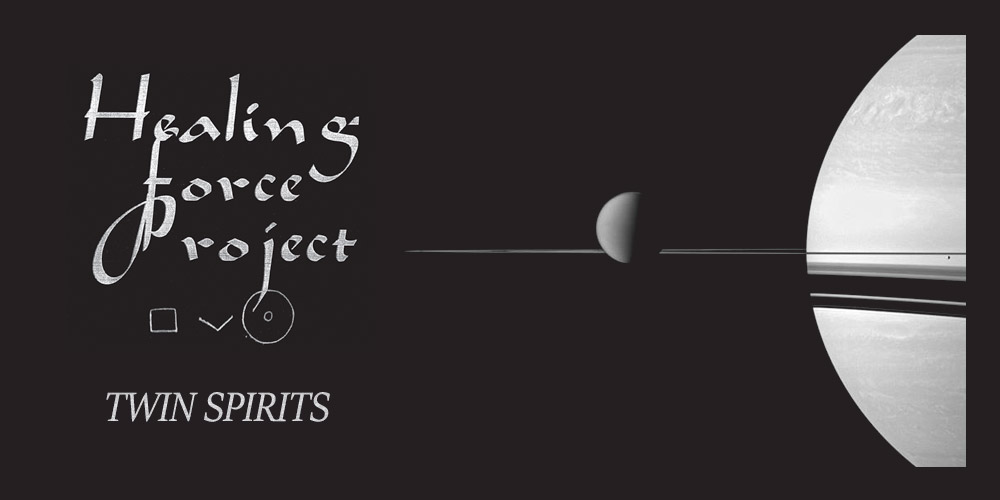 Antonio Marini opens up about the jazz-influenced sample art he makes as Healing Force Project.
No artist truly lives in a vacuum these days. Taken on their own merits, it feels like producers such as Jamal Moss and Afrikan Sciences operate independent of any other developments in the world of electronic music, but in truth they're never far away from other like-minded explorers. Antonio Marini's music as Healing Force Project may not sound specifically like anything else out there, but he shares some similar, ill-defined spirit with those aforementioned artists where jazz has a looming influence in amongst the mechanical abstractions of sound. Healing Force Project has been publicly visible since 2010, but it's only in the last few years that he has risen as a prominent exponent of daring, beguiling and captivating music.
Depending on which angle you approach from, first impressions of Marini's music can be very different. From release to release the sound has a habit of shape-shifting, leaving you with an addictive uncertainty as to what will happen when the needle drops on a fresh Healing Force Project record. In terms of a cohesive statement, the Gravitational Lensing EP that came out on Firecracker in early 2016 reveals one strong guiding ingredient of Marini's approach – jazz. Dense and complex drum breaks and fills and spills duel with each other, interspersed with fleeting snatches of horns, bass and discordant keys, in a manner that seems like a powerfully mutated cousin of dark, Blue Note-sampling trip-hop and drum and bass from the mid-'90s.
"I've always used jazz samples in my productions," Marini admits. "It was a discovery for me, learning about the way to listen to this style of music. From solo sax, trumpets and pads to percussion, I love the sounds and the madness in every style of jazz." Listening to Gravitational Lensing, as well as other releases in the Healing Force Project discography, you'd be forgiven for thinking Marini has some kind of training that manifests in these very live-sounding productions, but this is far from the case. Instead, the inspiration that guides his cut n' paste approach comes from listening to some of the cornerstones of later 20th Century jazz.
"Everyone learns in their own way from jazz, creating a personal style," he suggests. "For me the history is a little bit different because I am not a musician, but the structures in my music are very influenced by jazz and similar styles. My background is mainly with the '70s years, people like Miles Davis, Herbie Hancock and Jaco Pastorius. I love free jazz too, but I find more intense and interesting sounds with these names. For me they represent perfection."
Of course, there's more to Marini's music than just jazz – there is an untempered spirit of hardware-powered electronics shot through his catalogue that sits in stark comparison to the dusty, organic nature of his sample sources. Much like Marini's peers mentioned in the introduction, in Healing Force Project there's a noticeable crossover between the long-standing jazz tradition and techno futurism. "From the beginning in Detroit right up to the present day the words techno and jazz can be united by a single creed," Marini explains. "The sounds in these genres are like binaries that inevitably intersect."
While this crossover may be the petri dish for the ideas that Marini turns into song, there are still moments of distinction between more overtly homemade electronic practices and outsourced material. His first release in 2010 was on Acido Records, the willfully strange and atmospheric Analogic Prospectus / Moorg#1 12". It's a minimalist affair that favours icy synth tones and erratic drum machine percussion over live drum hits, but more than anything it's an incredibly daring debut release. At that point, Marini had been producing music for around five years, starting out with a more typical concoction of house and techno with African percussion before pushing into less charted realms. He met Dynamo Dreesen by chance through Rabih Beaini (aka Morphosis) who lived in Venice at the time, and soon found an outlet for the music he had been developing.
"My first release on Acido Records was a surprise for me," Marini reveals. "Andreas (Dreesen) was the first to believe in my music. Back then Acido was still unknown to many people, and for me this was a great opportunity. I sent music to other labels in that time, but I prefer to keep their names secret!" After that initial transmission, things seemed quiet from Marini although he insists he was still constantly making music. It wasn't until 2013 that activity resumed with the release of the Hybrid Furrows single on Sequencias and his debut album, Omicron Segment, on Eclipsemusic.
The former continued to ply a trade in obscure electronic tones, but it was clear that the space of a long player afforded Marini the opportunity to indulge his love of jazz sampling. Tracks such as "Searching The Modal Fade" start out with the patient, minimalist drone approach of earlier work, but progress towards smoky, disorientating grooves in their later stages. By the time the Ecliptic View EP arrived on Marco Shuttle's Eerie label, a cohesive fusion of wild electronics and far-flung record rips was plain to hear.
"With my first releases on Acido and Sequencias, the sounds were very raw," Marini explains. "Over time before other releases came out, I made a lot of changes. I used more jazzy sounds and breakbeats, and many more textures and structures inside every project that I did."
For much of Marini's output now, the electronic and jazz aspects of his music fuse in a cohesive manner that draws on the strengths of both traditions, but these threads remain the defining aspects of what he creates, and how he creates. He readily explains the tracks on Gravitational Lensing were all based around specific grooves he had found on various records, collected, stored and worked on over time until finding a place together on Firecracker.
"I work mainly with samples," he reveals. "Once I hear something that feels good, I try to do a piece. My approach is a little bit different if I want to produce electronic, experimental music. In that situation, I prefer to start with a personal idea that can be changed step by step as the project develops, but in the end I never have many landmarks of what I do. Instinct is the first thing that I use."
That instinct now manifests in music that often disregards familiar notions of Western musical structures, which is hardly surprising considering his taste in percussion samples. At times you might hear some kind of kick drum anchor in the midst of a track, for there is still that techno pulse locked away inside Healing Force Project, but more often you'll find yourself pinging from one sharp angled drum splash to the next trying to make out the essence of the groove.
"I always explore new conceptions of rhythm but obviously it's not easy," Marini says. "Sometimes I need to do various trials before there's something that I like, but the thing I want most is to not fossilize. It's always a battle with myself."
"Wayward Flow", taken from last year's Entheogenic Spore release on Bedouin, was a fine case in point for this quest for new ways of expressing rhythm. Equally, that and other tracks on the release showcase the curious approach Marini takes with melody. His pieces are far from monochromatic, but it's common to hear carefully managed discord aligned with modal jazz rather than bright and bold harmonies. "I have a love and compulsive hatred of harmonies," Marini admits.
As well as acknowledging the tribulations of the experimental path through music, he happily heralds even the mistakes as an important part of the process. Clearly Marini is challenging himself and his listeners with the unconventional nature of his work, but it also has to be asked whether he feels that he achieves the kind of therapeutic effect that the Healing Force Project name alludes to. For all the dissonance and irregularity in his work, there is a strong meditative quality, and indeed those off-key stabs or piled-up drum skits don't so much grate as stimulate. Could it be that there is some medicinal value to the Healing Force Project?
"I feel the healing quality in all kinds of creative sources that I manage to draw on," Marini affirms, "and I stay well if I find positive vibes inside my productions. It's not just a healing sensation though. It's something personal that I hope can sometimes be understood by the outside world."
Interview by Oli Warwick
Header image based on artwork by Bill Kouligas
Healing Force Project on Juno