Pussy Mothers – The Number 1 EP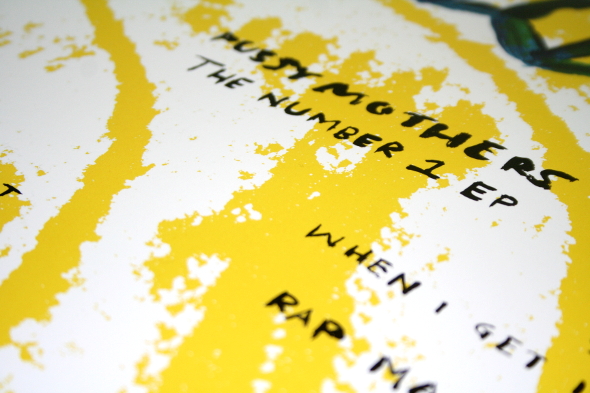 While many are now familiar with the good work now being done by Glasgow's Green Door Studio, JD Twitch has been a fan from the very start. Through his longstanding friendship with co-founders Emily MacLaren and Stuart Evans, Twitch has long had an unofficial A&R hotline to the lauded West End studio, with the duo frequently passing on the best of their students' work for consideration. Ever since he put out the typically eccentric, energetic and experimental Muzikal Yooth album by The Green Door Kids back in 2010, Twitch has hoovered up all manner of material from the studio for release on his thrillingly left-of-centre Optimo Music label. The greatest example of this blossoming relationship has undoubtedly been Golden Teacher, whose retro-futurist distillation of dub, punk-funk, disco, techno, house, techno and electro influences epitomised the free-and-easy, try-anything ethos that Evans and MacLaren have done so much to encourage.
That attitude is much in evidence on The Number 1 EP, the debut release from the previously unheard Pussy Mothers, and the latest Optimo Music plate to derive from the lauded West End recording hub. Stylish, imaginative, analogue-rich, and laden with unexpected musical twists, it's as good a first release as you're likely to hear this year. Golden Teacher is, understandably, the most obvious reference point. While the Pussy Mothers are merely a duo – one is a native Glaswegian, the other hails from Australia – they inhibit a similar sound space.
The comparison is, in part, due to their similarly loose-limbed combination of hand-held percussion instruments, drum machines, analogue synthesizers and pulsating electronics, but also the sassy, stylised, part spoken female vocals that adorn many tracks. Their extensive use of tape delay, space echo, and other vintage analogue effects – a kind of hallmark of many Green Door-derived records – is also reminiscent, while they seemingly share similar influences.
Yet Pussy Mothers are no copycat combo. Consider, for example, "When I Get It Right", an unashamed tribute to the joys Friday night dancing blessed with all manner of alien synth lines, mutant boogie ticks, swelling electronics and a notable sample from Quando Quango's Hacienda anthem "Love Tempo". Or, for that matter, the body-poppin' closer "Rap Machine", a kind of Glaswegian take on early-'80s Bronx electro with minimal wave rap vocals, and the kind of tipsy analogue bassline capable of causing queasy moments for those whose bellies are full of Buckfast.
While the A-side tracks, most notably "Get From In Front Of Me",  sail a little closer to Golden Teacher territory, there are enough distinctive differences to make Pussy Mothers stand out. The vibrant, sweat-soaked punk-funk explosion of "Echo Party" – rich with rubbery Liquid Liquid bass, "Can You Party" stabs, carnival whistles and unfeasibly catchy vocals – sounds like a jam session between Konk, ESG and Happy Meals. Opener "Skirt", meanwhile, manages to maintain a high level of intensity despite being created using a relatively sparse combination of musical elements. Primarily an exercise in fusing clattering, Latin-influenced percussion and woozy, drawn out analogue electronics, it nevertheless sounds massive over a club sound system.
Matt Anniss
Tracklisting:
A1. Skirt
A2. Echo Party
A3. Get From In Front Of Me
B1. When I Get It Right
B2. Rap Machine