Offen Music plays Koncert SNP 1983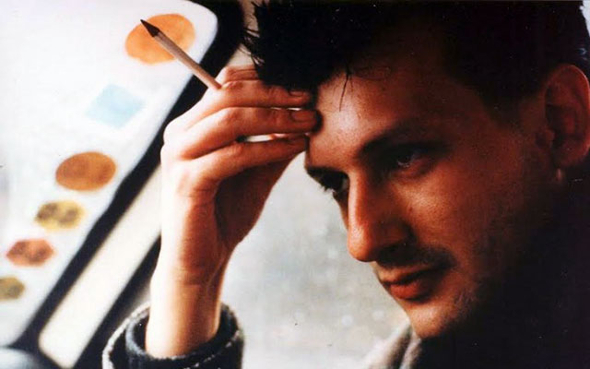 Vladimir Ivkovic's label to give Mitar Subotić's Rex Ilusivii project a second posthumous release.
With the likes of Music From Memory, Dark Entries and Mannequin to Rush Hour dominating the reissue game these past few years, the introduction of Düsseldorf's Offen Music run by Salon des Amateurs resident Vladimir Ivkovic was a most welcomed addition to a world of rare and curios archival music. Rex Ilusivii was a project by Mitar Subotić, a Serbian-born artist (pictured above) who tragically perished in a studio fire after emigrating to São Paulo, Brazil, while working with renowned bossa nova singer Bebel Gilberto. Subotić's work, including that of Suba, has left something of a legacy similar to Bryn Jones of Muslimgauze fame who also passed away in 1999, and it's the music of Rex Ilusivii, which in Latin translates to The King of Illusions, was used to launched Offen Music last year.
Offen Music did so by releasing the previously unheard recordings of In The Moon Cage, which date back to 1988, with the blessing of Subotić's family. Following the release of some cleaned-up demos by Detlef Weinrich's Toresch band with Viktoria Wehrmeister and Jan Wagner, and three tracks cherry picked from a cassette Ihor Tsymbrovsky made for a Polish cassette label in '95, Ivkovic ushers in more Rex Ilusivii sounds to Offen Music. This seven-track Koncert SNP album originally recorded in 1983 is described by the label as "pulsating synthesizer bliss, widescreen sample art full of Bosch-like images and elusively drama catchiness that absorbs deep," with Offen Music further adding, "listening to his live recording several times without a break reveals also a story arc of literary transcendence." Preview what that might sound like below.
Offen Music will release Koncert SNP 1983 by Rex Ilusivii on September 12.
Tracklisting:
A1. SNP 01
A2. SNP 02
A3. SNP 03
A4. SNP 05
B1. SNP 06
B2. SNP 07
B3. SNP 08
Offen Music on Juno