Mike Parker emits Undulating Frequencies
The iconic American techno producer lands a four-track EP on Donato Dozzy and Neel's Spazio Disponibile.
In March this year Donato Dozzy and Neel went some length to reinvigorating the wonted sounds of intelligible deep techno by launching Spazio Disponibile, a label which has pretty much filled the void left by the disintegration of Prologue and the brooding, Italian-influenced style of sound that came with it. Following Voices From The Lake's Secondo Tempo 12″ and a solo EP from Donato Dozzy, Spazio Disponibile swooped on three more immersive Marco Shuttle productions to provide the Italian with his latest release, Flauto Synthetico.
It's with glee that we report the inimitable sounds of Geophone boss Mike Parker will grace Dozzy and Neel's growing platform with a four-track EP called Undulating Frequencies. Due for a release in September, Undulating Frequencies follows a two-track 10″ Parker supplied Repitch Recordings, his second submission for the Italian label, to other solo turns on Luke Slater's Mote-Evolver, Dutch label Balans plus remixes for Semantica, Hypnus Records and Teste's seminal "The Wipe". Preview the EP, which certainly lives up to its name, below.
Spazio Disponibile will release Undulating Frequencies by Mike Parker on September 19.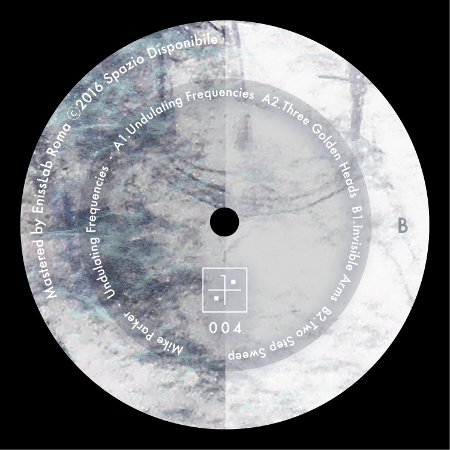 Tracklisting:
A1. Mike Parker – Undulating Frequencies
A2. Mike Parker – Three Golden Heads
B1. Mike Parker – Invisible Arms
B2. Mike Parker – Two Steps Sweep
Spazio Disponibile on Juno