LNS debuts on Freakout Cult
The Vancouver artist will make her vinyl debut with the upcoming Heliacal Rising 12″.
Regarded locally in Vancouver as one of the city's finest selectors, Laura 'LNS' Sparrow came to wider attention with a 90-minute Trushmix in November last year that proved her reputation to be well-deserved. Sparrow went on to make her production debut with the Maligne Range tape for local label 1080p at the start of 2016, a fine six-track collection of stripped down electro mood setters that left us craving more LNS material. She recently returned to the tape format to share sides with close friend Jayda G on the latest Wichelroede mix and we can now confirm a debut LNS 12″ will arrive before the month is out.
The Freakout Cult label co-run by the aforementioned Jayda G and Sex Tags overseer DJ Fett Burger is the route LNS takes, presenting a six-track Heliacal Rising 12″ for their third release so far. Opening with a remix from shadowy Wania production unit E-GZR, the 12″ looks to expand on the sounds of Maligne Range by inviting you into an "aquatic world of tickering rhythms, deep holistic grooves & tempo variations, lush pads, low strings and eletroid bassline hooks." Possessing a rather celestial name, Heliacal Rising follows excellent Freakout Cult editions from label founders Fett Burger and Jayda G.
Freakout Cult will release Heliacal Rising by LNS on August 19.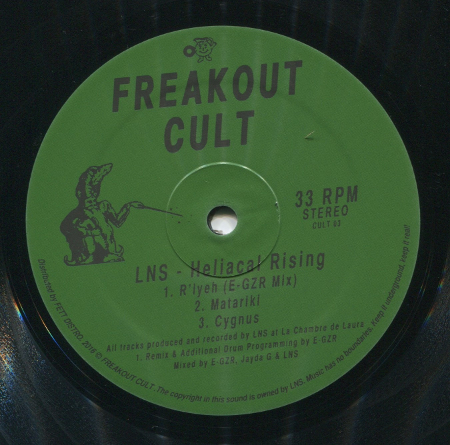 Tracklisting:
A1. R'lyeh (E-GZR Mix)
A2. Matariki
A3. Cygnus
B1. Herer
B2. Minas (E-Version)
B3. Leo
Freakout Cult on Juno