Lord Tang gives Butterflies to Meakusma
Californian artist Dominic Cramp presents his second album on the ever-adventurous Belgian label.
You have to hand it to Meakusma, they're not the sort of label to take a safe or familiar route with their signings. Their two other releases of this year have been debut outings, the first for Monochord and the second for Giraffe. Both certainly fit into the loosely-defined remit of the label, while equally pushing into intriguing new territory where synthesiser exploration and found sound collages seem to be a primary focus. Dominic Cramp has been sneaking out experimental tones as Lord Tang for a little while now, first popping up on Gigante Sound with a tape-only album Hello, which has since been reissued by Alarm and bolstered by three EPs of new material. Cramp, based in Oakland, California, had previously been one third of Evangelista, a band who appeared on Canadian label Constellation, while he is currently part of The Talking Book, an instrumental project with a member of Faith No More no less.
Butterflies represents a step outside the North American underground and straight into the European underground for Lord Tang, sporting a playful sound that calls to mind the adventurous spirit and colourful content of Georgia, albeit formed into different shapes. There's a lot of sonic mess flying around the mix on the album, which lends Cramps work a natural feel that apparently echoes the cabinet factory in which his studio was based at the time of recording. There's a plentiful spread of samples of the album available to stream below, so see for yourself if you can hear the wood-chippings in the mix.
Meakusma will release Butterflies by Lord Tang on September 19.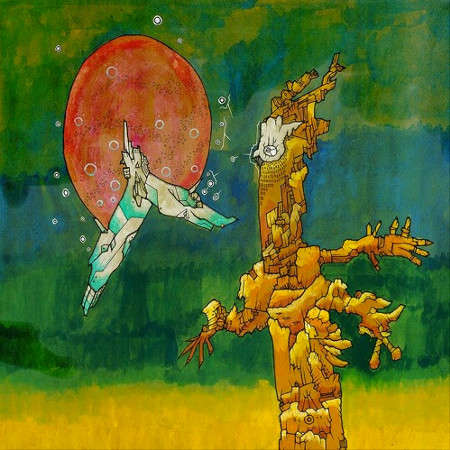 Tracklisting:
A1. Hived
A2. Butterflies
A3. Diamond Toes (featuring Micah Morris)
A4. Winged Paulsy
A5. Sparkle Toast
B1. They Did It
B2. Drips
B3. A Tidal Haven
B4. Lizards
B5. NYC – Overhead Train
B6. Don't Tell Me What To Do
B7. The Program
Meakusma on Juno