Death & Leisure to release Zov Zov mini-album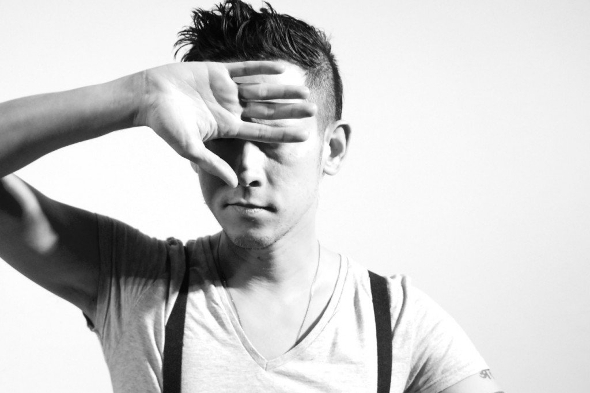 Oliver Ho and Tommy Gillard's collaboration to release The Sacred Pornography of God.
In an interview with Oliver Ho (pictured) last year the Londoner told Juno Plus of his irregular Zov Zov collaboration, "we just want to do it because we want it to exist," before saying of the material he and Tommy Gillard have been recording over the years: "if I have time, I will put some of it out myself." With the launch of Ho's Death & Leisure label taking effect last week with the dolorous two-track Myth Of Steel & Concrete 7″, Ho's priorities have now put paid to his words by revealing the label will release a Zov Zov mini-album, Sacred Pornography of God, as its second title. Described as an, "exploration into electronic noise and drone as a talisman for religious and ritualistic experiences," the release presents six productions and supplies Zov Zov with its second record.
The Zov Zov collaboration's first official release provided the last for Shifted's now defunct Avian sub-label Mira. The label helped break open the career of Bleaching Agent while providing an alternative platform for Guy Brewer's (aka Shifted) Covered In Sand alias, Sigha's one-off Faugust concept and other projects by Burma Kamp (aka The KVB), Worn (aka Ventress) to James Donadio's work as Prostitutes. In 2010, Ho and Gillard released the four-track Rails EP under the name Atlas for Ho's Wire label, and this new Zov Zov mini-LP sees Gillard back in action following a short-lived tenure as a solo producer and Continual label owner during the late-'90s and early-2000s. Preview the scraping, gothic and clamorous sounds of the mini-LP below.
Death & Leisure will release Sacred Pornography of God in late-August.
Tracklisting:
1. Spill
2. Blood In Blood
3. A Baptism
4. On Bended Knee
5. Your Body Is A Parasite
6. Slayings And Sacrifices
Death & Leisure on Juno