Equiknoxx – Bird Sound Power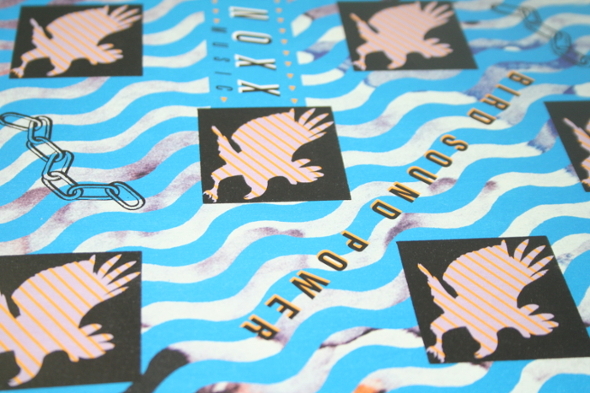 From an outside perspective any genre can seem constrained by its formulas. A sardonic passer-by would claim house beats all sound the same, ambient is a generic mush of lift music and all metal is the same old dirge of screaming vocals and distorted guitars. Dancehall is no different, with plenty of familiar tropes that producers adhere to – after all, what would musical trends be without some kind of common stylistic approach? I have to profess that I am no authority on dancehall, but I know that unmistakable offbeat drum machine groove when I hear it.
For those not immersed in a scene, it's the anomalies and variations on a standard blueprint that tend to break through. Take Spaceghostpurrp and his strange, spaced-out approach to contemporary hip hop production on Mysterious Phonk – the traditions are explicit in the music, but they've been recontextualised by outside-the-box thinking. Dancehall and ragga are no strangers to such approaches, what with the likes of DJ /rupture, Team Shadetek and Ghislain Poirier bringing an aggressive, glitched-up approach on the Shockout label in the mid-'00s, The Bug's early output on Rephlex, and labels such as Metatronix and Beta Bodega equally investigating an experimental, instrumental approach to dancehall, reggaeton and hip hop.
While many of these examples refer to artists on the outside looking in, Equiknoxx are in fact a production team locked in to the cut and thrust of the contemporary dancehall scene in Jamaica. In some ways it's a self-contained world (you won't find many of their previous releases on Discogs, for example), and in this instance it's taken the work of learned diggers such as Jon K, Balraj Swing Ting and Demdike Stare to bring this music to our attention, but Equiknoxx have been working hard for a long time with legendary vocalists such as Capleton and Busy Signal. Bird Sound Power draws on material dating back to 2009, but largely comes from the here and now, and it leaves your brain scrambling to work out where this music has been hiding all this time.
The recognisable swagger of dancehall is plain to hear, not least on the likes of "Peanut Porridge", and what a lean, deadly approach it is. The space in the track would make a 2006 dubstep production sound busy, the strafing synth hook sounding both familiar and alien in the same bar. "A Rabbit Spoke To Me When I Woke Up" takes the concept further, primarily using no more than two sounds at any one time in the track and sounding utterly captivating. There's a cocky, rebellious nature to the switch-ups between one riff and another, disregarding the need for a consistent, flowing composition and yet sounding utterly in control at the same time.
It's not all so minimalist though, as "Someone Flagged It Up!!" demonstrates with its chaotic, staggering polyrhythmic drums and dense dubby chords. When Equiknoxx want to, they can branch out into truly experimental realms that make you feel very far from the dancehall reference points dotted elsewhere on the album. "Clink" is equally complex in its makeup, replete with live drums, stuttering kicks, dreamy pads and sharp string synth hits. Cheeky samples and stark licks are splattered all over the album in an approach that's both fun and utterly on-point at once.
It's the diversity that makes Bird Sound Power so exciting to listen to. While the dancehall reference points might well be a defining feature of the album, there's so much more happening in between. Everyone can relate to the offbeat snare on "Timebird", but when that riddim is emblazoned with a borderline ravey sub bass and insane squawks, the effect is quite beguiling. Such is the thrill of discovering new music from unlikely places, having your passing surface knowledge of a genre subverted right before your ears. Equiknoxx have clearly built their reputation in Jamaica and the wider dancehall world around their unconventional approach, but thanks to this release one gets the feeling their sound is set to travel to distant lands a lot more in the future.
Oli Warwick 
Tracklisting:
1. Last of the Mohicans
2. Clunk
3. Peanut Porridge
4. Someone Flagged It Up!!
5. Porridge Should Be Brown Not Green
6. A Rabbit Spoke To Me When I Woke Up
7. The Link
8. Clink
9. Timebird
10. I Really Want To Write On Her Purple Wall
11. Lizard of Oz
12. Congo Get Slap Like A Congo Get Slap