Full details of debut Carla dal Forno album emerge
Blackest Ever Black will release You Know What It's Like in October.
A year of compelling Blackest Ever Black album projects that has encompassed Secret Boyfriend, Dalhous, Raime and soon, Tomorrow The Rain Will Fall Upwards, is set to be joined by the long-trailed solo LP from Carla dal Forno. The Melbourne musician (pictured above) has played an important role in the recent history of BEB thanks to her involvement in Tarcar alongside Tarquin Manek and their F Ingers collaboration with fellow Australian Samuel Karmel. Their debut album, Hide Before Dinner, was a real highlight of the label's imperious 2015 output.
A solo offering from dal Forno has been mooted for some time, with initial confirmation of an album arriving earlier this year alongside the unveiling of the Fast Moving Cars 7″. Today full details of Carla dal Forno's album arrived with You Know What It's Like taking shape as an eight-track set due for release in early October. A combination of vocal tracks and instrumental compositions, You Know What It's Like should expand on the tape-smudged sound dal Forno exhibited on the aforementioned "Fast Moving Cars" on the basis of the newly unveiled "What You Gonna Do Now?".
A video for the song shot by Matthew Linde can be viewed below, with the track seemingly riffing off the bassline from Joan Baez classic, "Here's To You, Nicola and Bart," before heading off in a claustrophobic post-punk direction. London fans of Carla dal Forno can look forward to a launch party at Corsica Studios on Saturday, October 15, as part of the first BEB showcase at the venue in three years with Felix K, Ossia, Dynamo Dreseen and Pessimist also in tow. 
Blackest Ever Black will release You Know What It's Like by Carla dal Forno on October 9.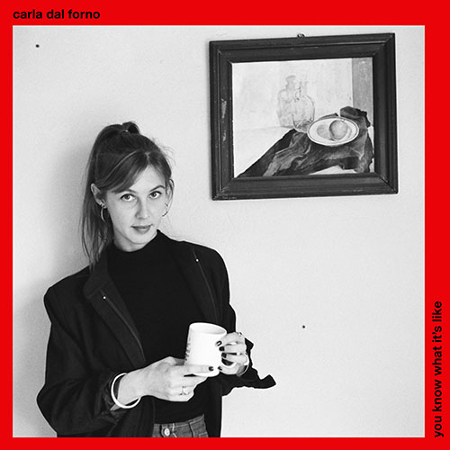 Tracklisting:
1. Italian Cinema
2. Fast Moving Cars
3. DB Rip
4. What You Gonna Do Now?
5. Dry In The Rain
6. You Know What It's Like
7. Dragon Breath
8. The Same Reply
Blackest Ever Black on Juno
Header image courtesy of Marijn Degenaar