Best Record Sleeves: July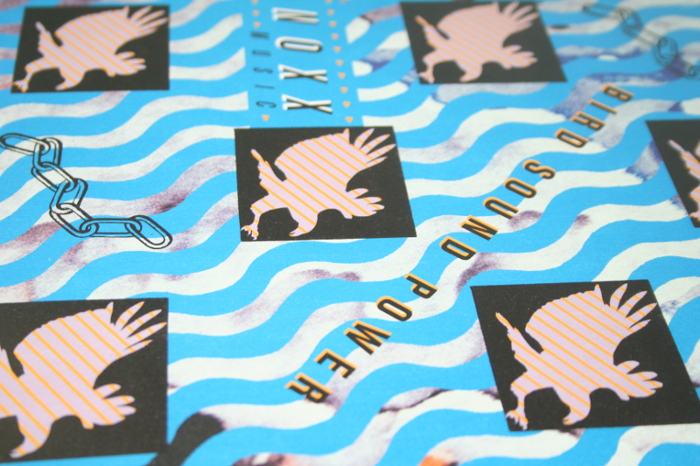 Design for Tresor, 12th Isle, Ectotherm, Yes Wave, Luckyme and DDS feature.
Despite brandishing a name associated with typography and design, the first two editions of Tresor's irregular Kern mix series have been somewhat lacking in the visual department. This changed with TJ 'Objekt' Hertz's entry into the series with a third volume – roundly applauded as one of the best examples of the DJ mix in any format. Kern Vol. 3 also saw Tresor step up their design game. The label evidently put as much thought into how to present the project as Hertz did, commissioning Kasia Zacharko to provide some delightful fruit-themed photography across the CD edtion and 12″ samplers that lent the project an extra sense of insight into the world of TJ Hertz – limes in a large Sports Direct mug was a particularly nice touch. Complementing these was the overall design from Vanja Golubovic, a Serbian designer who has been heavily involved in Tresor's branding this year. Golubovic went for simple understated typography that complemented the other visual elements and it should also be noted that the waxy veneer of the sleeves used for the two 12″ samplers made for an extra nice touch on a project that's quality through and through.
Last year I was lucky enough to spend an afternoon interviewing Hoya:Hoya resident Jon Kraus, possibly one of the most under-rated DJs out there. One of the subjects we didn't really cover in the hours talking that day was his design work, with his credits including the sleeve for The Electric Chair – Basement Soul Music (one of my favourite ever compilations). July saw Kraus thrust into the spotlight thanks to his involvement in the superb Equiknoxx retrospective on Demdike Stare's DDS label which encompassed the overall design as well as curation with Sean Canty and Miles Whittaker. Riffing off Gavsbourg and Time Cow's distinctive bird sampling, Kraus mixed vibrant eagle illustrations with bold text and background imagery provided courtesy of Eion MacManus, a New York-based artist who previously resided over Manchester foremost dancehall night Hot Milk.
New labels with distinctive artwork are always bound to catch our attention and four diverse examples shone through in July. First up is Yes Wave, a new label from Trevor Jackson founded to house a series of nine 12″s featuring unreleased Playgroup material. Also a clear opportunity for the highly-decorated graphic designer to reaffirm his status as one of the best when it comes to the fine art of the record sleeve. There is of course a concept to the visual side of this series, with all nine 12″s assembled to form a 36″ inch-squared image culled from classic photography by Bill Bernstein documenting the late-'70s disco era of Manhattan. As impressive as that will no doubt look, each individual 12″ should be quite eye-catching too on the basis of the debut edition from Jackson. A section of Bernstein's photography has been blown up to take on an abstract dimension and some fine reverse sleeve typography.
12th Isle were always going to be under consideration, given how often designer Al White from the Glasgow collective has previously featured within this column for his work alongside Lindsay Todd for Firecracker. White's artwork for the Thoughtstream album from Russian duo Dices + AEM expanded on the intricate and detailed illustrations that have made 12th Isle flyers so distinctive whilst adding an extra cosmic edge to the music within. Equally impressive-looking was the inaugural release on the Ectotherm label from Apeiron Crew pair Courtesy and Mama Snake. 'Death by toddler with croquet mallet' is the amusing scene seemingly depicted in Rune Svenningsen's photography that makes Schacke's Patterns Of Susceptibility 12″ so immediately eye-catching. Augmenting this, Lukas Højlund's design took a more understated approach with plenty of room made for the superb Ectotherm logo.
Finally we have Pre-Echo Press, freshly-founded by New York-based visual artist Matt Connors as a "platform for disseminating a diverse and idiosyncratic array of recorded and printed matter." Given his profession, it no surprise that this new endeavour from Connors is rather pleasing on the eye, with Pre-Echo delivering vinyl editions of two tapes from Root Strata co-founder Jefre Cantu-Ledesma. Given the disparate look of both Songs Of Forgiveness and Songs Of Remembrance in their original tape formats, Pre-Echo wisely dispensed with replicating the original artwork in favour of new design that lends a sense of visual consistency. Design for both records and the label identity comes courtesy of Joe Gilmore and its nice to see him afforded the chance to present all the music and design credits so clearly; quite an anomaly in an age where many labels try their hardest to hide who is responsible for the design and illustration.
All selections by Tony Poland
[nggallery id=68]