Best reissues and archival releases: July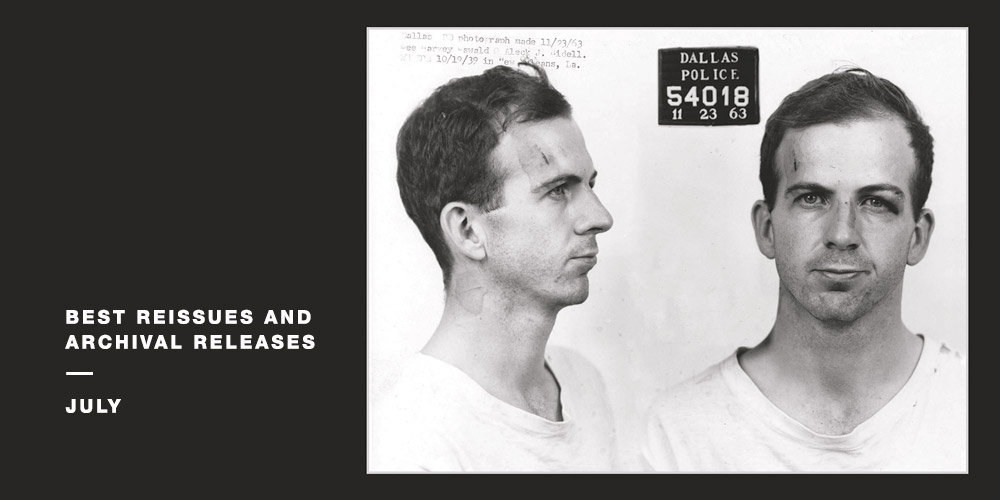 A dark selection that belies the summer period as Flora Pitrolo profiles Delia Derbyshire, Muslimgauze, JFK / The Grey Wolves, Marc Barreca and Xaõ Seffcheque.
Delia Derbyshire and Elsa Stansfield – Circle of Light (Trunk)
July saw a double helping of Delia arrive, marked by the warehouse discovery of some unopened copies of the Electronic CD (currently doing the rounds of the UK's record stores) and this gorgeous previously-unpublished soundtrack, courtesy of intrepid sonic detective Jonny Trunk. Circle of Light is a 1972 art film by Anthony Roland that performs a glistening montage of the work of the almost-forgotten Pamela Bone, a photographer whose glassy shots and bursts of colour agitating the natural landscape serve beautifully as visual counterpart to the more complex feats of British experimental electronica.
In the hands of Derbyshire and Elsa Stansfield – a Glaswegian artist whose studio the film was made in, and who also collaborated on the soundtrack – this material becomes something beyond crepuscular. Crisp, heightened field recordings mesh with Derbyshire's signature ghostly approach to drone, always teetering at the edge of horror without ever quite plunging into the abyss. It sounds and feels more adult than Derbyshire's widely known work for the BBC Radiophonic Workshop. A taste for thick textures and for unannounced sonic events, an abstract layering that to the contemporary ear appears suspended between the carefully orchestrated whack of Chris Watson's slowly shifting weather systems and Oskar Sala's soundtrack for The Birds. There is even a tinge of the bent nostalgia Boards of Canada would explore on their early recordings. The immaculate field material – geese, birds, ruffled leaves – edited harshly with ominous buzzes, isolated bangs and alarm-like fluttering oscillations makes for one of the most concentrated sonic baths of the year.
Listen/buy vinyl
JFK / The Grey Wolves – Assassin (Peripheral)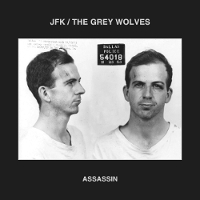 This collaboration between the ultra-productive "manifestation of the cultural terrorism network" that are The Grey Wolves and instrumentalist Anthony DiFranco aka JFK was recorded in 1988 to commemorate 25 years from the Kennedy assassination, and is as cold and confusing as that day on November 22nd, 1963. Peripheral Records state that the music doesn't just reflect the event itself but also all of its ramifications, and indeed beyond purging shots of pure and simple sonic violence what you mostly get from listening to this record is a sense of crawling paranoia; the portrait of a society forever in unrest.
We're in the realm of a creaking, squeaking, scratchy industrial: blasts of power electronics do shine through, like elevators in government skyscrapers, but the meat is in a lo-fi brutality. Assassin reveals itself to be a kind of circular composition where "Part I" and "Part VI" have the traits of before and after landscapes. Before; the soaking of quivering washes, and after; something quiet, a memory, a fuzzy picture in newspaper print. In between, if you want to listen to it as an historical object, a progression occurs. "Part II" has the glossier texture of a sharp synthline that breaks into a rather gorgeous repetitive beat on "Part III". Turning the record, things get sadder; sandstorms, deserts, howls… something altogether more discreet than the LP might initially reveal. This is a beautifully cruel record and a smart and thoughtful one too, full of doom and dirty feelings. On translucent red wax like blood. Bravo to Peripheral for their sense of occasion.
Listen/buy vinyl
Muslimgauze – Ali Zarin (Staalplaat)
A severe July this year, with very little of the lightness we might allow ourselves in summer. If you're going to dance, then do it properly; without compromise, with method and intelligence. And while you're at it, dance politically too. For these purposes, nothing better than yet another gift from the bottomless well that is the Bryn Jones archive: once again Muslimgauze reveals itself as a project that was able to synthesise – in all senses – the anguish and neuroticism that supplies at least part of the reason why we dance.
A true and proper subcultural punch, Ali Zarin amounts to 40 minutes of fast, unnerving and unnerved experimental techno. It's a stretch of complex but minimal progressions delivered by the careful alternation of a fuzzed-out, broken drum machine paired with a creaking repetitive tone and halted, every now and again, by the texture of a gunshot ricocheting through the tracks with a silvery shiver. The whole thing is very roughly interspersed with cut-up bulletins concerning the Israeli occupation of Palestine, never whole or audible enough to reveal anything but the scrap of a message. It seems to raise dust.
On the second record of the double LP, Staalplaat has enriched the release with a set of unheard demos that once again reveal the sheer invention, versatility and sonic broadness of Muslimgauze's aesthetics. In the face of these distorted guitars, syncopated beats, and the ever-surprising fusion of the filigree of Middle-Eastern music, the nervous twists of rave culture and the straight lines of Western industrial, it's certain that the genreless Bryn Jones archive is a genre in itself.
Listen/buy vinyl
Xaõ Seffcheque –  KESS02 (Kess Kill)
Following its dart-like appearance in the world with that wonderfully nasty slice of EBM that was Cute Heels' Verge, Rivet's Kess Kill label is clearly looking to demonstrate it means business. And after all, with a name like that – lifted from the erotic dadaism in Liaisons Dangereuses classic "Kess Kill Fé Show" – what else did we expect? Kess002 is a meander through the throbbing neon corridors of one of the oddest, most unclassifiable acts to come out of the Neue Deutsche Welle scene. Taken from his fairly rare Ja – Nein – Vielleicht, released in 1981 on Schallmauer with his band Xaõ Seffcheque und Der Rest, the three golden nuggets featured here provide an introduction to the crazy world of Xaõ.
Proceedings open with "Du und Ich", a track bouncy yet funereal like only NDW can be. One suspended synth oscillating on a washing line and submerged in an ethereal, hyper-distorted choir of mezzo-sopranos grabs the listener for four minutes before plunging into the thoroughly mad "Kassa-Bubu", a kind of tribalist, surrealist post-punk peppered with a very German humour. Last flash in the strange night is "Eine Nacht in Deutschland", originally subtitled "Je t'aime moi non plus", a post-industrial techno-orgasm on speed. If you're made happy by the more manic echelons of the German scene – such as Erste Weibliche Fleischergesellin Nach 1945, Die Gesunden, Vono, Der Plan or indeed Liaisons Dangereuses – then happiness, as they say, is just around the corner.
Listen/buy vinyl
Marc Barreca – Twilight (Palace of Lights)
Marc Barreca's output has been some of the most interesting amongst the many recent ventures we've had into American experimentalists, and it's fitting that his original label, Palace of Lights, should reissue his first LP, the seductive and very expertly executed Twilight. The LP – augmented here by the addition of three previously unreleased tracks – can be seen as one of the monuments of West Coast post-Eno ambient, but it's also one of the most interesting expressions of that genre and of that scene. While it's true there's a very streamlined ambient sensibility at work here – a taste for the super-clean, comparable to a salty sea breeze coming off the record – there's also a serious engagement with rough textures and post-electroacoustic darkness, that edges in towards an industrial or even darkwave sound. This makes Barreca's work stand out quite sharply from his work with Savant, for example, or indeed K. Leimer's solo work, which has also recently been acclaimed.
Highlights include the cosmic "School for Whales", the heavy piping-out of saxophone drones on "Suburbs", the frankly epic darkness of "Music from the Greylands" and the irresistible, quasi-disco "Oleo Strut." Here a perfectly regular pulse served as a bed for some scintillating chords and post-organic synth lines from Barreca. This is the surprise of the month, an elaborate, multi-headed beast that isn't quite what you expect from one moment to another. Twilight is in control but also very romantic; an album that feels lunar but also very dark. Intensely Pacific, yet strangely without peace.
Listen/buy vinyl
Flora Pitrolo