Back_up and Restart: Todd Sines
Having performed live and released on some of the most iconic house and techno labels for over 25 years, it's a wonder Todd Sines isn't more well known than he is. Oli Warwick caught up with him in Berlin to find out the oscillating story behind a true cult hero of American electronic music.
It's a sweltering summer's day in Berlin, and Todd Sines is speaking of his issues with techno. Considering the Ohio-born, Brooklyn-based artist has been affiliated with labels such as Peacefrog, Planet E and 7th City in a career stretching back to the early-'90s, you'd be forgiven for thinking of him as a techno producer. A vast majority of his output sits in that grey area where groove, swing, intricate programming and cerebral textures are not mutually exclusive. Tonight, Sines is scheduled to play at Tresor (admittedly in the housier Globus room), and it is in fact at the infamous club's original location on Leipziger Strasse that he first took umbrage with his own concept of techno.
"The first time I played Tresor, I played in the basement in '97 and it was my first trip to Europe," he recalls. "When I got there, I couldn't play loud and heavy and fast enough. I was playing LFO's "LFO" at plus eight. They said, 'more power! Faster!' and I'm like, 'I can't, it won't go any faster!' So I know I've lost some fans who thought .xtrak was just techno."
Out of a sizable array of aliases, .xtrak is one of Sines' most revered. It was originally a relatively short-lived run of three EPs, but the stark personality of the tracks ensured the name would live on, both in hefty second hand prices and intermittent archival releases right up to the Tape Archives 01 + 02 album on Rawax last year. Daniel Bell (the 7th City boss and old friend of Sines) is cited as a key influence on the .xtrak sound, but equally the project was intended as a reaction to labels like Relief and Dance Mania.
"It was ghetto house music," Sines insists, "and I had a very specific set of machines that did exactly that thing, like the Casio RZ1, the 909, the 101, the DX100." The .xtrak sound alone might inspire heated 'house or techno?' debate between trainspotters, but the same rule applies throughout the rest of Sines' output. The majority of his music has come out under his own name, while other aliases such as Enhanced and Cron have cropped up over the years, but in any instance Sines states his intention has been to make 'sleepers' – curious tracks that provide a transition between different moods in a DJ set.
If there's one thing you could say with confidence about his tracks, they're not DJ tools in the traditional sense of the term. In fact, as he suggests, many pieces operate more like songs than faceless collections of rhythms. In particular he describes his work with French singer Natacha Labelle from the mid-'00s as "love songs", even if they happen to ride atop a house beat. This interest in writing 'songs' as opposed to 'tracks' tallies up with Sines' history in bands, and throughout an afternoon of coffee drinking and walking through Friedrichshain his passion for classic post punk and new wave rears its head perhaps more than any other facet to his personality. From referencing groups such as He Said and Wire through to vintage equipment and cult studios, counter-culture indie music is in Sines' blood and it shows in the early days of his engagement with music.
Born in Cleveland, Ohio, Sines started out drumming in a punk band, gradually edging towards industrial in 1989, before his friend Mike Szewczyk bought the Roland W30 sampling workstation in '91. On the night of an 808 State show in Cleveland, Todd connected with Titonton Duvanté and Charles Noel, a.k.a Archetyp. Powered by a love of the British acid house pioneers and the explosion of early-'90s rave groups, the trio's nascent group Body was superseded by a new project
"We were called Body Release," Sines recalls. "It's an unfortunate name 'cos you can take it one of two ways. We're all like, 'release your body!' and they're all like, 'actually it's a bodily release'. In '93 we all realised we're not gonna become the next Bizarre Inc. We opened for them once, but we just never really gelled together in the band. We all wanted to do our different songs, one more drum and bass or jungle, one more like melodic ethereal techno."
Despite the demise of Body Release, Duvanté, Noel and Sines have stayed close, and to this day they have new projects on the boil. HELIC.AL is a new label Sines and Noel are launching to indulge their post-punk and EBM-leaning material, which Sines hails as a return to his first love before the rave abandon of Body Release took shape. The difference is that now he has the equipment to make the music he had in his head back in the late-'80s. In the spirit of HELIC.AL, Sines and Noel have formed a new band called Interval featuring their friend Andries on bass, Noel drumming and sequencing and Sines on guitar, vocals and modular synthesiser.
"Interval was born as a dare by Jakub Alexander (aka Heathered Pearls)," Sines explains, "so a few years ago we got together some tracks I had been doing that were what Charles called pre/post techno. Everyone in Body Release had a fond affection for Tones on Tail, Nitzer Ebb, DAF, Cocteau Twins, Sonic Youth, and I figured it's time to finally wear my heart on my sleeve about it."
The trio played their first gig with two weeks notice, but then followed up a few months later on a line-up that included Silent Servant and Dark Blue. While tracks are mooted for the ever-trusty Nation label later this year, HELIC.AL is intended as the ultimate base for Interval and associated projects. Amongst the other ideas floating around are artefactos de delor with guest musicians Alyssa Barrera and Amanda Berkowitz of W.I.T. and Soviet, I_TMSZ featuring Michael Zodorozny of Crash Course in Science with Sines, and many more potential ventures besides.
Aside from his more pragmatic live electronic music tools, it's the hardware aligned with the post punk era that Sines focuses his attention on. His set up has built up and depleted numerous times over the past twenty years, from accommodation wranglings in New York to relationship-based pressures, but any number of studio videos on YouTube indicate he's still sat on a lot of gear.
"I would say I'm a connoisseur rather than a hoarder," he reasons. "There is a fine line. I'm after very specific things. If I'm going to emulate anybody it's going to be Blackwing Studios or Strawberry Studios, circa '78 to '84. Anything that Martin Hannett used. Anything that John Fryer used on He Said and Wire."
While the W30 workstation may have been Sines' first dip into the world of electronic music hardware, upon enrolling at Ohio State University he took some classes under Dr Thomas Wells, a former student of legendary German composer Karlheinz Stockhausen utilizing tape machines, Neve consoles, outboard equipment and a 30-foot wall of Moog and Serge modular synths, supplemented with various home-brew sequencers, function generators and military-spec filters and oscillators.
"When I got in there the system was kind of abandoned which is so tragic," Sines laments. "It was all at my fingertips, and I didn't know what the fuck I was doing at age 19. I'd just rather use a 303. Wells was like, 'you'll just have to figure it out'. It's like walking into NASA control centre, being told, 'go fire the fucking space shuttle'."
Despite this mountain of valuable hardware being at his disposal, in 1992 Wells (pictured below) was more excited about the possibilities for computer based sound design, and was keen for Sines to explore the Csound programming language instead. It still haunts Sines to this day that he was offered one of the Moogs for 3,000 dollars (when the real price would reach into the hundreds of thousands). Not having the money at the time, he lined up a buyer who in turn sold the synthesiser on to British indie group Suede, giving Sines two synths and a 250-dollar finders fee by way of thanks.
It was through Sines's zines, Local Action and Visual Razorblade, from 1987-1991, that he first made connections with the music industry at large, gradually discovering the importance of the techno coming out of Detroit and eventually connecting with the likes of 'Mad' Mike Banks from Underground Resistance. As his productions started to take shape, he connected with Daniel Bell for the aforementioned .xtrak release on 7th City, while additional releases sprung up under a variety of aliases.
Cron was a one-off electro project that appeared on Archetype's 21/22 Corporation, Enhanced landed on labels such as Planet E and 4 Hero's legendary Reflective, while Trait was the name used for an EP on DJ Hyperactive's Contact label.
"Enhanced was in the line of IDM meets Detroit," Sines explains, "and Cron was me having a little bit of influence by Dopplereffekt, thinking, 'I can do this shit'. I would hear about Gerald (Donald) building all his drum sounds from scratch, emulating what Depeche Mode and Kraftwerk did. They would take an entire monosynth and use it just for a clap or a hi hat, and I'm just like, 'god, I don't have that much room, or that much gear to do it with!'"
Meanwhile it took until 1998 for any material to emerge under Sines' own name, the first being the Hi8us LP on Titonton Duvanté's Residual label. The title interestingly nods to a recurring facet of Sines' career, where protracted breaks from releases pepper the 25-odd years he has been in the game. I raise this point, and although he also explains the title is a nod to the popular digital video format of the time, he adds that his musical endeavours slowed down due to outside influences at that point.
"I got married in '96 when I was 23," he explains, "and that drove my production almost to a halt. She started saying, 'I don't want you to work on music at night', 'I don't want you to play raves', so I kind of felt like I needed to stop doing it. Instead of moving out and just working and saving all my gear I decided to start my own business, in 2000, quit my job, and ended up selling a lot of my gear."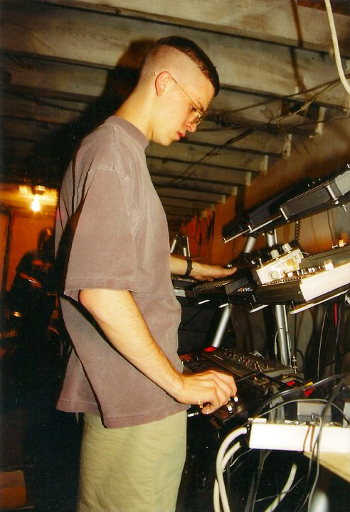 Aside from relationship factors, Sines does in fact have a fully-fledged life outside the studio, which vies for his time. From his experience of making the zine and working with visual art through school and university, he stumbled into a career in 3D video game design, which led to film production and design. Nowadays, he often assumes the role of director on high-spec advertising and motion picture projects, as well as developing branding and imagery for specific clients. To this day the music can sometimes take a back seat while a pressing deadline is on, with no set boundaries between one and the other aside from his declaration of music as, "a paying hobby."
"It's never been something I can live off," he adds. "I don't want to. I'd love to play a festival, I'd love to do a lot of these things, but I don't want to have to kiss ass the entire way just to make that happen." While his career may have been subject to the stop-start whims of the real world, those key early releases left a lasting impact, and as such there has been as much archival and reissued material as there has been new music coming from Sines over the past ten years. Andy Vaz's Yore Records was quick to tap up some unearthed .xtrak jams, resulting in the Back_Up and Don't Stop 12"s. More recently, Rawax put out the Tape Archives 01 + 02 LP, Moto Records brought together the scattered Enhanced tracks on a 12" and Residual are preparing to reissue the Hi8us album.
"I have a mixed feeling about reissues," Sines ponders, "especially when I talk to the guys from 21/22. They feel like we shouldn't re-release anything and just put out new music, and I get that, but I'm getting where people are saying, 'I want a copy of this record but I don't want to spend two, three hundred dollars for it'. I have emotionally divorced myself from holding this thing on a pedestal, because you can't control the Discogs animals. I wouldn't say I'm hypocritical – I'm convoluted about where I stand with reissues."
Despite his reissue unease, Sines has recently been opening up unfinished projects that reach back to the '90s. Rather than his old method of taking sequences from his hardware and finishing them on the computer, now Sines is happily taking all of his computer-based work, dumping it to MIDI files and loading them onto his MPC. While it might sound more convoluted, he insists that he can perceive the sound difference recording his music straight to tape, free of digital interference.
"I found 10 unreleased Enhanced MIDI files which I'm gonna rework," he reveals. "I also found almost every single MIDI file for Cron, which is fucking incredible 'cos I've never been able to play that music, and now I have the MIDI files I'm like, 'I can do Cron live. Holy shit!'"
Live performance has always been something of a staple for Sines throughout his musical career. Having entered the production fray long before the convenience of Ableton Live and MIDI controllers, it was always natural to be working a selection of hardware in front of an audience rather than jockeying a laptop. While he has dabbled in DJing over the years, he's adamant that as an artist nothing beats the gratification of playing your own material to a crowd.
After his big hardware sell-off in the late-'90s, it took Sines some time to find a workable alternative for his live sets, having turned to Logic for production and then employing a Reaktor patch to trigger and mix multiple WAV files in a format that somewhat prefaced Traktor. "When I played at the DEMF in 2001 I played live with a laptop and the tiniest controller," Sines explains, "and I'm thinking, 'this is not it', even though people were saying, 'you were totally acting like you were having sex with that laptop'.
"Tonight is going to be the complete opposite," he proudly adds, looking ahead to his imminent performance at Tresor. "No laptop. Just an MPC, a modular, a Korg Volca sampler, a Korg Volca FM, a Korg SQ-1, an SH101, a JX3P, effects and a Cyclone TT 303 clone."
Sines has been performing this iteration of his live set for the past 18 months, using the MPC as the hub of the operation but with the flexibility to divert into a modular focused section or a quick flurry on the Volcas, for example, with everything synced The material he is playing amounts to something of a concentration of all of his musical output, from classic .xtrak tracks to unreleased wares, new creations and more besides.
When it comes to the performance itself, taking place at the amenable hour of 3AM in the Globus room, the density of the sound is overwhelming. With Sines' crooked groove shaping the movement of the nagging hats, crisp snares and alien synth lines, the edges between his different aliases blur as a stripped back .xtrack jam melts into a plush, dubbed out Todd Sines excursion. For all the machinations at work, there is still a very human heart beating away at the core of the performance, crystalised in Sines' brief spells on the mic. It's interesting that he chooses to perform the vocal licks to the likes of "It's Time" live, rather than letting a more precise and consistent sample do the work.
In many ways Sines' microphone declarations – announcing his arrival on stage, hyping up old friend Mike Servito who is on after him – make him seem like a willful agitator, not least in the faceless, slick professionalism of a typical Berlin club night. In the time he has spent in and out of electronic music, so many of his peers have buckled down and played the game, drifted into banality or simply given up. Others meanwhile have struck lucky with specific career moves.
"I'm constantly trying to have a reintroduction," he admits. "I've seen other friends… Silent Servant, he used to be known as Jasper, and then he became part of Sandwell District, and then he became Silent Servant and now he's doing extremely well. That's the best career move he's ever made, but sometimes I wonder, 'do I need to reinvent myself and stop using my own name?' and then I think, 'fuck it. I don't live off this stuff'. I'm not a careerist about it, so pretty much everything is on my terms."
This attitude manifests in the music that Sines makes, and the way in which it is received and over the years particular trends have seemingly aligned with his work. Like in 2007 when his cranky, densely detailed house abstractions struck a chord with the millennial minimal movement, but such connections have been happenstance rather than a pre-meditated stylistic change. As such, Sines has remained something of a vagabond, very much operating on his own rather than alluded to a particular scene or collective (outside of his life-long friendships with Charles Noel and Titonton Duvanté), and as he points out, there's a chance that his vegan, straight-edge lifestyle may have a part to play in that.
"I don't party at all," he states, considering the success of other artists on the international circuit. "I've never done it. I've smoked weed five times in my life, I've been drunk less than that I think, I've never done anything beyond that and I feel personally that it shouldn't be an impairing aspect, but unfortunately it very much is."
It's a rare thing often taken for granted in this game, the idea of being stone cold sober in the midst of professional revelry, and it's not often you get the chance to ask an artist how it feels to be playing to a crowd that are commonly in an altered state you've never experienced yourself.
"I feel very disconnected," Sines admits. "I don't hate my audience, but I'm there for the heads that are not dancing because they can't be bothered to be seen with a person that's fucked up. My music was always meant to make people dance but it was always meant to be more than just, 'yeah let's get fucked up and listen to this music'."
Sines is certainly not the only artist to think along these lines – after all, making music aimed at entertaining wasted people could be viewed as a nullifying artistic endeavour – but it's another factor in what makes him a unique, and often cult, proposition amongst the electronic music lifers. Right now, with the interest surrounding his archive work meeting with a steady gig schedule and the intrigue of Interval and the Helic.al project, Sines' musical future feels as productive and unpredictable as it's ever been.
Interview by Oli Warwick
Todd Sines live at Griessmuhle Berlin 2014 image courtesy of Genevieve Marentette
Todd Sines dark portrait courtesy of Andries Boekelman
Todd Sines on Juno