Carbon sequencer arrives from Kilpatrick Audio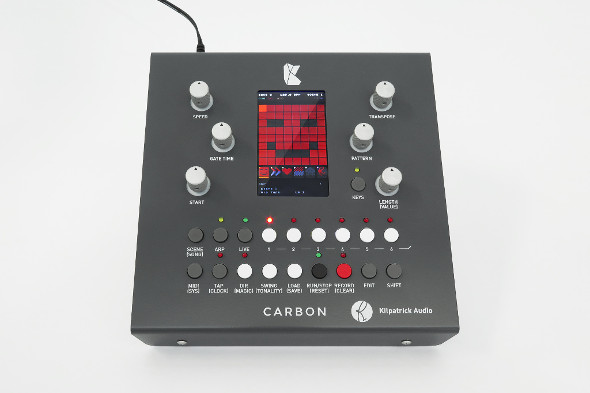 The compact new unit from the Canadian manufacturers is intended for stage and studio.
In these heady days of boutique hardware manufacturers, it's hard to keep up with every intriguing operation turning out quality kit. Kilpatrick Audio has been quietly building up a formidable array of kit, largely focused on but not limited to the modular world. Interestingly, the company has developed its own 'Kilpatrick Format' modules that feature larger panels and improved power supply, but they still turn out a fair amount of Eurorack gear as well, and the Phenol analogue synthesiser. Out of the six Euro modules listed on the official site, the K4815 Pattern Generator stands out, not least thanks to its striking visual display but also because of the innovative approach to sequencing that the module takes.
Six years on from the release of that module, the man at the helm Andrew Kilpatrick has built upon the success of this concept to develop the Carbon standalone 'sequencer and performance system'. While there are plenty of pattern-based step sequencers around on the market, the unique hook with Carbon is the functionality it provides for altering sequences in a live, intuitive way. With the added hook of a screen for a visual reference of the pattern shapes as you shift them, simply turning dials can instantly alter the behaviour of any pattern you choose, hence the emphasis the manufacturers are placing on the device being good for live performance. Not only that, but it can run six tracks simultaneously, allowing for a lot of machines to be powered off one sequencer. In terms of connectivity, there are four gates and four CV outs, one clock out and one reset out, one MIDI in and two MIDI out, and two USB connections. The unit has been designed to route input from MIDI devices such as keyboards through to other connected hardware, with the intention of removing the dependency on computers on stage.
There's a lot to this piece of equipment, and it seems to only just be reaching the general public now after some delays following a successful crowd-funding drive. Clocking in at just under £600, it's a sizable investment, but the possibilities described in the Modular Podcast video from Superbooth 16 (embedded below) suggest there's some serious depth to the Carbon.