Nico Motte – Life Goes On
The man from Check Morris and Antinote discusses his creative passions in a rare interview with Tony Poland.
Arriving slightly early to meet Antinote's visual conductor Nico Motte at a pub in the back streets of Islington, I'm struck by the fact there are almost as many dogs as drinkers in attendance that night. Before I become overwhelmed by this abundance of canine distraction, Motte soon enters the pub and his broad, comic book-esque physique gives off the suggestion he might possess one of those garrulous, room-consuming laughs. A vision of Brian Blessed curiously voicing the cartoon Bruce Wayne with a French accent flashes through my mind.
Such immediate first impressions prove false however, as Motte reveals himself to be a quietly inquisitive drinking companion, posing as many questions of me as I asked him. Instead of the stilted, back and forth conversation these interviews can sometimes be, we both enjoyed a genuine discussion for several hours. Over the course of a few pints, the Parisian opens up about his relationship with Antinote, a teenage love of hip hop, a fear of flying ("I smoked too many joints and I don't really like travelling"), digging for records in local Paris flea markets and much more.
We are meeting a few days before Motte was due for a rare DJ appearance at Corsica Studios as part of an Antinote showcase with the majority of the label acts. "I will be playing my club music," he tells me when asked what he's got packed for the night, adding this mostly means Italo disco. (Side note: a few weeks later, a friend tells me in passing Motte's set was the highlight of that Corsica night). I learn Motte is actually spending quite a bit of time in London at the moment, as his girlfriend is stationed here whilst working as producer on the latest Wes Anderson production. The temptation to quiz Motte about his brief time on set for Wes Anderson caper, The Grand Hotel Budapest, is passed over in order to get the story on how he became such an integral part of the Antinote family.
Gwen Jamois, the raffish figure whose pioneering early-'80s techno experiments as Iueke introduced Antinote back in 2012, was key to Nico Motte's creative involvement in the label. The two first crossed paths over a decade ago when Jamois stumbled into an 11th arrondissement bar Motte and a friend were DJing in. Around the same time, Motte and Matthias Pol had just put down the seeds for Check Morris, a design agency founded after the pair were sick and tired of freelancing for agencies that didn't inspire them.
Back to that 11th arrondissement bar. "This guy totally changed my perception of music," Motte tells me of this first brush with Jamois. "He was quite funny and silly as usual," Motte continues, adding he could see Jamois was quite strange but a gentleman. "We began talking about music, and immediately he was speaking about strange and weird stuff I didn't know, like library music." Motte's passion for library music is evident in the two records he has released for Antinote – 2014's Rheologia and last year's Life Goes On If You Are Lucky – so meeting Jamois seems like quite an important moment for his creative development.
The more educated Antinote fans will know Jamois has a widely-celebrated record collection and the music knowledge to back it up. Soon after that first meeting, Motte was invited to maison Jamois in order to rifle through Gwen's collection, honing on the French library music label Crea Sound. "I bought ten records from Crea Sound," Motte tells me, adding for dramatic effect, "after that I couldn't listen to normal music anymore."
What was normal music for Motte back then? He professes to have been listening to "cool music" at this time; early hip-hop, post-punk, dub, Arthur Baker productions are all mentioned. "But I had never heard of library music. It just totally blew my fucking mind," Motte reaffirms before politely apologising for swearing.
I had brought some records for Motte that evening – Shoc Corridor on Dark Entries, RVNG Intl's Savant collection, Lucky Number's Rexy reissue –  which he was planning to play on a NTS show that weekend. During our chat he absent-mindedly picks them up, brushing his hand over the sleeve surface and assessing the artwork. You get the feeling the vinyl format is one Motte really enjoys working with, and the passion extends to hunting down records. Motte reveals he prefers to scope out original pressings of records, a trait he clearly picked up after befriending Jamois and Quentin 'Zaltan' Vandewalle, and he takes full advantage of the flea markets and second hand shops proliferated throughout Paris.
Check Morris was founded in 2004, and by this time Motte and Matthias Pol were good friends, having met whilst studying for a diploma in design at a Paris art school. Motte does reveal they were hardly perfect students however, and didn't get the chance to complete their diplomas. "We got kicked off! We were too pretentious and insolent," Motte exclaims, though he's clearly matured into a more level-headed person now. "We were not really happy with the teachers at the art school, so they kicked us out." Check Morris was initially something Motte and Pol did in their spare time, but a few years of building a reputation from freelance commissions put them in a position to go full-time.
From speaking to Motte, it's clear Check Morris has encountered fluctuating fortunes in the 12 years it has been running; for instance, the pair wound up working on the debut Lily Allen campaign when the music industry was still flush with cash. Conversely, Motte freely admits the chance to work with Antinote came at a time when Check Morris was struggling. "When I started working with Antinote it felt like everything was falling apart, but now it's getting better," Motte tells me, revealing it is mostly him that designs for the label.
As with any successful creative partnership, there is a strong bond of trust between Motte and Pol that extends to Check Morris's work with Antinote. "If he doesn't like what I do, I don't show it to Quentin," Motte reveals of the vetting process he and Pol undertake for each Antinote assignment. Pol no longer lives in Paris, having relocated to Brussels so it makes sense for Motte to take the more active role on Antinote. He recognises and values the creative freedom he's been given by Antinote, telling me it's rare in his field.
From those intricately designed Iueke 12"s that first announced Antinote, to the vivid colours that adorn records by Geena and Albinos and the vintage panoramas of DK and Stéphane Laporte releases, it is clear Motte has truly embraced this creative freedom. As a result, Antinote has a vibrant visual identity which has played an integral role in the label's rise these past three years.
Antinote seems like a very tight nit family of friends, so I wonder if any of the artist's personality seeps through when Motte is conceiving the artwork. A devilish side to him surfaces in telling me his reasons for the acid faces and marijuana leaf that characterise the sleeves for the two Antinote releases from Geena. "He's a guy that never smokes and doesn't do drugs so I just wanted to make fun of him," Motte reveals, tickled by my laughter in response.
Whenever Quentin Vandewalle is mentioned, Motte visibly struggles to hide his amusement; alongside his obvious regard for Jamois, Nico clearly feels thankful to the Antinote boss for embracing and encouraging his creative interests. Several times during our conversation, Motte breaks off and says chuckling to himself, "Quentin, he's crazy." Vandewalle is, I'm told, the sort of person that has grown to thrive on the jobbing DJ lifestyle, a key difference between Motte and him. "I'm not sure I would be really interested in taking the train every weekend, feeling really hung over the day after gigs," Motte professes, adding he's weary of accepting too many DJ gigs.
I get the feeling Motte is quite cautious about this new world he's become part of since working with Antinote; despite playing records in bars most his adult life, it doesn't seem like he's too interested in pursuing DJing with any great conviction. A well-regarded Paris DJ agency are keen to sign him up, but Motte doesn't seem keen and tells me he doesn't give much thought to a career in electronic music or how to promote a new record.
Motte, it seems, is more than happy to divide his time between his dual creative passions of design and making music. On the subject of the latter, I ask how long Motte spent on recording Life Goes On If You Are Lucky?  "I dunno, it took maybe four months to record this album, but in the past two years I have done lots of music," Motte responds, adding he was a lot more confident in his productions for the album than his Antinote debut, Rheologia. For that 2014 record, Motte sought the comfort of Vandewalle's opinion on which tracks to use, "For this record, I was more confident in what I did and did not want to achieve with it," he states regarding Life Goes On If You Are Lucky.
Despite the confidence he gained from the reception to Life Goes On If You Are Lucky, Motte remains the strongest critic of his own music. Motte describes the process of recording music as 'perilous', and admits there is some distance between the confidence he has in his productions and design work. This lack of ego is in-keeping with the down to earth impression Motte exudes in the time we speak, and you feel he's making music purely for the enjoyment it brings him.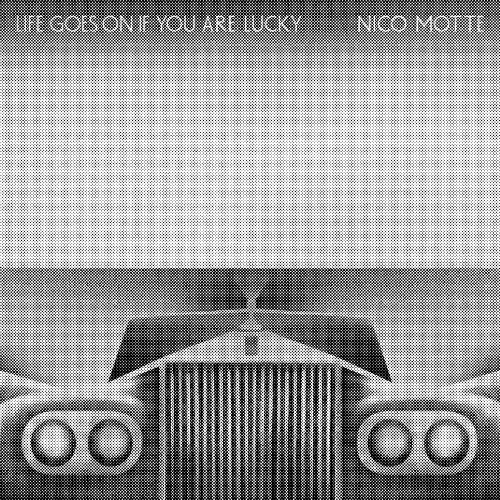 Motte's studio space is apparently only 16sq metres and houses both his tools for design and music making. "On the left, I have my graphic design office and on the right all my synthesizers," Motte says in an attempt to map out his creative space. "I am working on music in a really strange way I think," he admits, "I'm not only working on music, I am doing graphic design all day but I can take a synthesizer that is just lying around and record ideas whilst doing graphic design and listening to the radio."
It seems pertinent to end on Motte's synthesizer collection. Midway through the night I had switched off my voice recorder, satisfied with his answers to my questions and eager to continue speaking over a few more pints with more freedom. Around 45 minutes later, Motte sheepishly asked if I wanted to know more about his synths; it felt like a complete oversight on my part! Back on goes the recorder, and Motte gladly reels off the various synths he's had over the years and can pinpoint the exact moment where this love affair began.
One of Check Morris's previous clients was a film distributor for whom Motte and Pol designed movie posters. It turned out this client had previously made industrial music in private, never releases anything, but had amassed a studio full of synthesizers. "I went to his apartment and I saw these synths. It was the first time I had seen so many and I was like when you meet a girl and you immediately fall in love with her," Motte explains as I try to stifle a laugh. He continues to paint the scene. "So there I was, looking over these synths, thinking they were amazing and I tried some sounds. I then understood you could make music without playing so good." A further pause, "everything starts from that point!"
Interview by Tony Poland
Header image based on photography courtesy of Edwin Europe