Best reissues and archival releases: May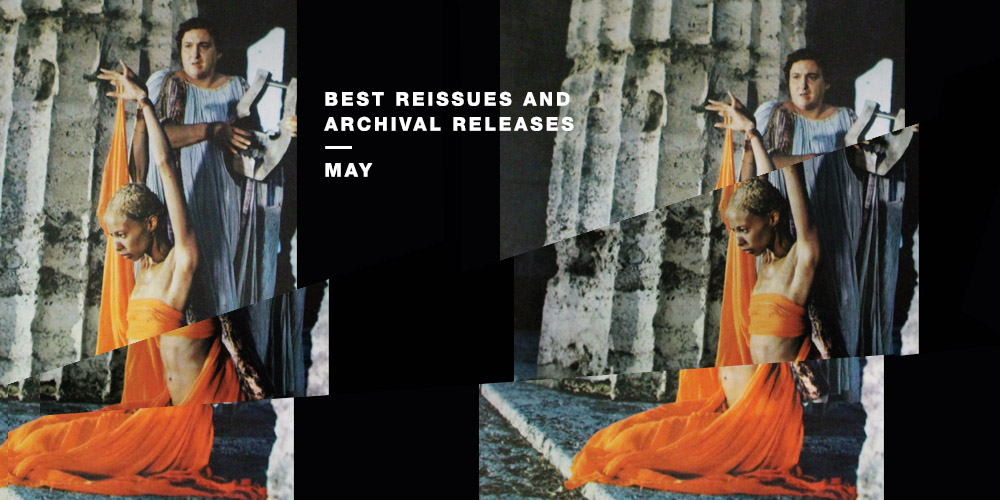 The reissue trail is picked up once more as Flora Pitrolo highlights the work of Blackest Ever Black, Superior Viaduct, Dark Entries, WéMè' and more.
Caroline K – Now Wait for Last Year (Blackest Ever Black)
Blackest Ever Black have been cradling us in the sombre contemporary drones of Secret Boyfriend, Dalhous and more throughout the winter, and if there is anything better than this, it's when the label turns its attentions to reissues. Now Wait for Last Year is a reissue that feels intrinsic of the label's DNA, executing a strange temporal vortex that flattens the present into the past; 30 years of uninterrupted malaise and forlorn electronica. Nestled within those three decades are also the undying efforts of Austrian label Klanggallerie, who put this album out on CD in 2010, shortly after Caroline K's untimely death – and it's nice to see BEB and the Klang come together.
Lunar in its capacity to stay romantic yet while keeping stark, Now Wait for Last Year was the first, last and only solo work from Nocturnal Emissions and Sterile Records founding member Caroline Kaye Walter. Released in 1987, the album is a temporal vortex in itself, above and beyond that Philip K. Dick title and will feel important for anyone whose sensibility floats between industrial, ambient, dark ambient, dark techno and goth. The BEB edition keeps the original form of the record intact; a droney side A is completely taken up by a murky, ultra-reverberating 20-minute journey entitled "The Happening World". On the B-side, Walter proceeds by accumulation, as if layering elements from the softest to the sharpest, from hazy echoed rings on "Animal Lattice" to merciless, blade-like drum machines on "Tracking with Close Ups", up until the ominously wise, filmic "Leaving". And then she leaves. Caroline K, we salute you, wherever you are.
Listen/buy vinyl
Francois De Roubaix & Bernard Maitre – Les Onix: Enregistrements Meconnus Pour Marionnettes: Theatre Et Television (1972-1976) (WéMè)
I hope I'm not the only one that's been progressively falling in love with Francois De Roubaix's astonishingly heterogenous production via WéMè's reissues – last year's Commissaire Moulin Et Autres Scènes De Crimes is a must. If you are too, and you have a penchant for children's TV music, then make sure you give this latest WéMè edition a good, hard listen. I say this as it would be easy to class this collection of 'unknown recordings for puppets' as a novelty record, but underneath lies something else, and something more. Yes it's children's tunes for TV and theatre; short bites and pieces of mostly manic, unhinged stuff. A lot of it is quite far in tone from that lovely "Le Labyrinthe Des Onix" theme WéMè put out earlier this year, replete with a majestic Jodey Kendrick remix. Yet listen hard and you'll find thoughtfully playful musique concrète that delivers a rare balance of expertise and light-hearted eccentricity.
Listening to the collection you have to wonder what on earth these kids were watching. In this 23-track anthology there are talking springs, 'monster generators', fanfares on speed, whole sequences that feel like syncopated, upside-down merry-go-rounds, a plenitude of groans, squeaks, distorted voices, irregulars drums, echoed recorders and intensely high-pitched synths. And then there's the odd car-chase melody, industrial clangs, foley sound – footsteps, machinery being wound up, cars and cackles – and the odd Morricone-style countryside waltz. Tracking down the images to these compositions is tricky, but a record like this makes me think of the importance of what you hear as a child, how it shapes your taste, your ears and your mind. Remember parents, the kids shows of today are the techno of tomorrow.
Listen/buy vinyl
John Bender – I Don't Remember Now / I Don't Want to Talk About it (Superior Viaduct)
Superior Viaduct call this the 'holy grail of minimal lo-fi electronics', and they're right. What they're wrong about is that it has taken 35-plus years for listeners to discover it. As a holy grail, this record has long been cherished, ripped, taped and retaped, played and replayed and drooled over on Discogs for a decade at least, and it's refreshing and magnificent to have it all by itself, in hand-stamped minimal encasing, with its own minimal titles (numbers, not words) and available to listen to in glorious red wax and recycled brown mail-paper.
Marrying an industrial intuition with an almost classical sense of melody, I Don't Remember Now / I Don't Want to Talk About It sees Bender bend his solitary experimentation into skewed battlecries ("35B1" aka "Victims of Victimless Crimes", recently featured on JD Twitch's So Low), sculptorially playful synth patterns ("35A9"), and impossibly sweet, hopeful soundscapes, rendered consistently opaque by Bender's hollow, existential vocals hovering just behind the synths (see "36A3"). Bender's first record is cherry-picked from the best of of his enormous self-taped production between 1978 and 1980, and comes off as a genre-defining monument to minimal synth; the uncompromising achievement of a perfect synthesis of cold room starkness and home-made warmth. At the same time, it's really quite genreless, and special precisely because of its uniqueness and existence outside of codes and modes. Deep, delightful, and strong.
Listen/buy vinyl
ZYX – Trust No Woman (Dark Entries)
Dark Entries seems to have developed a bent for a more investigated, stylistically and intellectually varied and variegated slice of the archive. Cynics might say this is because the reissue river is drying up, but I assure you it isn't. Between the rarefied smooth pop of Philippe Chany and the strummy, haunted sensuality of the Deux Filles record, May has been an exploratory month for Josh Cheon's label, and if your taste is pitched on the noir side of things then the cream was in ZYX's Trust No Woman.
Amongst the less frequented occurrances of the Austrian canon, Inge Graf and Walter Eberl's first efforts date from 1977 in Vienna, where the duo began to experiment with a total work of art formula under the names of GRAF+ZYX. As the name might give away, ZYK is a neo-dadaist practice, fusing forms, sounds, images, and a multitude of electronic apparata with their relative electronic dreams. New generation listeners might have come into contact with the Vinyl on Demand reissue of their earlier material in 2007, but Trust No Woman is a rounded, more album-shaped proposition. A clear aesthetic line binds the chapters of this 1981 off-Welle LP, which fuses an angular take on NDW with a kind of No Wave sensibility. Maybe it's the Dadaist principles, maybe it's the duo's interest in developing a wider aesthetic language, but there's something like a New Yorkish punk-infused bluesiness embedded in the classic dark European synth of this record. Cinematic, glamorous as hell, bleakly danceable and full of surprises.
Listen/buy vinyl
Piero Umiliani & i suoi Oscillatori – Il Mondo dei Romani (We Release Whatever the Fuck We Want Records)
Closing the Rome theme that's been accompanying us for the past couple of months –  see Dressel's Mons Testaceum and Leo Anibaldi's freezing countryside techno out last month on Future Primitive –  is Piero Umiliani. The Roman icon makes it onto this column for the first time with Il Mondo dei Romani, a collection of one-minute bullets of synthesised toga-clad imperialism. Working on commission for an early 1970s Italian public broadcast documentary about the Romans, the maestro cooked up a distant past seen from the distant future, with synthesised approximations of ancient instruments – lyres, citharas, organs, drums – that are touching in their dedication to imagining the 'world of the Romans' for the still black and white cathode tubes of modern Italy.
Glossy military fanfares give way to bucolic melodies, epic soundscapes of bells and tingling metals open onto enchanted sonic gardens worthy of some horrific ritual sacrifice. But besides the record's instinsic and sensually narrative ability to transport, what's shocking about Il Mondo dei Romani is that it's infused with a kind of ultra-concrète proto-techno, clearly visible in Umiliani's astounding use of drum machines, sequencers, and 'his' futuristic oscillators. Tracks like "Roma Opulenta", that sounds like something Das Ding might have made for his breakfast, the freezing flutter of "Para Bellum", where war drums pierce through layers of what feels like digital granulation, and "Delenda Carthago", which pushes the BPMs to very unlikely highs for 1972 will have you staring at the orange vinyl full of wide-eyed wonder.
Listen/buy vinyl
Flora Pitrolo