Vapauteen returns with This Coercion
L.I.E.S. welcomes back music from the Shawn O'Sullivan alias. 
In a 2014 interview with Juno Plus, Shawn O'Sullivan suggested to Scott Wilson his Vapauteen alias is "much more forwardly vicious," than the music he makes under his own man or as 400PPM, justifying: "I think they're sort of delineated by specific timbre palettes and attitudes more than a sort of stylistic concern." Sporting a fresh LIES008.5 catalogue number, the Vapauteen project first surfaced on L.I.E.S. in 2012 with the Weld EP, released around the same time as Xosar's Tropical Cruize EP, Svengalisghost's debut and early Willie Burns and Legowelt 12″s which helped Ron Morelli's label become one of New York's most trusted outlets.
Following a self-titled follow up on Morelli's label in 2013, two trips as 400PPM on Shifted's Avian and a Civil Duty album on The Corner with Beau Wanzer, Vapauteen now returns to LIES with a two-part 12″ called This Coercion. While O'Sullivan can also currently be found exploring new wave sounds as Further Reductions with Katie Rose, his music as Vapauteen seems to call L.I.E.S. home. It appears there are two Vapauteen 12″s incoming on L.I.E.S. with the first, This Coercion Pt. 1, due imminently and delivering three fresh productions. The beat down, honking industrialisms of B1 cut "Made In Magnasanti" available to stream in full below.
L.I.E.S. will release  This Coercion Pt. 1 by Vapauteen in early June.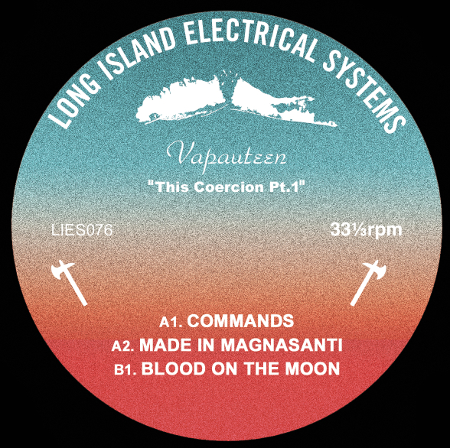 Tracklisting:
A. Commands
B1. Made In Magnasanti
B2. Blood On The Moon
L.I.E.S. on Juno