Future primitive drums from Editions Gravats, deep glitching house from Machine Woman, John T Gast reissue, a new Lakker LP, and beats from Wata Igarashi, Buttechno, Madteo and Livity Sound.
JiFlure – Extraits (Editions Gravats)
There have been some fine instances of musicians making wild and unpredictable sounds out of mechanical constructions over the years. Pierre Bastien is famed for his unique devices, while in more recent times The Durian Brothers have explored the sonic potential in misusing turntables in very physical ways. Off the back of live performances with his own homespun trinkets, JiFlure presents a record to Editions Gravats that huffs and puffs with such a tangible real world energy, it evokes centuries-old African percussion more than anything machine-based. Four different 'extracts' make up this record, reveling in distorted abandon as loping loops tumble over each other in dense polyrhythmic configurations. Extraits is a wild ride from an artist with a set of instruments that are all his own, and the results are resolutely wonderful as well.
Listen/buy vinyl
Spike – Orange Cloud Version (Golf Channel)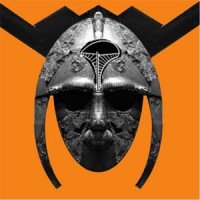 In a pure, slowly exhaled haze of Balearic puff, cult Dutch musician Spike Wolters was rediscovered by Golf Channel's Phil South and presented to a new generation of listeners by way of the Orange Cloud Nine, a compilation that came out in 2013. The simple construction of his laid back, guitar lick-tastic music is a natural fit for Golf Channel, and now many of the label's associated artists have been given the chance to get busy with the parts. Orange Cloud Version is an expansive release that takes in eight different offerings, and the results are varied. Music From Memory man Abel does a marvelous job with "Car Crash", turning it into a teasing drift through lingering harmonics and a quiet Minipops beat. DJ Nature meanwhile gets a wonderfully bugging tribal house groove out of "Es Rever", and Juju & Jordash douse "Babylove" in a heavy wash of dub with a shot of bombast mixed in for good measure.
Listen/buy vinyl
John T Gast – Invocations II (The Obelisk Of TJ // Age Of Apathy Tape) (X)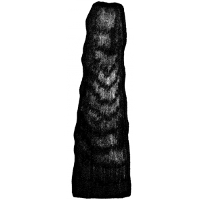 It has been a long time coming, but finally John T Gast's vinyl edition of his mix for Blowing Up The Workshop is coming to light. As has been the case for many of the mixes in the highly regarded podcast series, Gast put together a slew of original material that complemented his work on Planet Mu and self-released material perfectly and laid it all out in a hypnotic and delightfully surreal 50 minute take. Now fans of that freebie can indulge more deeply in the sound with this rather fetching vinyl issue, giving the meandering but remarkably developed spread of music the treatment and presentation it surely deserves. From strung out house lurches to intriguing ambient vignettes, this is a fine recording that leaps far beyond it's humble free download origins.
Listen/buy vinyl
Vactrol Park – II (ESP Institute)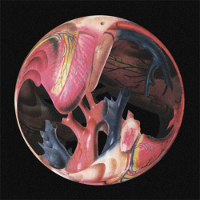 After dropping the first instalment last year on ESP, Vactrol Park return to the Institute with another potent selection of tracks from the slower end of the spectrum which were apparently laid down using the Buchlas and Serge modular at Stockholm's Elektronmusikstudion. The pairing of Guido Zen and Kyle Martin is a powerful one, using a rich array of synthesisers wielded with a delicate hand to create immersive soundscape material that rides on a pulse but reaches right up into the clouds with its use of spacious sound design. The fuzzy throb of "Hump" is both warming and transcendental, redolent of soundtracks from days gone by while still possessing a flair that can only come from thrilling new music. In some ways "Probe Into Static" works around the same principles of hypnosis as you might expect from Donato Dozzy, except filtered through a wave influence as opposed to techno. Whatever the case, this whole EP oozes sophistication shot through with a murky malice, and that's no bad thing at all.
Listen/buy vinyl
Lakker – Struggle & Emerge (R&S Records)
Having blasted their way on to R&S with the Tundra LP (and some other associated EPs), Ireland's toughest pairing of electronica-techno mutants Lakker are back with a new concept laden project. Originally conceived as a specific commission, the music on Struggle & Emerge concerns itself with the Netherlands and its unique relationship with water. Being a country in many ways at the mercy of the sea due to its low lying nature, there's a sense of foreboding that hangs over this album, wrapped up in intense layers of sound design that veer from heavyweight clangs to hovering static pulses. While the mood may remain constant, the sounds shift with the kind of dynamic interest you would of course expect from Lakker, making their third long player another highly engaging one.
Listen/buy vinyl
Wata Igarashi – Haziest Just Before The Dawn (Bitta)
When it comes to techno emerging from Japan at the moment, it's the name Wata Igarashi that you'll hear most. OK, maybe it's really DJ Nobu, but at least now Igarashi can be spoken about in the same sentence. Igarashi's rise to prominence has been a joy to witness, and although he's been releasing music since 2013, it's his records for Midgar that first made a blip on discerning heads' radars. His slo-mo bleepy sound that really came through on his Junctions EP rears its head in full on the title cut while "The Ritual" is biting, reduced acid done in a Mike Parker style. DJ Nobu's Bitta commissions two remixes from Svreca and the first is the pick of the EP with simple a kick drum and fluctuating white noise burrowing deeper into your dome piece by the bar. For a lighter alternative the second remix sounds like the pitter patter of rain and bombs dropping from a heavenly altitude. Take cover!
Listen/buy vinyl
Buttechno – 7 (Collapsing Market)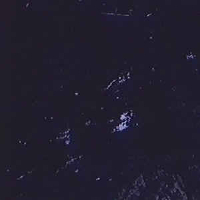 4×4 kick drums, industrial textures, crunchy 909 hi hats and acid – sounds almost boring, right? But, and we emphasis the 'but': Buttechno is doing something different. The Russian producer lands on the fledging Collapsing Market label, which like Buttechno, is fresh-faced and injecting something new into a wonted framework of old fashioned techno music. Furthermore, this record, which has the clout to be given a 12" release has modestly been pressed to 7". Why? Ask the label – but the music hits the spot. The five-minute A-side is a tribal-touched acid number coated in just enough reverb to kiss the walls of a warehouse space, while the B1 is a beatless number you'd almost expect to hear from Hodge. And for the proper ambient dub techno heads, the B2 is a cold, cave dwelling atmospher with a sinster synth line that sounds like a engaged dial tone after a murder. Killer techno 7".
Listen/buy vinyl
Machine Woman – Genau House (Where To Now?)
If you think Anastasia Vtorova's music as Machine Woman is restricted to the broken industrial rhythms she surfaced with on Peder Mannerfelt Produktion, think again. For the UK's Where To Now? label, Vtorova softens her sound to something that's more aligned the glitchy minimal sound of the mid-2000s house (think Jan Jelinek's Farben work and James Din) with sultry whispers you'd imagine hearing on a nu-lounge compilation from later in the '90s. "I Can Mend Your Broken Heart" sounds incredibly retrospective, even if we are talking about a period of music that wasn't so long ago. Kassem Mosse strips back the crackle and pop from the original in his remix giving the track's shimmering pads more room to breeze, while a rearrangement allows Vtorova's penetrating vocal to hit the sweet spot in a new way. Those Kassem drums too.
Listen/buy vinyl
Madteo – Voracious Culturilizer Disco Mix (M.A.D.T.E.O. Records)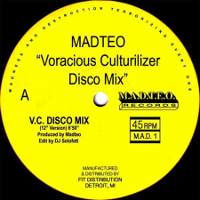 Be it thumping New York-styled disco, surreal ambient hip hop excursions or scuzzy experimental sequences; Madteo knows how to throw down a jam. In the case of Voracious Culturilizer Disco Mix, the first 12" of Madteo's new label, M.A.D.T.E.O. Records, he does all three. Read the finer print and you'll also see DJ Sotofett's deft hand at the edit earns the Norwegian producer some production credits too. Madteo's smokey vocal trails are back too, featuring in clandestine form on both B-side tracks "Parlour Tricks Terrific" and "The Guiding Wand Principle" – both of which bringing to mind the slower, lo-fi moves of Actress –  that's offset by a disco banger on the A-side you'd imagine nesting quite neatly into a DJ Fett Burger set.
Listen/buy vinyl
Forest Drive West – System (Dnuos Ytivil)
New artist alert: Forest Drive West. If Batu and Simo Cell are anything to go by, Livity Sound's reverso label is a breeding ground for fresh, bombastic new talents to begin showing face. You could say the word 'minimal' is earning itself a new ring and it's possibly releases like this – UK informed and deep techno sounding but not too heavy – that weighs these two tracks between the brooding Scandinavian style of Northern Electronics techno and the uncharted realms of burgeoning Romanian minimal. The deathly ringing bells of "System" give the A-side a sustained feeling of suspense as the tracks traverses further into a sonic undergrowth of darkly and tribal atmospheric sounds, while the B-side's broken drums boom with UK bass letting a synth yearningly croon over shuffling shakers and a warm bed or rhythmic low end.
Listen/buy vinyl