Antivj launches audio label with Thomas Vaquié
The Brussels-based visual label are branching out into the audio world.
It's not often you hear mention of a visual arts 'label', but that's exactly what Antivj has been for the past ten years. The visual label has largely been based in Brussels from where it has represented a range of media artists working in ambitious fields of visual art involving cutting-edge projection technology as well as existing or custom-made physical objects. Over the years, the artists involved in Antivj such as Joanie Lemercier, Yannick Jacquet, Olivier Ratsi and more have been commissioned to work with events such as noted French festival Nuits Sonores and orchestral electronica artist Murcof. As well as their work with other musicians, Antivj have always kept Thomas Vaquié as an in-house music producer for their installations.
In making the move from a visual label to an audio one, Vaquié has stepped up to commence proceedings with Ecume, an album of original pieces derived from previous commissions. In his work with Antivj, Vaquié is commonly required to compose site-specific work that responds to a location that will be used for a visual installation, and so the eight pieces on the album represent adaptations of what were previously disparate projects, coalesced to make a whole body of work. It's an album of high-resolution electronica that collides with orchestral drama, evoking the work of Murcof and Amon Tobin at times and that of Paul Jebanasm and Roly Porter at others. Incidentally, Murcof is slated to deliver a subsequent release on Antivj, as will Laurent Delforge.
No expense has been spared on the presentation of Ecume, with the gatefold artwork being derived from a visual representation of the album's waveforms modeled and 3D printed, cast in concrete and then photographed. As well as the standard vinyl edition, a limited edition box set will be released cast in black resin moulded from the same 3D print used for the artwork. For more information about the visual work of Antivj, head here.
Antivj will release Ecume by Thomas Vaquié in May.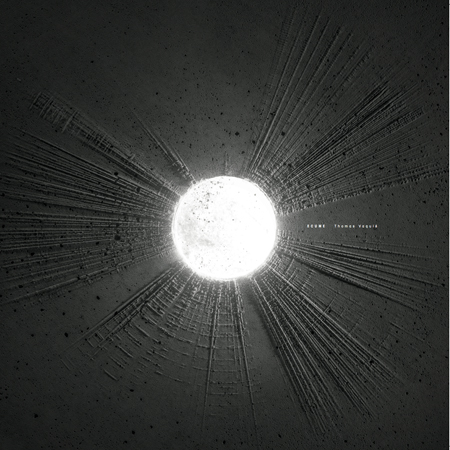 Tracklisting:
A1. Crabe
A2. Ecume
B1. Ether
B2. Forêt Blanche
C1. Corde
C2. Otarie
D1. Peigne
D2. Diese