Ecstatic compile Gavin Russom's Paper Eyes material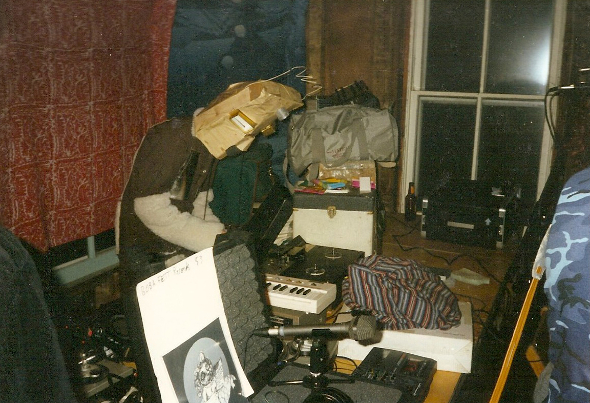 The producer's mid-'90s era of activity is explored on the upcoming 2LP Source Cognitive Drive – Transmissions 1996-1998.
Gavin Russom and Ecstatic Recordings have previous together; the artist committed two fine 12″s to the label's Entropy Trax division back in 2014 which seemed to inspire a new chapter of creativity in the one-time DFA mainstay. Since then, Russom has turned out fine records for L.I.E.S., Curle and Lux Rec and has a new Black Meteoric Star album in the offing for Traxx's Nation label at some point this year. This burgeoning relationship between Russom and Ecstatic has made it possible for label co-founder Alessio Natalizia to rifle through the unreleased archives of material the US musician formerly made under the name Paper Eyes for a new album.
Paper Eyes was Russom's creative outlet after arriving in New York from Providence in 1996 with the music described as a "visceral and overwhelming experience of an artist getting familiar with the data overload of a megatropolis and all its 24 hour thrills and poly- cultural topography." Sounding and looking like a character from Julian Barratt and Noel Fielding's absurdist comedy The Mighty Boosh, Russom's recorded output as Paper Eyes is restricted to a sole production for a compilation issued by Dieyetribe Records in 1997.
The upcoming Source Cognitive Drive – Transmissions 1996-1998 suggests Russom took to the project with prolific abandon however, pulling together some 16 tracks from the mid to late '90s. A press release goes on to draw comparisons with the likes of Container, Wolf Eyes and Carlos Giffoni and has Russom explaining the inspiration behind Paper Eyes project in the following detail:
"Arriving in New York City I found myself surrounded by an incredibly intense field of stuff to take in. Late night radio mixes which featured distinctly New York sounds like freestyle and hip hop, clubs where house, techno and jungle played to drugged-out and/or completely sober sweaty crowds and beard scratchers alike. No wave, new wave, disco, afro-carribean, art rock and experimental music records I would pick up at thrift shops or used record stores, abstract turntablism, video toasting, japanese noise imports, house parties and basement dance caves, drag clubs, DIY theater productions, underground warehouse art and music events that would last days and feature vivid sound and visual excursions as well as breakfasts and conversation areas. Squatter punk noise and drumming freakouts, high brow "new music" events and installations, video booths, burning buildings, car accidents, abandoned buildings, late nights, early mornings, Coney Island…"
You can stream "Synthesis Energy" from the album below for an idea of what to expect before Source Cognitive Drive – Transmissions 1996-1998 arrives next month.
Ecstatic will release Source Cognitive Drive – Transmissions 1996-1998 by Paper Eyes on May 6
Tracklisting:
1. Mysterious Package
2. Beats
3. The Clicker
4. Synthesis Energy
5. Ghosts (Version 1)
6. The Ship Is Landing
7. Gem Mountain
8. Aerial Tones
9. Organ
10. Intermittent Beat Transmission
11. Shake
12. Twinkle
13. Flash
14. I Am The 6th Gender(Beats Only)
15. Dance Party (Vocal)
16. Compute This Sucka