Freerotation lines up various artist EP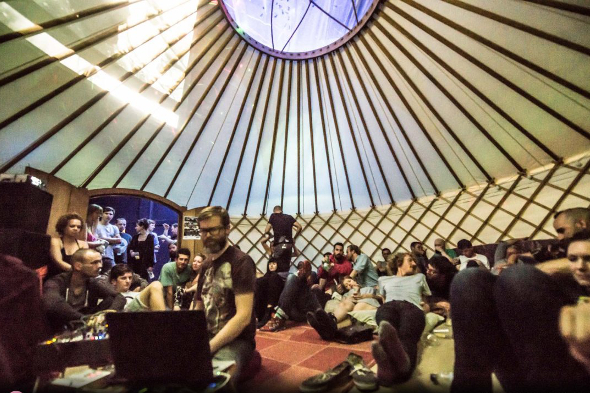 Anthony Child, Duckett, Steevio and Tom Ellis provide a track each for the label's third record.
With the amount of performed music at Welsh festival Freerotation making its way to record, CD and MP3 release over the years it's almost taken the spotlight away from the event's own label. Championed recordings to surface from Baskerville Hall include last year's live and improvisational ambient session from Anthony Child (pictured above) on the Buchla Music Easel, Objekt's 2014 closing set and Workshop's 2013 release of Magic Mountain High's Live at Freerotation. The Freerotation label itself, however, does have two standalone 12″s to its name through David Moufang, JuJu & Jordash, Soulphiction and Steevio mega group, The High On Wye Quintet, and Monoak who supplied the label with a sultry four-track EP of twinkling, minimal techno.
The label now invites four key DJs and producers known to the festival to contribute tracks to a various artist EP called Kith. The aforementioned Anthony Child drops his Surgeon alias to deliver what's probable to be an ambient number called "Unconscious Fearless Determination" as the lead cut alongside a production from Welshman Duckett whose appearance quickly follows his EP for Gretta Cottage Workshop that we recently described as an "unchained effort". Freerotation founder and modular hero Steevio naturally steps in with one of his own tracks on the B-side, as does core Freero member and resident DJ Tom Ellis.
Freerotation will release Kith by various artists in May.
Tracklisting:
A1: Anthony Child – Unconscious Fearless Determination
A2: Duckett – Breaks My Heart When I Remember That Day
B1: Steevio – Pendulum
B2: Tom Ellis – As A Take
Freerotation on Juno