Byron The Aquarius is Gone Today Here Tomorrow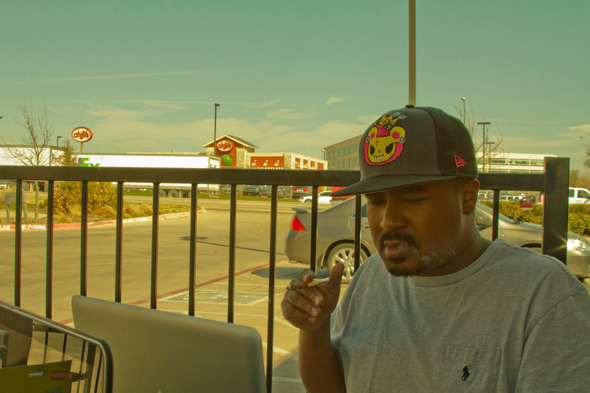 The Atlanta beat-smith brings some downtempo grooves to Wild Oats.
While you may largely expect to hear Wild Oats pumping out house and techno oriented grooves from label boss Kyle Hall and his like-minded individuals, there's always space for soul in the midst of the label's work. Most recently, Hall himself was making Motor City aficionados swoon over the splendour of his From Joy album, the first and only release on Wild Oats for 2015. Much like the label's releasing patterns, Atlanta-based artist Byron The Aquarius is an occasional releaser of sounds. Back in 2007 he and Onra collaborated on The Big Payback EP for Just Like Vibes, and it's taken no less than nine years to follow that bad boy up with the High Life EP on Sound Signature. Even if he hails from way down in Georgia, there's enough authentically rooted soul oozing out of his sound to make Byron a logical fit amongst the likes of Theo Parrish.
The sound that has been poured into Gone Today Here Tomorrow is a synth-rich, boogie-inflected one that seeps into low-slung hip hop tempos and snappy house rhythms alike. Just listen to "Co$mic $hit" with Trey Hemmingway's guest vocals and try not to hear the ill-bugging sounds of Sa-Ra Creative Partners at their smoothest. Wild Oats are the label tasked with releasing this fine six-track affair, and you can tell that James Grady has once again been drafted in to paint the cover artwork following his fine job of decorating From Joy. If you head over to the Wild Oats site you can place an order now, albeit with shipping from the US. Meanwhile the plentiful preview clip below should give you a decent taste of what the record has to offer.
Gone Today Here Tomorrow by Byron The Aquarius is out now.
Tracklisting:
A1. Co$mic $hit feat. Try Hemingway
A2. Moments In Life
A3. Exxxtasy
B1. Space N Time
B2. The Sun
B3. Better Tomorrow