Parris and Rhythmic Theory next up on Ancient Monarchy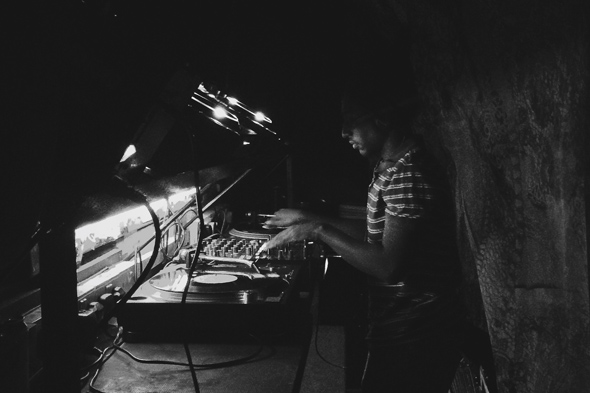 The Berceuse Heroique sublabel rolls back into action with its first two releases of 2016.
It's fair to say that the Ancient Monarchy label started up by Berceuse Heroique's ΚΕΜΑΛ reflects the affinity the label man feels for the ruminations in the Bristol music scene. There have been outings from Hodge and Marco Bernardi on the parent label as well, but thus far the early signs for this separate stream of monochrome sleeved releases points to a celebration of West Country-related ruminations. The label commenced last year with Rhythmic Theory's Lucid State / Shores of Caladan 12", followed swiftly up by Gramrcy's Ruffian. The former is a staple of the Bristol scene, largely appearing on local labels such as Idle Hands, Happy Skull and BRSTL, while the latter was up until recently a resident of the city with roots in party promotion and graphic design. Gramrcy may have eloped the way of Kowton et al to London, but there's an undeniable link to the wild West.
Now Ancient Monarchy is making its first steps for 2016 with two releases landing simultaneously, and once again there are links that follow the path of the M4. With Parris (pictured above) the notion is a little more tenuous, as the emergent producer is a firmly rooted Londoner, but his first solo single landed just earlier this year on Idle Hands. He steps up to Ancient Monarchy with a fine three-tracker that further develops his distinct approach to sub-heavy constructions caught in that undefined headspace between dubstep, techno and grime. Meanwhile Rhythmic Theory has been called upon once more, this time serving up a mixture of club tackle and ambient business that should prime us for this long mooted LP we keep hearing rumours about.
Berceuse Heroique itself is equally making moves as well, with a new 12" from Koehler entitled Rotating Rupees scheduled to land very soon indeed – you can preview that in full here.
Ancient Monarchy will release Travelling Without Moving by Rhythmic Theory and Bloom by Parris on May 16.
Rhythmic Theory – Travelling Without Moving Tracklisting:
1. Travelling Without Moving
2. Ceti Alpha V
3. The Bends
4. Machine State
Parris – Bloom Tracklisting:
1. Bloom
2. South East of the Mountain
3. Skeletal