Pioneer DJ and Dave Smith team up for new sampler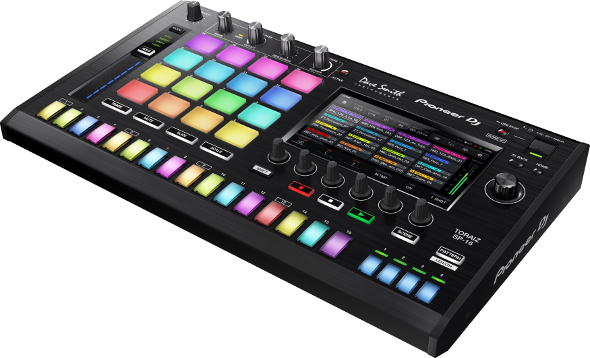 The unexpected hardware collaboration yields a sampling sequencer called the Topaiz SP-16 aimed at DJs and live acts.
If you cast your mind back to the advent of CD-Js and the first steps of digital DJing, Pioneer were among the first to engage with accessible devices to spice up the traditional DJ performance using dedicated looping and effects units. The novelty of the EFX-1000 some twelve years ago may have been swept away in the ceaseless tide of technological innovation, but it was an early indication of where new breakthroughs in performing a DJ set could be found. Nowadays there are countless software and controller combinations you can dabble in to find the perfect way of playing your preferred selections, but as DJ Tech Tools have reported, it seems that Pioneer have managed to think outside the box once again and tap into the current studio hardware boom for DJ equipment inspiration.
They've made the right move in reaching out to Dave Smith for assistance in creating the Topaiz SP-16, as the noted drum machine and synthesiser manufacturer is responsible for some of the best loved bits of kit on the market right now. This new sampler and step sequencer is more than just a DJ device though, as it works as a fully functional piece of live performance hardware. It's just that, as well as the seven inch touch screen, touch-sensitive trigger pads, analogue filters and sixteen sampler engines, the Topaiz also has the ability to quantize sync with CDJs via the existing Pioneer Pro DJ Link technology. Therefore, as well as handling sample triggering and performance all on its own, you can set it off in perfect time with the master deck to seamlessly work additional sonics into your DJ set. It's the kind of device that Mills, Hawtin and all the other decks and drum machine performers would have dreamed about back in the day.
No official release date or price for the Topaiz SP-16 has been announced yet, but it's expected to hit the streets this summer in the region of £1,300. You can pre-order over at Juno now.