Roland – A01K MIDI CV Gate Controller & Sound Module
Roland's latest line of boutique sound modules gets a tidy controller. Rob Lee finds out how the A-01K holds the family together.
Having delivered their highly sought after set of limited edition boutique synth modules late last year, Roland have given us the opportunity to integrate them with any existing MIDI or CV supported synths and sound modules. The Roland A-01K acts as a hands on hub for getting to grips with all of your synths in a single, smart and versatile solution. Gear that allows mass-flexibility is all the more desirable right now, and if your equipment suits both the studio and stage whilst being portable the advantages are clear.
The A-01K is essentially a MIDI/CV Gate controller with a built in sound module and a modular style sequencer. The A-01K ships with the K25M mini-keyboard that was available as a separate purchase when Roland's JP-08, JX-03 and JU-06 boutique synth modules landed last year. However, it is with the A-01K that the mini keyboard becomes more important.
As a controller, it gives you the opportunity to tie either your studio or live set up together so all of your equipment can be accessed from a single unit. As on the other boutique synths from Roland, the A-01K has two ribbon controllers that can be used to control pitch bend and modulation, or alternatively they can be programmed to control parameters using CC numbers or even the notes themselves. In addition there are four knobs that can be mapped to your synth or sound module to give you instant access to any four parameters of your choice.
Setting up and the saving of your live or studio situation does take some patience and involves plenty of menu diving and turning on and off of MIDI channels. Once your dials are set, however, you can save each sound source as a patch in any of the 16 slots that are organised in four banks of four patches for instant recall. It's not just for your MIDI devices either; there are both CV out and CV gate ports on the rear of the unit so you can make use of your vintage analogue gear too. There is also a mini USB connection for use in your favourite DAW that also allows you to power the unit without the need for four AA batteries.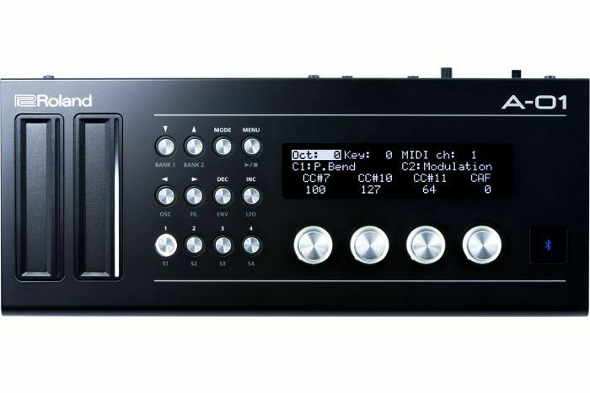 There is another way of connecting to the A-01K, this time using MIDI over Bluetooth which could be a great way of making use of synth apps on your smart phone or tablet without the necessity for a MIDI connection kit. The reliability of this particular option, however, is yet to be tested even though it is definitely a promising move by Roland.
The second big feature on the A-01K is the monophonic 8-bit virtual analogue CPU synthesizer. There have been stories of legendary Japanese engineer Akira Matsui coming out of retirement to design this mini beast. For the uninitiated, Akira Matsui was involved with both the early system 700 and system 100 synths, as well as Roland's first MIDI synth, the JX-3P. So this aspect of the A-01K has some hefty credentials behind it. The synth section of this unit is based on an analogue type subtractive synthesis model with saw, square, PWM and noise generators as well as a choice of filters including a low pass filter.
There is an ADSR envelope and access to an LFO and although the digital to audio conversion isn't particularly high, the kind of noises you can make on this unit have plenty of crunch and edge and lend themselves to basses, leads and sound fx. But remember, this synth only plays one note at a time, so no chords here.
The third element to this unit is a modular style step sequencer that allows you to program sequences of up to 16 steps. The act of programming is pretty simple using the cursor buttons to highlight a group of four steps and holding buttons 1, 2, 3 or 4 whilst pressing your chosen note on the keyboard. There's tied and sliding notes functionality too, and you can programme individual levels of cut off and resonance from the filter for each step for an added level of creativity.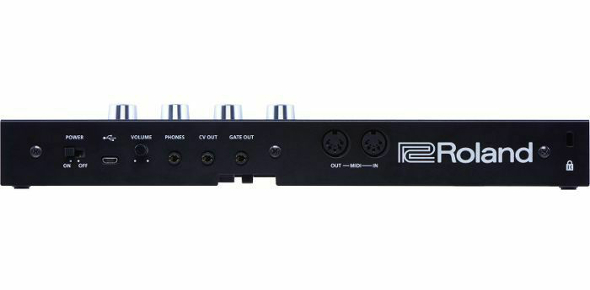 An on board sequencer is always a welcome addition to any synth and all of the boutique synths do feature a sixteen step sequencer, but in the case of the A-01K, the steps are accessed via a menu page, whereas on the others you can manipulate each step using buttons on the front panel. It's possible to slave the tempo to an external source but it would be great to have the option of playing a sequence live into the machine for instant playback rather than having to resort to note counting.
For uniting all of your synth modules together in one unit the A-01K does a great job and having a built in synth and sequencer is an added luxury. However, if you are anything like me, the mini keys and tiny range of the K25M keyboard controller are a turn off. Plugging your own keyboard controller into the A-01 is a simple solution but if you have no use for the additional sequencer and synthesizer, it's easy enough to programme your controller keyboard to perform all of the tasks that the A-01k does. In fact, you might even be able to get more control over your set up if you have a controller with more than four knobs.
What the A-01K does well lies in its flexibility and portability. This unit is powered by four AA batteries or USB power and includes a built in speaker or a headphone port if you prefer. The build quality is strong and all of the buttons and knobs are set sturdily in place on the front panel. Although light weight, the A-01K is not the kind of unit that will get knocked off a stand easily, but if it did, it would probably survive with little damage. USB, MIDI and CV connect ability are big advantages and once MIDI over Bluetooth becomes more stable and widely accepted, the A-01K will become a powerful unifying tool.
More info/buy
Robin Lee