Ital, Gunnar Haslam and more all set for Lovers Rock 10

The compilation EP on Ital's label will also feature DJ Python and Sleeper Cell.
Daniel Martin-McCormick has done a fine job thus far of shaping out a label with a consistent identity. Lovers Rock may be some eight years into its existence, but it's only since 2014 that it struck a regular pace of releasing that has welcomed artists such as Aurora Halal, DJ Wey and Earthen Sea into the fold. Considering McCormick's music as Ital can be a touch more wayward when moonlighting on Planet Mu or elsewhere, on his own turf there is a well-maintained focus on sweeping ambient pads and forthright techno rhythms that never dull on the ears. Last year saw Earthen Sea drop his Ink album, while the pairing of Ital and Earthen Sea as Sleeper Cell also made its first appearance. DJ Wey landed with Introduccion late in the day, finishing off a strong year for Lovers Rock.
Following the theme of the various artists sixth release on the label, to mark the tenth McCormick has drafted in DJ Wey under his DJ Python alias and also invited Gunnar Haslam into the fold. McCormick himself lays down a fresh Ital burner on this new EP, and Sleeper Cell makes their second outing to round off this four-track selection of high-grade deep techno. There's plenty of punch in the drums, a variety of tempos and a fair few acid snarls, but still the elegant melodic qualities of the chosen producers abound on all of the tracks to make it another fine addition to the Lovers Rock canon. Rumour has it we can expect another collaborative Ital & Halal release later in the year, as well as an appearance from Yoshinori Hayashi (previously spotted wowing all and sundry on Going Good).
Lovers Rock will release Lovers Rock 10 by Various Artists in May.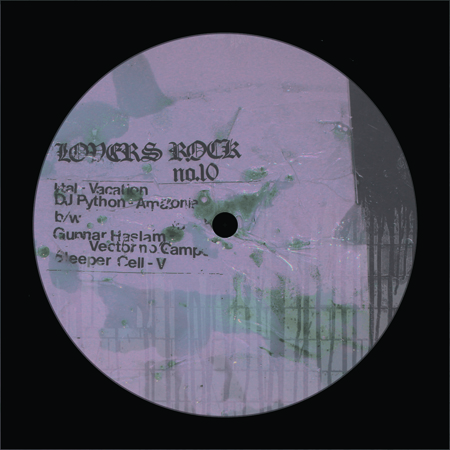 Tracklisting:
A1. Ital – Vacation
A2. DJ Python – Amazonia
B1. Gunnar Haslam – Vector No Campo
B2. Sleeper Cell – V
Lovers Rock on Juno