12th Isle launches with Dices + AEM
The Glasgow collective looks to St. Petersburg for the debut release. 
Describing themselves as a "label, nightlife institution, and occasional radio broadcaster," Glasgow collective 12th Isle first popped up on the Juno Plus radar when our editor, Tony Poland, spent an afternoon interviewing French duo Nummer last summer. Emmanuel Corre and Silvère Letellier had played a 12th Isle event earlier that year and spoke glowingly of the passion for music collective members Fergus Clark and Al White demonstrated whilst Nummer were in Glasgow. Dig through their online presence and a deliciously illustrated aesthetic behind 12th Isle becomes apparent, and fans of Firecracker Recordings should recognise White's name from his artistic collaborations with Lindsay Todd.
For a more detailed precis of 12th Isle's history, we can recommend this interview on Lullabies For Insomniacs to accompany the mix Fergus Clark and Ruaidhri McGhee from the collective did as Adventurous Church Mouse & Heroin King. Next month will see the debut 12th Isle release arrive in the shape of Thoughtstream, an album recorded by St. Petersburg-based duo Dices + AEM. Set to arrive in the silk-screen artwork from White depicted below, the 11-track album was recorded over the duration of 2015 by the Udacha and Gost Zvuk affiliates and channels "aspects of early sequence-based electronics and vintage space rock around a diverse and playful compendium of rhythms." Update: you can now preview the album below.
12th Isle will release Thoughtstream by Dices + AEM in May.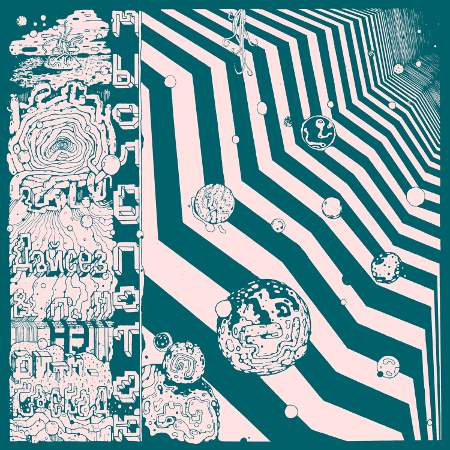 Tracklisting:
1. Pacific
2. Like A Dream
3. Green Diver
4. Pool
5. Square Fauna
6. Seine
7. Echo-Thought
8. Caleidoscope
9. Hologram
10. Stream Itself
11. Back Frame