Suzanne Ciani's 1975 Buchla Concerts appear on Finders Keepers
Andy Votel and Doug Shipton's label presents a rare document of early modular exploration.
Although they may have been positioned as the freaky alternative to the might of the Moog empire, Buchla synthesisers have been gaining ever more recognition in these modularly enlightened times we live in. It's quite common to catch Surgeon out in the field tinkering with his Music Easel, or indulge yourself in an album of purely Buchla 200 generated sounds courtesy of Jonathan Fitoussi and Clemens Hourriare. Equally, early Buchla advocate Morton Subotnick is now name-checked alongside other more obvious pioneers and is enjoying a resurgent gigging schedule that will call in at Movement in Detroit amongst other places. One name not as readily associated with the products of Don Buchla's West coast operation is Suzanne Ciani, although hopefully that will change with releases such as this impending record on Finders Keepers.
Classically-trained Ciani immersed herself in modular synthesis after meeting Don Buchla and others at Stanford University, spending decades exploring the potential of the hardware until the proliferation of simpler, keyboard-oriented synthesisers forced her back towards classical instrumentation, scoring Grammy nominations along the way. Finders Keepers however have managed to track down recordings of two performances Ciani made back in 1975, now captured and presented for the first time on a side of vinyl each. The first is titled "Concert At WBAI Free Music Store" and the second is "Concert At Phil Niblock's Loft", the latter no doubt referring to the minimalist composer based in New York.
This isn't the first time Finders Keepers have supported the work of Ciani – back in 2012 the Dead-Cert Home Entertainment sublabel co-curated by Sean Canty of Demdike Stare released Voices Of Packaged Souls, while the same year Logo Presentation Reels 1985 made it on to a double cassette before the vinyl release two years later. We'd also heartily recommend checking out the Lixiviation compilation that came out in 2011. If you head to the Finders Keepers site you can have a listen to captivating clips from each of the concerts.
Finders Keepers will release Buchla Concerts 1975 by Suzanne Ciani on April 29.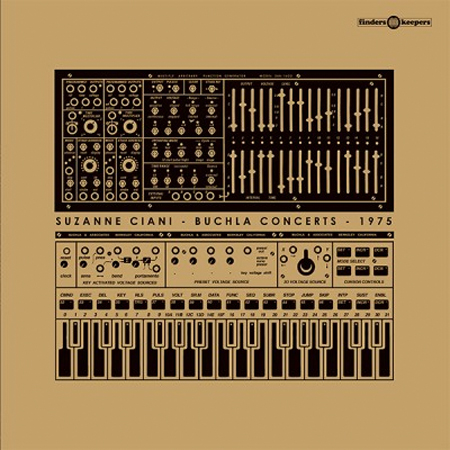 Tracklisting:
A1. Concert At WBAI Free Music Store
B1. Concert At Phil Niblock's Loft
Finders Keepers on Juno