Africans With Mainframes land on Soul Jazz
Jamal Moss and Noleian Reusse present their debut album, K.M.T.
Whilst a white label 12″ sporting the combined talents of Hieroglyphic Being and Steve Poindexter had kicked off Mathematics in the mid-'90s, sold in true DIY fashion out of Jamal Moss's backpack, it was Africans With Mainframes that announced the label in 2001. An untitled 12″ by the hitherto unknown Africans With Mainframes surfaced with Jamal Moss and Noleian Reusse's partnership surfaciing intermittently over the ensuing years. Crème Organization, Bio Rhythm and naturally, Mathematics, being the main labels to seek out  Africans With Mainframes. Moss meanwhile has had enough irons in the fire to make a blacksmith blush, relentlessly turning out singles for Tabernacle, Bedouin, Interdimensional Transmissions and Cejero in the past year, not to mention albums for Rvng Intl. and Soul Jazz (oh, and a self-released double pack 4 This Is Living That Gherkin Life for good measure).
After last year's solo LP The Acid Documents, Moss returns to Soul Jazz with Reusse as they present the debut album for their long-standing collaborative project. K.M.T. gathers together eight tracks that simply continue the duos exploration of cosmic transcendence through distorted drums and gnarly synth lines, with an abundance of tough rhythms on most but not all of the pieces. There is indeed still space for serenity on tracks such as "Qustal Artifacts" but by and large this is a record that fits neatly into the gritty, uncompromising canon of Moss-related works.
Soul Jazz will release K.M.T. by Africans With Mainframes on May 6.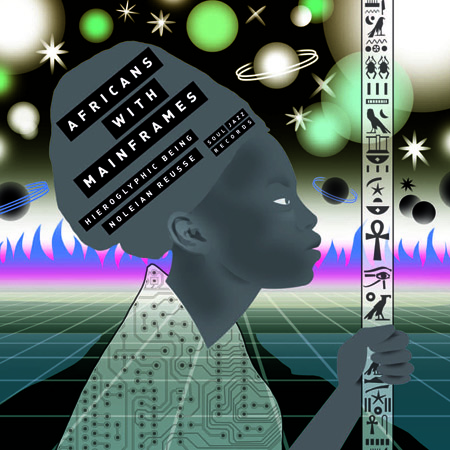 Tracklisting:
1. Anachronistic
2. Hierarchical
3. Book Of Gaties
4. Negroid Spinx
5. Qustul Artifacts
6. Naqada
7. K.M.T.
8. Meroitic Script
Soul Jazz on Juno