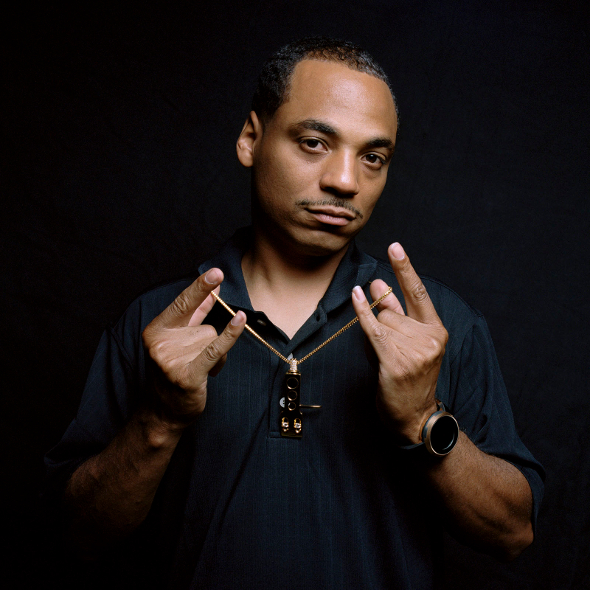 The upcoming album is "just what you never expect from a modern entertainment LEGEND!!!!"
It may have been three years since we were last graced with an album from Omar S, but the FXHE boss has remained as busy as ever. 2014 saw the label celebrate a decade of music with a series of mix CDs put together by Omar S, and we've seen him collaborate with the likes of O B Ignitt and Luke Hess, as well as introduce a new wave of talent on his FXHE label. We first heard mutterings of a new Omar S album in the offing late last year, which the man himself confirmed through his participation in Resident Advisor's 500th podpast edition in late December.
Full details of this album arrived today, with The Best due out at the end of the month featuring contributions from Norm Talley, Tom Bugs, O B Ignitt, Kyle Hall, Divinity and John FM. Juno Plus was also sent a review of the album accredited to O.G. Bobby Johnson which is published verbatim below.
"The Best Omar S, newest album simply reflects the singer, songwriter/producer's brilliant career-always vogue, forever moving forward, yet transcending trend to find its place among the classics. The 11 selections gracing album, produced by Omar S is just what you never expect from a modern entertainment LEGEND!!!!
The Best strides into action with "Time MO 1″(Mix by Norm Talley) before moving into the romantic "Ah'Revolution", a sultry ballad that sounds as if it was written especially for Amp Fidler's caressing lead vocal. Even so Omar S contributes five songs of instrumentals the snappy upbeat "Chama Piru's", "Bugging Out", "Bitch,,,,,I'll Buy Another one", "You Silk Suit Wearing MuLaFuuk'ka". If you are into melodic keys "Smash" features the classic solos from O B Ignitt and Kyle Hall. "Take Ya Pik Nik" is an easy listening track. The "Seen Was Set" and its funky up rhythm sample mixed by Norm Talley and legendary Big Strick on shout outs.
The Best has time and time again shown his versatility with collaborations from across the pond "Bugging Out" with Tom Buggs. If you are looking to be inspired, "On Your Way" featuring Divinity on lead vocals, the lyrics serve as a reminder for fellow artists to keep in mind their responsibility in leading the world's youth. The international hit "Heard Chew Single" with John FM on lead vocals will take this album to the #1 spot for Resident Advisor's Album of the year."
FXHE will release The Best by Omar S on March 23.
Tracklisting:
1. Time MO 1 (Mix by Norm Talley)
2. Ah'Revolution
3. Chama Piru's
4. Bugging Out feat. Tom Bugs
5. Bitch… I'll Buy Another One
6. You Silk Suit Wearing MuLaFuuk'ka
7. Smash feat. O B Ignitt and Kyle Hall
8. Take Ya Pik Nik
9. Seen Was Set
10. On Your Way feat. Divinity
11. Heard Chew Single feat. John FM
FXHE on Juno